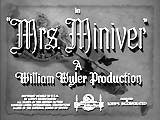 Mrs. Miniver (1942)
In director William Wyler's Best Picture-winning war drama about a British family's struggles to survive the war:
the opening scrolling prologue: "This story of an average English middle-class family begins with the summer of 1939; when the sun shone down on a happy, careless people, who worked and played, reared their children and tended their gardens in that happy, easy-going England that was so soon to be fighting desperately for her way of life and for life itself"
the introduction of middle-class Englishwoman Mrs. Kay Miniver (Oscar-winning Greer Garson) - who boarded a train compartment and admitted to her village of Belham's Vicar (Henry Wilcoxon) that she had "extravagant" materialistic desires: "I'm afraid I do like nice things. Things far beyond my means sometimes. Oh, pretty clothes and good schools for the children, the car, the garden, you know"
the Miniver family: husband-architect Clem Miniver (Oscar-nominated Walter Pidgeon), eldest son and idealistic Oxford Univ. student Vin (Richard Ney), and two youngsters Toby and Judy;
Vin's romance with 18 year-old fiancee Carol Beldon (Teresa Wright), granddaughter of Lady Beldon (Dame May Whitty) from nearby Beldon Hall, eventually leading to their marriage
the dramatic footage of the night-time Dunkirk evacuation, aided by enlisted RAF pilot Vin and Clem's motorboat the Starling
The Nighttime Dunkirk Evacuation

Kay Miniver's Encounter in Her House
with Downed German Flier
the tense confrontational scene of middle-class Englishwoman Mrs. Kay Miniver's encounter with a downed and escaped wounded German flier (Helmut Dantine) who parachuted down into the village, held her at gunpoint in her house ("Move or make noise, I shoot") and demanded food and clothing before collapsing in her kitchen
the scene of husband-architect Clem Miniver's return home to "Starlings" after his participation in the Dunkirk evacuation, and his reunion with his wife at the mooring
the scene of Kay, Clem and their two young children in a small garden bomb shelter (known as an Anderson Shelter) reading Alice's Adventures in Wonderland by Lewis Carroll to her children (Clem: "It's a lovely story. I wonder if Lewis Carroll ever dreamed it would live forever. You know, it's the first story I ever read"), and experiencing a terrifying Nazi air bombing - as the frightened and crying children were shielded
the shocking scene of the mortal wounding of newly-wed Carol by machine gunfire (from a crashing German plane) while seated in a car next to Kay when they were fearing for Vin's death - Carol spoke: "God, I think I've been hit....I don't know. It doesn't hurt. I just can't move" - and shortly later after Kay called for an ambulance and Carol asked for water, she expired
the final scene that included the powerful and moving, dynamic speech delivered by the town's Vicar, to the stoic congregation: ("We, in this quiet corner of England, have suffered the loss of friends very dear to us - some close to this church: George West, choir boy; James Bellard, station master and bell ringer and a proud winner, only one hour before his death, of the Belding Cup for his beautiful Miniver rose; and our hearts go out in sympathy to the two families who share the cruel loss of a young girl who was married at this altar only two weeks ago. The homes of many of us have been destroyed, and the lives of young and old have been taken. There is scarcely a household that hasn't been struck to the heart. And why? Surely you must have asked yourselves this question. Why in all conscience should these be the ones to suffer? Children, old people, a young girl at the height of her loveliness. Why these? Are these our soldiers? Are these our fighters? Why should they be sacrificed? I shall tell you why. Because this is not only a war of soldiers in uniform. It is a war of the people, of all the people, and it must be fought not only on the battlefield, but in the cities and in the villages, in the factories and on the farms, in the home, and in the heart of every man, woman, and child who loves freedom! Well, we have buried our dead, but we shall not forget them. Instead, they will inspire us with an unbreakable determination to free ourselves and those who come after us from the tyranny and terror that threaten to strike us down. This is the people's war! It is our war! We are the fighters! Fight it then! Fight it with all that is in us, and may God defend the right!")
The Service in the Church and the Village Vicar's Moving Sermon

The Mourning Miniver Family

The Vicar

More RAF Missions - in V Formations
the film's conclusion with the standing of the congregation and the singing of "Onward Christian Soldiers" in the bombed-out ruin of a church (through the open roof, RAF fighter planes in V-for-Victory Formations were viewed flying more missions), and then the song segued into "Pomp and Circumstance"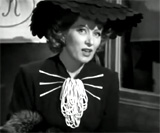 Mrs. Miniver (Greer Garson)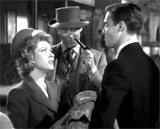 Family Members: The Minivers with Eldest Son Vin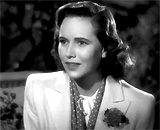 Carol Beldon (Teresa Wright) - Vin's Pretty Young Fiancee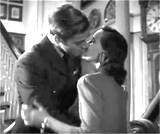 Romance Between Vin and Carol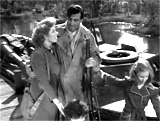 Clem's Return From Dunkirk with The Starling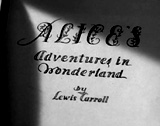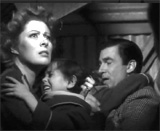 In Air-Raid Shelter: During Terrifying Air Bombing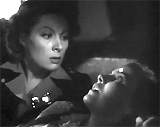 The Mortal Wounding of Carol by German Airplane Fire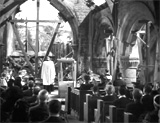 The Service in the Bombed Out Church in the Village