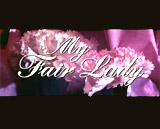 In George Cukor's Best Picture-winning screen musical (from the Lerner & Loewe Broadway play of George Bernard Shaw's Pygmalion):
the character of arrogant linguistic professor Henry Higgins (Oscar-winning Rex Harrison) with tremendous style and wit as he both talked and sang his lines, especially in his first song: "Why Can't the English Learn to Speak"
Cockney flower vendor Eliza Doolittle's (Audrey Hepburn) initial reaction to Higgins' statement that her birthplace was in "Lisson Grove": "I'm a good girl, I am!"
Professor Higgins' wager with Colonel Pickering (Wilfrid Hyde-White): "Well, sir, in six months, I could pass her off as a duchess at an Embassy Ball" - he bet that he could transform Eliza from a disheveled flower seller to a well-dressed and refined lady with proper diction in only six months
with her interest piqued in becoming a lady and leaving behind her untutored manners, Eliza sang and danced about her dreams in "Wouldn't It Be Loverly?"
the screams of protest when Eliza was dragged upstairs to the bathroom by Higgins' maid Mrs. Pearce (Mona Washbourne) and forced to take a steaming hot bath ("You know, you can't be a nice girl inside if you're dirty outside")
spiteful and hateful toward her harsh teacher Henry Higgins, Eliza vengefully sang: "Just You Wait" - a fantasy about her asking the King on Eliza Doolittle Day for Henry Higgins' head (and execution)
the diction lessons in the laboratory, when Higgins delivered training to Eliza and laboriously forced her to repeat from a book the immortal words: "The rain in Spain stays mainly in the plain" - and the joyous celebration when she finally made a real breakthrough, singing the duet with Higgins: "The Rain In Spain/I Think She's Got It"
the Ascot Race Track scene when Eliza appeared dressed in a white gown and hat with an accent or splash of red - but her dignified English lapsed into colorful street language ("Done her in") - and it was humorously interpreted as the "new small talk" - but then during the second race, she excitedly shouted out as a faltering horse passed: "Come on, Dover! Move yer bloomin' arse!", causing other horrified patrons to faint or gasp
the high-society ball scene of Eliza's coming out sequence in a beautiful white evening gown, looking like a princess; Eliza's successful attendance at the ball caused socialite Freddy Eynsford-Hill (Jeremy Brett) to become infatuated with Eliza (he danced with her), and afterwards, he sang a reprise of: "On the Street Where You Live"; Eliza responded frustratedly with: "Show Me" - needing to be shown demonstrative love instead of sappy words ("...Tell me no dreams filled with desire. If you're on fire, show me!...")
At the High Society Ball

"On the Street Where You Live"

"Show Me"
the next morning, Higgins was baffled by Eliza's disappearance:: "Women are irrational, that's all there is to that! Their heads are full of cotton, hay, and rags! They're nothing but exasperating, irritating, vacillating, calculating, agitating, maddening and infuriating hags" - Higgins sang-talked to Pickering: "Why Can't A Woman" - wondering why women didn't have the same "honest, so thoroughly square, eternally noble, historically fair...so pleasant, so easy to please...so friendly, good-natured and kind...so decent" qualities that men have
Eliza's telling-off and spiteful rejection of Higgins - she surprised him with her decision to marry Freddy - after she had had enough of his bullying and big talk, in the song "Without You" ("There'll be spring every year without you. England still will be here without you"); afterwards, when seriously thinking of letting Eliza go, Higgins begrudgingly acknowledged his love for her presence in "I've Grown Accustomed to Her Face" while walking home: "I've grown accustomed to her face...She almost makes the day begin..."
the film's concluding sequence, when Eliza suddenly reappeared in Higgins' study, and told him in her Cockney accent: ("I washed my face and hands before I come, I did"); and then he delivered the final, contrary, misogynistic closing line to her: "Eliza? Where the devil are my slippers?" as he leaned back and pushed his hat forward onto his forehead
The Ending: Higgins and Eliza Back Together

"I've Grown Accustomed to Her Face"

"I washed my face and hands before I come, I did"

"Eliza? Where the devil are my slippers?"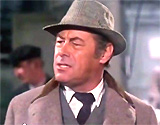 Linguistic Prof. Henry Higgins (Rex Harrison)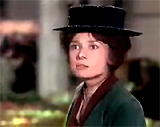 Eliza Doolittle (Audrey Hepburn) - Cockney Flower Vendor - "Wouldn't It Be Loverly?"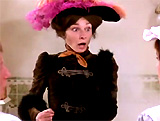 Eliza Refusing to Take a Hot Steamy Bath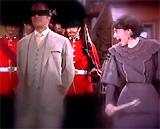 Eliza's Vengeful Fantasy: "Just You Wait"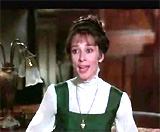 Eliza: "The Rain in Spain"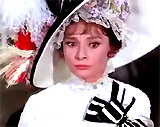 At Ascot Races: "Come on, Dover! Move yer bloomin' arse!"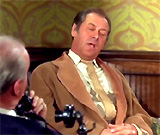 "Why Can't a Woman"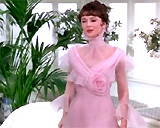 "Without You"