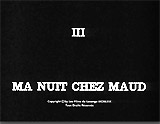 My Night with Maud (1969, Fr.) (aka Ma Nuit Chez Maud, or My Night at Maud's)
In Eric Rohmer's 3rd film of his 'Six Moral Tales' - an intelligent, dialogue-rich and dramatic romantic comedy about life's chances and choices:
the opening sequence of unnamed main character Jean-Louis ("J-L") (Jean-Louis Trintignant), a 34 year-old smug, conflicted and uptight Catholic civil engineer working for Michelin, who attended Christmas Eve Mass at a cathedral in Clermont-Ferrand; during the service, he spotted a beautiful 22 year-old blonde girl Francoise (Marie-Christine Barrault), a lab assistant; in voice-over, he obsessively vowed to settle down and marry her (without really knowing her) as his ideal woman: "I suddenly knew, without a doubt, that Francoise would be my wife"; afterwards, in his car, he trailed after the elusive female on her moped, but lost sight of her behind a slow-moving vehicle
the discussion between the self-deceiving and hypocritical J-L and his old Marxist high-school friend Vidal (Antoine Vitez), a university philosophy teacher; one of their discussion subjects was Pascal's wager (playing the odds regarding God's existence because it was wiser to believe - since if you're right, you go to heaven, but if you're wrong, you lose nothing)
the dinner conversation between J-L, Vidal and his free-thinking, wise and skeptical brunette friend - a beautiful, vivacious divorcee single mother and pediatrician named Maud (Françoise Fabian) - a secular and modern female
the circumstances (a heavy snowfall) that forced J-L to stay over at Maud's place when she asked for "bedside company"; and the flirtatious sequence in Maud's bedroom where she temptingly modeled a skimpy nightshirt to "show off" her legs, as she admitted: "My only means of seduction"; J-L responded: "Not the only means, but the best!"
Maud's statement that J-L had a complicated and conflicted nature: "What troubles me the most about you is you're side-stepping. You don't face your responsibilities. You're ashamed of being a Christian. And ashamed of being a Don Juan!"
The Lengthy Bed Scene Conversation
Between J-L and Maud
the lengthy scene of Maud and J-L's self-reflective, challenging conversation about sex and morality with him, including Maud's baring of her soul about how she was unlucky in love - she sadly remembered and spoke about her marriage, her own dead lover (killed in an icy car crash), and her former husband's mistress: "You really want to hear my life story? I had a lover and my husband, a mistress. She was a little like you: very moral, Catholic. Not a hypocrite, a sincere believer. But I hated her so much. She was crazy about him. He's a guy that drives girls crazy. I was crazy myself. I made him break with her. That was my one good deed. She probably wouldn't have married him"
the revelation that Maud discarded her nightshirt and slept in the nude ("I always sleep naked - nightclothes get so twisted around"); he reluctantly joined her in the bed when she urged him to forsake an uncomfortable armchair: "Don't be childish. Come lie next to me. On the blankets. Or under - if I'm not too ugly ....You'll have a cramp. Are you scared? Of yourself? Of me? I swear I won't touch you. I thought you had self-control"; he laid next to her on top of a thick, white-furred coverlet (although he was clothed), because it was too cold and awkward to sleep in a nearby armchair, and then tried to cover himself with the blanket
early the next morning, Maud's clumsy attempt at seduction and request for sex from J-L, but he signaled that he wanted to remain chaste; she jumped naked from bed and dismissed him after he resisted her: "I like people who know what they want"; soon after, he left her apartment
later, the circumstances that forced J-L to spend a chaste, boring, and uninteresting night at Francoise's place - a major contrast to his night with Maud
the outdoor sequence of Francoise's halting confession to J-L that she had very recently been engaged in an affair with a married man: ("I have a lover...until recently...I loved him. Madly. I could say I've forgotten him but you can't forget someone you've loved. We parted just before I met you...It's all over. We'll never see each other again"); she was forgiven by J-L when he admitted he also had affairs: ("Listen, Francoise. We can wait as long as you want. You're wrong if you think it changes anything for me. I have no right. Actually, I'm happy. It's true. I felt uneasy before. Some of my affairs lasted a very long time. Now we're even....I'll make a confession: The morning we meet, I'd just left a girl. I'd slept with her"); they mutually agreed to never discuss their past sexual histories again
Meeting Up With Maud Five Years Later

Maud

Francoise with Husband J-L and Child
the epilogue or closing scene five years later: a chance meeting at the beach between J-L (now with wife Francoise and toddler son) and Maud, when it was revealed - in an extraordinary and ironic coincidence - that she knew of Francoise ("We know each other - by sight"); Maud further recalled J-L's earlier conversations with her about his future ideal fiancee (blonde and Catholic); Maud told J-L that she had remarried, but it wasn't going too well ("I never have any luck with men"); as he joined up with Francoise already on the beach, J-L exclaimed: "I didn't know you knew each other. When she left Clermont, I hardly knew you. We had just met...You know, when I met you, I'd just left her, but..." (J-L's voice over: "I was to say: 'Nothing happened' - I saw that her embarrassment didn't come from what she'd learned about me, but from what she guessed I'd just learned about her. It suddenly hit me. Instead, I said...") "...That was my last fling. It's odd that we bumped into her" - he had thoughtfully saved his wife embarrassment, by telling her that Maud was the last affair he had in his past; Francoise was reassured and again stated: "I find it rather funny. Anyway, all that was so long ago. We said we'd never talk about it"; the film ended with the family happily running toward the water for a swim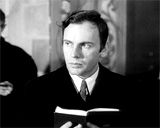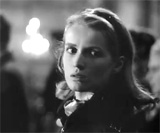 Cathedral Scene: "J-L" and Francoise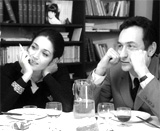 J-L's Friend Vidal with Maud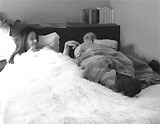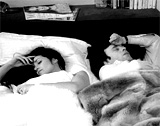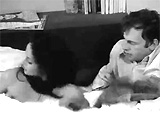 J-L's Sleep-Over with Sexy Maud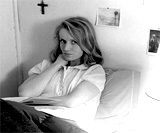 J-L's Contrasting, Boring Night With Francoise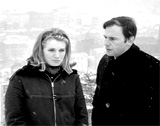 Francoise's Confession to J-L of An Affair With a Married Man