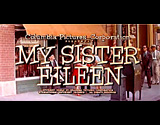 My Sister Eileen (1955)
In director Richard Quine's romantic, light-hearted, and witty widescreen Hollywood musical (co-scripted by Quine and Blake Edwards, and with choreography by Bob Fosse) - a remake of the non-musical, black and white comedy My Sister Eileen (1942), starring Rosalind Russell, Janet Blair and Brian Aherne - both were based upon the Broadway stage hit from 1940; the under-rated and often forgotten musical film was surprisingly entertaining:
the characters of two sisters from Columbus, Ohio who sought opportunities in NYC - Eileen Sherwood (Janet Leigh), a sexy and pretty blonde bombshell and an aspiring actress, and Ruth Sherwood (Betty Garrett), a plain-Jane lady and a witty, smart and pragmatic writer
their rental of a Greenwich Village brick-wall basement studio apartment (near underground subway blastings that often shook the foundations) - a "concrete catacomb"
in the extremely inventive musical number "As Soon as They See Eileen," the sisters changed into pajamas, while Ruth felt dejected about life and the lack of attention and dates from men, unlike her sister, who seemed to send men head-over-heels for her; as Ruth made faces in a mirror and applied cold cream, she sang about how Eileen would always turn heads, while others wouldn't pay attention to her: "I'm over twenty with plenty of knowledge, I and my college degree, But I'm frankly annoyed; tell me Dr. Freud, what is the matter with me?"
the scene of Ruth seeking work from Mad Hatter publishing house-magazine editor Robert "Bob" Baker (Jack Lemmon), Ruth's former boss' college roommate; as he was hurriedly leaving on vacation and speaking to her in an elevator, he initially called her submitted stories tragic and unrealistic, and hinted that from her writing, he would have guessed that she was more like a "spinster," a "confirmed cynic," or "frustrated old maid"
and Eileen's acquaintance with dreamy-eyed Walgreens soda fountain jerk-manager Frank Lippincott (Bob Fosse) - receiving emotional support from him after failing at three auditions (and being propositioned on the casting couch).
in the musical song-dance number "Alley Dance," Frank and newspaperman-reporter Chick Clark (Tommy Rall) performed acrobatically and competitively in a challenge dance outside of a burlesque theatre - as they both vied for Eileen's attention while she was inside; they played tricks with their hats, shuffled their feet, did splits and jumps, leaps and backflips, and kept their steps in synch when dancing together - Chick also executed a perfect triple spin jump!
the sequence in which Eileen cheered Ruth up by singing "There's Nothing Like Love"; extolling love's virtues, she donned a football helmet, a gentleman's jacket and shoes, and promised that Ruth would fall in love with a heroic man someday; dressed as a man, she asked Ruth for a dance, and persuaded her that she was attractive too
the film's best number "Give Me a Band and My Baby" - set in an outdoor, empty bandstand, where the foursome of Eileen, Ruth, Chick, and Frank pantomimed playing musical instruments, danced and sang
the sequence of Robert's attempted seduction of Ruth, when he thought that her mis-adventures and love story escapades about 'My Sister Eileen' were actually about herself; during a dinner date with her at his place, he gave her a drink, complimented her, and tried to seduce and kiss her; he also sang the musical number: "It's Bigger Than You and Me"; she was taken aback and told him to "Slow down, you've got the wrong idea about Eileen"
the pleasant love sequence that evening, when Eileen found Frank declaring his love for her (he was speaking to her hat perched on a tree branch) - he was outside her apartment in a patio courtyard; during a marvelous dance-and-song love duet, they performed together to a reprise of the song: "There's Nothing Like Love"
| | |
| --- | --- |
| | |
| Frank Speaking to Eileen's Red Hat in Tree Branch | "There's Nothing Like Love" (reprise) |
in the rollicking conclusion, there was a scene at the dock where wild, white-uniformed Brazilian naval cadets chased after Ruth all the way back to the apartment, where Eileen and Ruth engaged them in dancing the Conga - the commotion caused the police to arrive and put them all in jail; it ended up that Robert was happily united with Ruth (to her great surprise), and Frank with Eileen
The End title screen - it was seen above a Conga line - the Brazilian navy had arrived to apologize, and the film ended with a crazy dance party enjoyed by everyone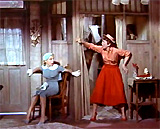 Eileen (Janet Leigh) and Ruth (Betty Garrett)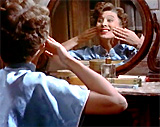 Ruth Making Faces in Mirror ("As Soon As They See Eileen")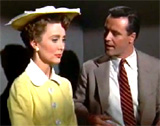 Ruth Seeking a Job with Magazine Editor Robert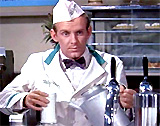 Eileen's Friendship with Soda-Fountain Jerk Frank


"Alley Dance"


"There's Nothing Like Love"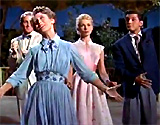 "Give Me a Band and My Baby"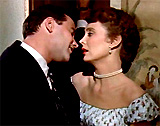 Robert's Attempted Seduction of Ruth ("It's Bigger Than You and Me")