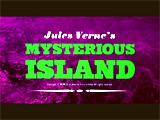 Mysterious Island (1961)
In Cy Endfield's family-oriented sci-fi adventure (a sequel to 20,000 Leagues Under the Sea (1954)), based on Jules Verne's 1874 classic science-fiction novel, and with a musical score by famed Bernard Herrmann:
the opening sequence of an escape in a hot-air observation balloon from a Confederate stockade, during the American Civil War (the seige of Richmond, Virginia in 1865) by a group of three Union POW soldiers: Captain Cyrus Harding (Michael Craig), black soldier Neb (Dan Jackson) and young Herbert (Michael Callan), a Confederate rebel Sgt. Pencroft (Percy Herbert), and observing civilian newspaperman from the North Gideon Spilitt (Gary Merrill) - they asked themselves (voice-over): "Would we ever set foot on the Earth again?"
the scene of the five landing and finding themselves stranded on a remote 'mysterious island' somewhere near New Zealand in the South Pacific, with erupting volcanoes, high peaks, and lush jungle: (voice-over) "The landscape everywhere was a mixture of the strange and the beautiful. Volcanoes surrounded by tropical palms and sandy beaches. A riot of wonderful hues and fantastic colors. And except for that fire we found on the first day, there was no evidence that man had ever set foot here before. We saw birds, and many overgrown plants, as if patches of nature had gone wild. It was a rugged trek upwards. Our physical condition caused us to tire readily and we were never sure of our footing. And then finally, we came to the shore of what must have been the other side of the island"
Some of the Fantastic Mutated Creatures on 'Mysterious Island'

Giant Crab

Colossal Flightless Chicken or Bird

Oversized Bee Sealing Herbert and Elena In Hive
the visual effects of Ray Harryhausen's stop-motion animation of creatures, beginning with a giant crab with huge mandibles, then a colossal flightless chicken or bird, and an oversized bee sealing two of the survivors into a honeycomb cell
the discovery of two unconscious British castaways on the beach: the aristocratic Lady Mary Fairchild (Joan Greenwood) and her sexy niece Elena (Beth Rogan), the only two survivors of a devastating shipwreck
Two Other Castaways

Elena (Beth Rogan)

Lady Mary Fairchild (Joan Greenwood)
in a cave (dubbed "The Granite House"), the jump-scare moment that a skeleton was discovered, with a journal of a deceased individual's last will: "And so I have decided that a life such as this is no longer worth living. I therefore bequeath all my worldly possessions to whosoever shall discover my remains. A curse upon the brigands who abandoned me here to suffer and to die. Signed, Thomas Ayrton. August 13, 1862" - the survivors made the Granite House their home
the fortuitous finding of a floating treasure chest, filled with numerous useful items: "Rifles! Breach loaders and ammunition!...a compass, charts and a sextant!...Hey, hammers, saws, nails....plenty of pots and pans. Also a looking glass. And hairpins. Hey, a telescope!" - and the book: "The Life and Adventures of Robinson Crusoe"; they surmised that a marking on one of the rifles ("N-A-U") indicated that everything had come from notorious Captain Nemo's submarine The Nautilus; rumor had it that Nemo was "a monster...a devil" - but also a "genius," who used his underwater, high-powered sub to destroy warships without warning; also "his submarine was reported lost off the coast of Mexico about eight years ago, with all hands"
the appearance of a threatening cutthroat pirate ship flying the skull and crossbones, but it unexpectedly and mysteriously sank after a devastating explosion
the revelation of the existence of infamous pacifist Captain Nemo (Herbert Lom), their secret benefactor in his shell-shaped diving gear (air tank), with his legendary but crippled submarine Nautilus in a large flooded grotto; Nemo explained to everyone how he had been providing the group with supplies and protecting them all along - he was the one who had placed an explosive charge on the pirate ship and saved them
further, Nemo told them why he lived alone: "Contact with my own species has always disappointed me. Solitude gives me freedom of mind and independence of action," but then he warned that the volcano was "on the verge of eruption. A catastrophe of nature will soon turn this island into cinders"
inside the Nautilus (with a fancy and plush hi-tech interior), he explained what he had been doing for eight years: "I've been conducting experiments in horticultural physics...Experiments that will guarantee mankind an inexhaustible food supply. Ha, ha. Yes. Surely you've seen the results...I've conquered the causes: famine and economic competition. Imagine, wheat growing 40 feet high and sheep the size of cattle"
in the conclusion with the survivors' help, the pirate ship was patched, refloated and boarded by the survivors to escape the island, although Nemo couldn't save himself - he perished in the disabled Nautilus that was hit by falling rock
the (voice-over) epilogue described their vow to continue Nemo's peace-loving dream after returning to civilization: "We deeply regretted we could not save the life of the man who had saved ours. A man who dedicated himself to ending strife among men. And when we returned to civilization, we all pledged ourselves to working for a peaceful and bountiful world, as Captain Nemo would have it"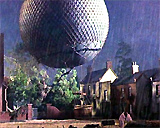 Hot Air Balloon Escape of Three Union Soldier POWs and Two Others During Civil War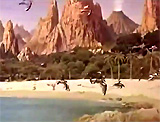 The First Long-Shot View of the 'Mysterious Island'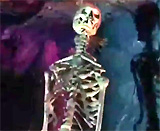 The Jump-Scare Discovery of A Skeleton Hanging in a Cave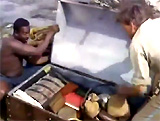 The Treasure Chest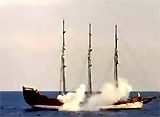 Sinking of Pirate Ship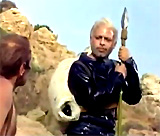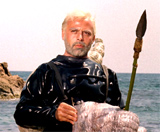 Captain Nemo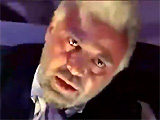 Nemo - Buried Alive in His Nautilus by Falling Rock and Volcanic Eruption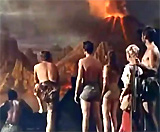 Survivors Watched the Destruction of the Island