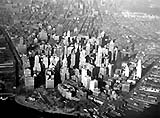 (no opening title screen)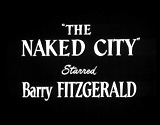 The Naked City (1948)
In director Jules Dassin's hard-boiled urban docu-drama crime/noir film - this was the first studio feature shot on location in New York City - and the film that inspired the 50's ABC-TV series - with its famed ending quote delivered by Hellinger as an epitaph for the murdered woman: "There Are EIGHT MILLION Stories In The Naked City - This Has Been ONE Of Them":
the opening scene with aerial views of New York City - accompanied by narration from the film's producer, journalist Mark Hellinger (who conducted six months of interviews with the NYPD to gather accurate details and characterizations): "Ladies and gentlemen - the motion picture you are about to see is called The Naked City. My name is Mark Hellinger. I was in charge of its production. And I may as well tell you frankly that it's a bit different from most films you've ever seen. It was written by Albert Maltz and Malvin Wald, photographed by William Daniels and directed by Jules Dassin. As you see, we're flying over an island. A city. A particular city. And this is a story of a number of people - and a story also of the city itself. It was not photographed in a studio. Quite the contrary. Barry Fitzgerald, our star Howard Duff, Dorothy Hart, Don Taylor, Ted de Corsia and the other actors played out their roles on the streets, in the apartment houses, in the skyscrapers of New York itself. And along with them, a great many thousand New Yorkers played out their roles also. This is the city as it is. Hot summer pavements, the children at play, the buildings in their naked stone, the people, without makeup. Well, let's begin our story this way. It's 1:00 in the morning on a hot summer night..."
on a hot summer NYC night, the brutal murder scene (seen briefly in shadows) - a knock-out by chloroform and then a bathtub drowning; the narrator casually noted: "And while some people work, others are rounding off an evening of relaxation. And still another is at the close of her life" - the victim was attractive and promiscuous 26 year-old, unmarried blonde fashion model Jean Dexter; it was determined by homicide investigators that it was "No accident. No suicide. Bruises on her throat, shoulders and arms. Those slight burns around her mouth and nose were caused by chloroform. She was anesthetized, after a struggle, then dumped into the tub alive... the white foam around her mouth. It's proof she drowned"
the manhunt for the killer(s), led by veteran cop Det. Lt. Dan Muldoon (Barry Fitzgerald), and conducted by Donahue (Frank Conroy) and newbie partner Det. Jimmy Halloran (Don Taylor)
the emotional sequence at the City Morgue when Jean's estranged Polish parents - the Batorys (Adelaide Klein and Grover Burgess) - identified her body, and then later mourned her death: ("Oh, what a heartache. You nurse a child, you raise it, pet it, you love it, and it ends like this") - the narrator intoned (voice-over): "Another day, another ball of fire rising in the summer sky. The city is quiet now, but it will soon be pounding with activity. This time yesterday, Jean Dexter was just another pretty girl, but now she's the marmalade on 10,000 pieces of toast"
the tense interrogation scene when Muldoon confronted deceitful Frank Niles (Howard Duff), the victim's ex-boyfriend, to reveal that the deceased's current boyfriend was Dr. Lawrence Stoneman (House Jameson) (aka "Mr. Henderson"), who was blackmailed into robbery schemes
the confrontation between Halloran and the killer - murder suspect Willie Garzah (an ex-wrestler aka Willie the Harmonica) (Ted de Corsia); Garzah held Halloran at gunpoint before 'rabbit-punching' him and fleeing ("All I need to do is put you to sleep. Then I'm off. Try and find me. This is a great big, beautiful city. Just try and find me. That was a rabbit punch, copper. And it's strictly illegal")
and the film's memorable, thrilling, and heart-pounding climax in which Garzah ran through a graveyard and the Lower East Side tenements, into a market, and then on a pedestrian walk when he bumped into a blind man's guide dog, he and shot and killed the attacking animal - and his location was revealed; he raced onto the Williamsburg Bridge where he was cornered; now wounded in the left arm by gunfire, he climbed to the very top of the bridge tower - and fell to his death after being hit by more police bullets
Ending: Death of Cornered and Wounded
Murder Suspect Willie Garzah on Williamsburg Bridge
the ending epilogue, similar to the opening prologue: "It's 1:00 in the morning again. And this is the city. And these are the lights that a child, born to the name of Batory, hungered for. Her passion has been played out now. Her name, her face, her history were worth five cents a day for six days. Tomorrow a new case will hit the headlines. Yet some will remember Jean Dexter. She won't be entirely forgotten. Not entirely. Not altogether. There are eight million stories in the naked city. This has been one of them"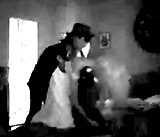 Shadowy Murder of Jean Dexter in Her Apartment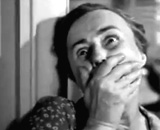 The Discovery of the Murder Victim in a Bathtub by the Shocked Housekeeper Martha Swenson (Virginia Mullen)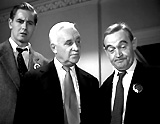 Medical Examination Results Given to Muldoon (on right): "No accident. No suicide"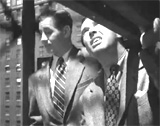 Two Detectives (l to r): Rookie Halloran and Donahue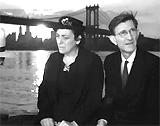 The Victim's Grieving Parents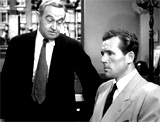 One of the Suspects Questioned by Muldoon: The Murder Victim's Ex-Boyfriend Frank Niles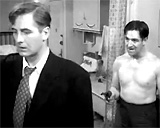 Detective Halloran's Confrontation with Killer Willie Garzah