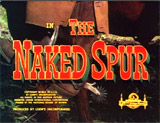 The Naked Spur (1953)
In Anthony Mann's beautifully-filmed, stylistic, and moralistic 'adult' western - in the third of James Stewart's five western collaborations with director Mann (also Winchester '73 (1950), Bend of the River (1952), The Far Country (1954) and The Man From Laramie (1955)):
the portrayal of vengeful, tormented and embittered bounty hunter Howard Kemp (James Stewart) in pursuit of wanted murderer in the Colorado Rockies - a cunning Ben Vandergroat (Robert Ryan) for the $5,000 reward money; his intent was to bring him back to Abilene, Kansas for the advertised bounty, and use the money to repurchase Vandergroat's land and settle down there; Vandergroat had murdered a marshal in Abilene, Kansas
the interplay between the three principals all vying for the bounty money: dishonorably discharged, amoral, playboyish and disreputable Union Army officer Lt. Roy Anderson (Ralph Meeker), grizzled old prospector Jesse Tate (Millard Mitchell), and Kemp [Note: it was revealed later that Anderson was being pursued by a Blackfoot Indian war party for defiling one of the chief's daughters)
during the entire film after Vandergroat's capture, the love triangle that developed between Kemp, Vandergroat, and his blonde, short-haired, tomboyish 'traveling companion' Lina Patch (Janet Leigh) (she was the daughter of one of Ben's deceased friends, Frank Patch, who was killed while robbing a bank in Abilene)
and scoundrel Vandergroat's persuasive tactics of psychological warfare (greed, discord, suspicion, mistrust, and jealousy) to create conflict among his three captors; in two escape attempts - Lina distracted Kemp so he could escape one night from the back of a cave, and Vandergroat also unbuckled Kemp's saddle-strap so that he might topple the bounty-hunter off a steep ridge - but neither ploy fully worked; one bluff that did work was to convince Jesse to desert the group at night to visit a nearby goldmine
the sequence of a violent Blackfoot native Indian attack from twelve riders that ended up in a massacre (only Kemp was wounded in the leg)
the exciting climax came at a roaring and raging riverside after Vandergroat had ruthlessly killed Jesse; Vandergroat positioned himself high up on a rock face, poised as a sniper with a rifle to also ambush Kemp and Anderson; as he fired at Kemp, Lina pushed Vandergroat's rifle up, preventing him from firing accurately; Kemp climbed the face of the rocky cliff behind Vandergroat and flung his "naked spur" (used to scale the cliff-face as a axe/piton) into his lower cheek or neck - after which he reeled around and Anderson shot him from a distance and finished him off; Vandergroat's corpse fell into the roaring river below; Anderson was able to string a line across the rough water and retrieve the body - so that they could claim the reward; however, while swimming in the rapidly-flowing river, Anderson was lethally struck by a gigantic log stump, drowned and was carried downstream; Kemp hauled Vandergroat's body back to the shore by a rope, and became insanely single-minded and heartless - determined to claim the reward all for himself as he strapped the corpse on his horse: "I'm takin' him back. This is what I came after and now I've got him...He's gonna pay for my land... The money - That's all I care about. That's all I've ever cared about"
Howard Kemp Hauling in Ben Vandergroat's Body - Lina's Protest
the startling sequence of Kemp's abrupt turn-about as he gripped Lina's arms, after her pleadings to leave the ordeal behind them and marry him - he decided to give up his potential blood-money bounty, buried Vandergroat's body in the ground, and then rode off with her to start a new life in California together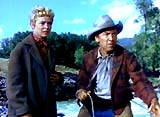 Kemp (James Stewart) with Lina (Janet Leigh)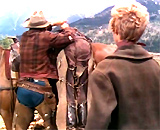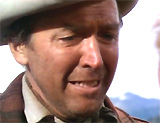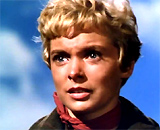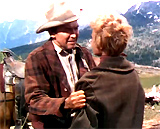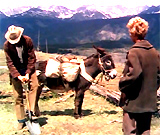 The Decision: Either To Collect the Bounty, or Bury the Body and Move to California with Lina