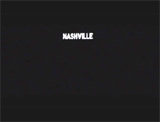 In maverick director/producer Robert Altman's country-western character study - a classic, multi-level, original, two and a half-hour epic study of American culture, show-business, leadership and politics - one of the great American films of the 1970s:
the miraculous interweaving and criss-crossing of the lives and destinies of 24 different characters in a free-flowing tapestry or kaleidoscope - especially in the opening sequences, during a five day (long weekend) period in Nashville, Tennessee (the "Athens of the South")
the scene of folk singer Tom (Keith Carradine) seductively singing "I'm Easy" to a crowd - with the camera slowly showing the face of aroused audience member and married gospel singer Linnea (Lily Tomlin) in the back
the humiliating bump-and-grind strip scene involving a desperate wannabe Sueleen Gay (Gwen Welles) - a dim-witted, red-haired, tone-deaf, lower-class waitress who aspired to be a singer; she embarrassingly performed "about a girl who never gets enough" and a second song titled "When I Love You" before an all-male political, fund-raising smoker (that she thought was a singing engagement, but instead was a stag party); she was encouraged to strip by the misogynistic crowd - her bump-and-grind striptease - a clumsy, inept, asexual un-dressing in front of the crowd, included removing the socks-padding from her bra and tossing them into the hooting group of spectators before going topless to satiate the crowd (and finally bottomless after removing her yellow panties and also tossing them way)
the scene of vulnerable star singer Barbara Jean (Oscar-nominated Ronee Blakley) during a Opry Belle public concert sequence, appearing in a white, bridal-type gown with her brown flowing hair arranged with pink ribbons; she first performed "Tapedeck in His Tractor" (The Cowboy Song) with great energy, followed by her second impassioned song, "Dues" that told of hurt in an embattled marriage; between songs and a few false starts, she began to unravel as she reminisced about a phone-in radio show, and then remembered her grandmother and her childhood - the band behind her impatiently waited for her to finish her lunatic, nostalgic ramblings about the burdens of her life and how her mother pushed her into a singing career when she was very young, before she was hustled off the stage
the appearances in black limousines of unseen presidential political party candidate Hal Phillip Walker (Thomas Hal Phillips) (for the Replacement Party) and his entourage
the concluding tragic and shocking sequence at a country music festival/political rally for Walker at the Parthenon (with a billowing American flag serving as the mammoth backdrop for the concert), where Barbara Jean sang a duet on stage with host Haven Hamilton (Henry Gibson), titled "One, I Love You"
Barbara Jean also performed "My Idaho Home" (a wistful song about her mother and father); when she was finished, Haven circled around her with his arms in a Victory position (with one hand grasping a bouquet of white carnations for her) and nodded toward the appreciative applause for her song, and then presented the beloved, pure-spirited singer with the flowers
two gunshots rang out - Barbara Jean fell backwards mortally wounded (seen only at a distance), and Haven, who had selflessly tried to shield her, sprawled on top of her with a bloody gunshot wound in his upper right arm; after the arbitrary killing and panic broke out, Kenny (David Hayward) - the demented assassin in the crowd - was subdued by shocked onlookers, wrestled to the ground, and soon hauled off by state police
The Assassination of Barbara Jean On-Stage
Haven grabbed the microphone after the unexpected disaster and rallied the crowd to be calm by singing: "You all take it easy now. This isn't Dallas. It's Nashville. This is Nashville. You show 'em what we're made of. They can't do this here to us in Nashville. OK everybody, sing. Come on somebody, sing. You sing"
the dying Barbara Jean was quickly replaced with unknown performer Albuquerque (Barbara Harris) who calmed the crowd with "It Don't Worry Me"; the new star rose to the occasion and rallied the crowd with her stirring, healing anthem of passivity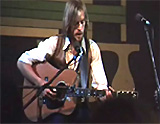 Folk Singer Tom: "I'm Easy"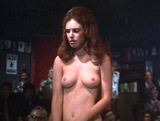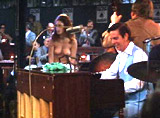 Sueleen Strip-Tease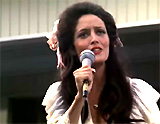 Concert Performance of Barbara Jean (Ronee Blakley): "Dues" - Before Suffering A Breakdown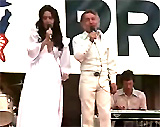 Haven Hamilton (Henry Gibson) with Country Singer Barbara Jean (Ronee Blakley): "One, I Love You"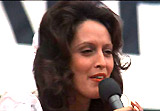 Barbara Jean: "My Idaho Home"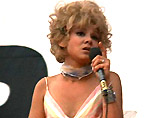 Albuquerque (Barbara Harris): "It Don't Worry Me"