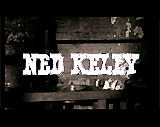 Ned Kelly (1970, UK/Australia)
In director/co-writer Tony Richardson's negatively-reviewed biopic about a legendary and notorious Australian outlaw horse rustler ("bushranger") in the outback during the late 1870s (Australia's version of the US' Jesse James) - with linking, explanatory 'western' folk-ballads sung by country star Waylon Jennings, and accompaniment by Kris Kristofferson (song lyrics by Shel Silverstein), and with visually-stunning outdoor cinematography:
[Note: The world's first feature-length movie (a silent film of which only fragments exist) was The Story of the Kelly Gang (1906, Australia). A later talkie effort was writer/director Rupert Kathner's The Glenrowan Affair (1951, Australia). The 1970 film was not to be confused with Ned Kelly (2003) starring Heath Ledger. A similar, superior biopic about another Australian outlaw was titled Mad Dog Morgan (1976), starring Dennis Hopper in the title role.]
the brief opening prologue with the words "THE END" - a black and white flash-forward to an interlinked view of Edward "Ned" Kelly's (Rolling Stones' lead singer Mick Jagger in his debut film performance) marriage AND execution in Melbourne, when his mother Mrs. Kelly (Clarissa Kaye) urged her son: "Mind you die like a Kelly, son"; he offered final thoughts as a hood was pulled over his head and the trap door beneath him was opened: "Such is life!"
the subsequent Technicolored flashback to Kelly's earlier life (titled: "THE BEGINNING"), including a lively homecoming dance (with a wild Irish reel) that welcomed ex-convict and Irish thief Ned Kelly back to the Kelly home in Australia, after serving three years in prison in England for horse stealing; he told his sister: "They're never ever going to get me in there again"; another vignette was the Greta Championship - Sunday afternoon boxing exhibition at the country fair between bare-knuckled Kelly and an opponent, and the time-out from horse-thieving for a long-jumping contest
the role of the bearded, law-less, anti-hero rebel - who stood against unjust, oppressive and corrupt British colonialism in Australia, and sought justice for poor Irish Catholic farmers and settlers by "Robin-Hood" styled robberies of the Kelly gang, the burning of postal outlets in banks, and killing of constables and soldiers
the sequence of renegade Ned Kelly manufacturing and arming his gang with home-made, metal-plated masks and shields of armor made of farmers' rusty plows: "The Bible says, 'Turn your armor into plowshares.' But I say unto you, turn your plowshares into armor"; although the shields were heavy and weighted them down, and his gang objected at first, Ned defended his idea: "Listen, for months now, we've had to run because the traps have had all the power and all the steel. Now we can attack. With these, we can become invincible....All we've got to do is find the right situation. Draw them on. Dig ourselves in. Protected by the iron in our armor, we can shoot them all down. All the traps of Victoria -- To kill one, you're a murderer. To kill a hundred, you're a hero!"
the final climactic shoot-out between renegade Ned Kelly (wearing his homemade, metal-plated mask and breastplate shield of armor) and the local Australian constables during a train robbery (and ambush), when the weighted-down outlaw was surrounded, felled on train tracks, and captured
Ned Kelly's Trial Before Judge

Kelly to Judge: "For myself, I do not fear death. I fear it as little as to drink a cup of tea"

"Death, I will meet you. There!"
the sequence of Kelly's trial when he defiantly told Judge Barry (Frank Thring) before being sentenced to death by hanging: "I do not wish to win a word of pity from anyone. All I ask is that my story be considered. If my lips can teach the public that men are made mad by bad treatment, then my life will not be entirely thrown away. For myself, I do not fear death. I fear it as little as to drink a cup of tea"
to the Judge's surprise, after being sentenced, Kelly spoke again: "Death, I will meet you. There!" - the frame froze as the credits began to roll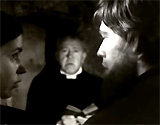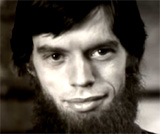 Edward "Ned" Kelly (Mick Jagger): Marriage AND Execution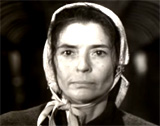 Ned Kelly's Mother: "Mind you die like a Kelly, son"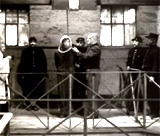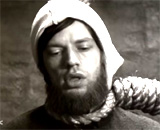 Kelly's Hood, Gallows, and Rope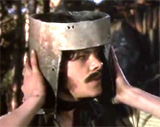 Ned Arming Gang with Metal-Plated Helmets/Masks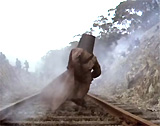 Ambushed: Ned's Collapse and Capture on Train Tracks During Train Robbery