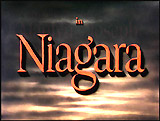 Niagara (1953)
In director Henry Hathaway's Techni-colored melodramatic noir - it was a thriller about the destructive nature of a femme fatale's alluring, out of control sensuality and lust as she plotted to kill her husband - it provided the perfect star vehicle for curvy sexpot Marilyn Monroe (advertised as a "tantalizing temptress whose kisses fired men's souls!"); one of the film's taglines compared MM to the metaphoric ever-present roar of the famous Niagara Falls: "A raging torrent of emotion that even nature can't control!":
the film's main setting was at the Rainbow Cabins (modern housekeeping units) within sight of the landmark, famed Niagara Falls vacation spot, where tension quickly developed between a married couple who were vacationing together (on the Canadian side): Rose Loomis (26 year-old Marilyn Monroe), a beautiful, voluptuous and young sexy blonde woman who was a sinfully-wayward, unhappily married woman and trashy femme fatale, with her husband George Loomis (Joseph Cotten), a depressed and emotionally-unstable shell-shocked Korean War veteran
| | |
| --- | --- |
| The Torrential Niagara Falls - Compared to the Main Femme Fatale | Rainbow Cabins |
in the film's opening, the sensual, adulterous Rose was lounging naked in her bed sheets in her cabin next to the Falls
Rose Loomis (Marilyn Monroe) in the Film's Opening
two others (on a 'delayed' honeymoon after two years of marriage) who arrived at the Cabins from Toledo, Ohio were pretty Polly (Jean Peters, who later married Howard Hughes) and clean-cut Ray Cutler (Casey Adams). They became friends with the Loomis couple, but soon suspected something was wrong with the troubled pair
in the midst of the plot, there were two memorable, hip-bouncing walking scenes with Marilyn, first briefly in a light blue dress in the film's opening, and then another scene of Rose's backside in a tight black dress and red top, walking away from the camera
Two Rear-Views of Rose
during a trip to the scenic tourist tunnel under Horseshoe Falls, Polly spotted Rose kissing a man not her husband - she told Ray: "Didn't that Mrs. Loomis say she was going shopping?...Well, she sure got herself an armful of groceries." The trashy Rose was cheating on her husband, and engaged in an affair with Ted Patrick (Richard Allan), her secret young lover. Together, Rose and Ted were arranging to murder George and make his death look like a suicide, to collect on George's life insurance policy
Rose's most flaunting appearance was in a tight-fitting, low-cut pinkish-red dress at an outdoor teenaged dance party at the Cabins, where she asked that the DJ play the record, "Kiss" (the illicit lovers' theme song) and then sat closeby and listened, telling Ray and Polly: "There isn't any other song." She sang along:
"With all your heart's protection, This is a moment of thrill. Thrill me, Thrill me, with your charm, Take me, Take me in your arms, And make my life perfection, Take me, Darling, don't forsake me, Kiss me, Hold me tight, Love me, Love me tonight."
Sexy Rose Loomis (Marilyn Monroe) Openly Flaunting Herself
Rose's angry and crazed husband interrupted the romantic musical interlude by racing from their cabin and destroying the LP with his bare hands (and cutting himself in the process).
while applying mercurochrome and bandages to George's hand would, Polly was told about George's past with Rose; he was a failing sheep rancher who met Rose in a Duluth, MI beer hall where she worked as a bar waitress. He described the reason for his rage against her: "Parading around, showing herself off in that dress, cut down so low in front you can see her kneecaps...She'd like to wear that dress where everybody could see her, right in the middle of Yankee Stadium. She's a tramp! I tell you now so you won't have to ask."
Rose had a provocative conversation with her husband who suspected that she was scheming and plotting with another man against him: George: "You smell like a dimestore. I know what that means." Rose: "Sure. I'm meeting somebody. Just anybody handy as long as he's a man...Anybody suits me, take your pick."
George followed after Rose and confirmed his suspicions. Ted had written her a message on the back of an unmailed postcard: "If everything OK you'll hear the Bell Tower play our song - See you in Chicago." after Ted had gone ahead and killed George, he would request the Rainbow Tower Carillon to play Rose's special song ("Kiss") to signal that George was dead
soon after, George was reported as a "missing person" - and a pair of George's unclaimed shoes were discovered at the exit to the scenic tourist tunnel under Horseshoe Falls. The Bell Tower carillon played, causing Rose to believe that Ted had murdered George
| | | |
| --- | --- | --- |
| Murder Plot Described on Postcard | George's Pair of Unclaimed Shoes Found in Tourist Tunnel | Rose's Shock Upon Seeing Ted's Body in the City Morgue |
in reality, George had killed Patrick in self-defense and thrown his body into the Falls, and then decided to "stay dead" to start his life over (by collecting Patrick's shoes at the exit instead of his own). At first, Rose believed that George was dead until she visited the city morgue, where she was called upon to identify a retrieved body from the Falls. She was shocked that the dead man was Ted, not George - she fainted and collapsed
while sleeping in the Loomis' cabin, Polly was frightened when she momentarily glimpsed a view of the supposedly-dead George in her room (he had come to kill Rose) - it was interpreted as a nightmare, although she reported the incident
shortly later at the falls, George confronted Polly privately after saving her from slipping into the falls; he admitted defensively killing Ted Patrick, and then explained his predicament; he pleadingly begged: "Please, I'd do the same for you if it meant as much. Let me stay dead."
George conducted a revenge killing in the film's most suspenseful sequence. Rose's jealous and incensed husband stalked and pursued his scheming and trampish wife who was trying to flee from Canada; he followed her up the shadowy, Carillon clock-bell tower before murdering her by strangulation (in a striking overhead shot). Then he told her corpse: "I loved you, Rose. You know that."
in the exciting and climactic finale, George hijacked the boat that Polly was on; their boat went adrift when it ran out of gas, and it was headed toward the waterfall precipice; a desperate George (now after having deliberately murdered Rose) tried to submerge and scuttle the boat, but went over the falls to his death, while Polly was rescued by helicopter from a rock outcropping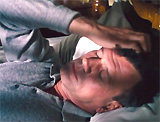 George Loomis (Joseph Cotten)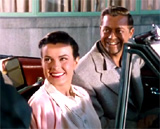 Other Honeymooners at the Cabins: Polly and Ray Cutler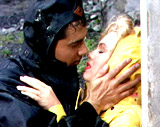 Polly Spotting Rose's Adulterous Rendezvous with Ted Patrick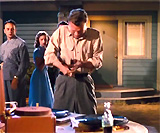 At an Outdoor Teenaged Dance Party, the Enraged George Destroyed a "Kiss" LP Record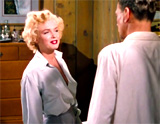 Trampish Rose Speaking to George: "Anybody suits me, take your pick"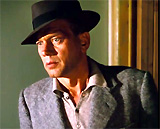 Polly's Fright at Seeing the "Dead" George in her Cabin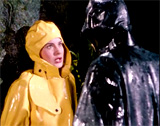 George Begging Polly: "Please... let me stay dead"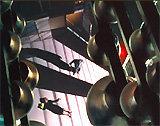 George's Revenge Murder of Rose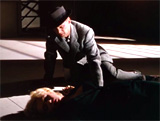 George: "I loved you Rose. You know that"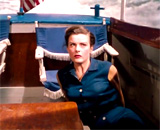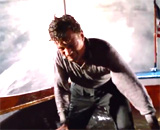 Kidnapped Polly on Boat with George, Heading Toward Falls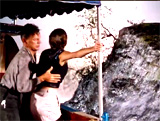 George Saving Polly by Helping Her Onto a Rock Outcropping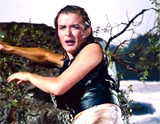 Polly Watching George's Death Before Being Rescued