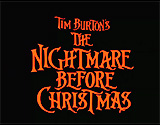 (Tim Burton's) The Nightmare Before Christmas (1993)
In Tim Burton's (and director Henry Selick's) imaginatively dark, musical fantasy and original yet twisted tale - it was also known as "Tim Burton's The Nightmare Before Christmas." It was based on the parodic poem of the same name by visionary producer Burton, written when he was a Disney animator; the charming yet macabre film, the first full-length stop-motion animated film, was an extraordinary achievement and ground-breaking in its use of computers to aid the complex, painstaking stop-motion animation process. There was amazing technical brilliance displayed with stop-motion animated puppets and originally-composed songs (by Danny Elfman); it had wonderfully-realized set designs -- such as the two holiday dream-worlds: the dark, Cabinet of Dr. Caligari-ish and The Night of the Hunter-ish Halloween Town, and the round, bright Christmas Town (based on Seuss' artwork, reminiscient of Whoville):
the amazing opening "This Is Halloween" was performed by the denizens of Halloween Town (spooks, goblins, ghosts, witches, skeletons, and other creatures, etc.), the song introduced their locale
the main character was a bored, depressed, gaunt and skeletal Jack Skellington (Chris Sarandon with Elfman supplying his singing voice), known as the 'Pumpkin King' of Halloween Town - he wore a black pin-striped suit complete with a bat bow-tie and black dress shoes
Jack's existential torch song "Jack's Lament" was performed while shy rag-doll Sally (Catherine O'Hara), his future understanding and loyal girlfriend, eavesdropped on him in the graveyard as he climbed to the top of a curlicue hill (silhouetted by the full moon): ("...Oh, somewhere deep inside of these bones / An emptiness began to grow..."); he had grown weary of his repetitive role as the Pumpkin King of Halloween Town's pagan holiday
"This is Halloween"

"Jack's Lament"
Jack discovered in the woods, through one of many holiday portals (Valentine's Day, St. Patrick's Day, Easter, Thanksgiving, etc.), the enchanting, radically-different snowy, fun-filled and sparkling Christmas Town; he delivered a show-stopping song-and-dance "What's This?" in reaction to the joyous nature of Christmas Town, with snowmen, ice-skating, elves, polar bears, strings of brightly-colored lights, and candycanes, mistletoe, chestnuts roasting on a fire: ("There's children throwing snowballs instead of throwing heads, they're busy building toys and absolutely no one's dead!...")
The Entry-Portal (on a Tree Trunk) to Christmas Town, and
Jack's First View of Christmas Town
once Jack returned and held a town meeting with Halloween Town's citizens, Jack described what Christmas was all about (wrapped gifts, Xmas trees, stockings), including a red-suited man named Santa Claus (interpreted as "Sandy Claws") with a reindeer sled
because of Jack's obsession with trying to capture the town's jollyness, he requested that three devilish trick-or-treat children (Lock, Shock, and Barrel) be sent on a secret mission to kidnap the leader of Christmas Town; they contemplated their plan with the song "Kidnap the Sandy Claws" (although their first mistaken abductee was the Easter Bunny!)
Sally (with the psychic power of premonition) came to warn Jack of his misguided plans ("But it seems wrong to me, very wrong"); he assigned her to sew a red Santa suit for him
in the "Making Christmas" sequence, Jack assigned Christmas-type jobs to everyone in Halloween Town, such as making presents, and building a sleigh, but was unaware that the citizens were making unbelievably frightening presents placed in gift boxes
Jack's well-meaning but disastrous mission to kidnap the leader of Christmas Town put Santa Claus into jeopardy, when the jolly white-bearded Santa was taken to his evil gambler-rival - the Oogie-Boogie Man (Ken Page)
with imposter Jack in a Santa suit commandeering a coffin-shaped sleigh pulled by reindeer skeletons, Jack steered the sleigh to Christmas Town - - he delivered scary Halloween gifts instead of Christmas gifts - there were images of terrified children opening up their horrific presents: ("And what did Santa bring you, honey?") (i.e., a shrunken head, a scary yellow duck, bats, a large toy snake that ate Christmas trees, etc.)
after being blown up in the sky by the military, and landing back in Halloween Town's cemetery, in the fantastic "Poor Jack" song - Jack realized his mistake and sang a torch song in an angel headstone's arms - lamenting: "What have I done? / What have I done? / How could I be so blind?"
Jack rescued both Sally and Santa Claus from the Oogie-Boogie Man, who was unmasked (when a thread was pulled from his garment) and revealed to be a swirling mass of bugs under his garment; Jack apologized to Santa Claus/Kris Kringle ("I'm afraid I've made a terrible mess of your holiday"), who reprimanded Jack but then assured him that he could magically return to Christmas Town and fix things
in the sweet, triumphant and romantic finale again set in the graveyard, Jack finally realized his love for Sally; he spied Sally stealing away to pluck petals from a flower on the top of the snowy curlicue hill, silhouetted by the full moon; he approached her, and while clutching his breast, he sang about his attraction to her: (Jack: "My dearest friend, if you don't mind, I'd like to join you by your side. Where we can gaze into the stars" Jack and Sally (in union): "And sit together, now and forever, for it is plain as anyone can see, we're simply meant to be")
as the film ended - the couple embraced in the light of a full moon and kissed, as Jack's red-nosed, ghostly pet dog Zero flew into the sky to become a sparkling star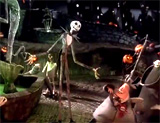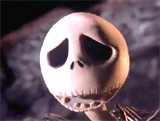 Jack Skellington
(The Pumpkin King)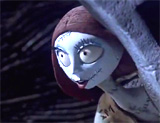 Rag-Doll Sally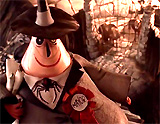 The Mayor of Halloween Town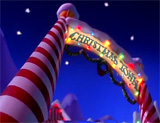 Christmas Town Sign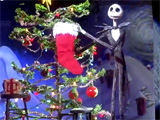 Jack's Explanation of Christmas Practices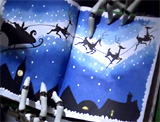 Jack's Request For Townsfolk to Make A Sleigh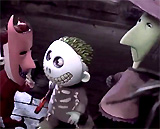 Lock, Shock, and Barrel on Secret Mission to Kidnap Santa Claus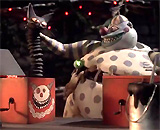 "Making Christmas"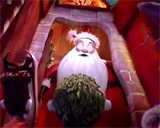 Santa Claus Kidnapped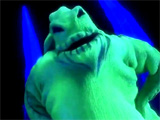 The Oogie-Boogie Man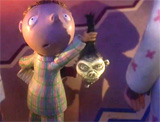 "And What Did Santa Bring You, Honey?"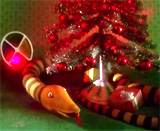 Christmas Tree Snake


"Poor Jack "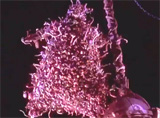 Unmasking of the Oogie-Boogie Man