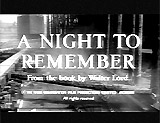 A Night to Remember (1958, UK)
In Roy Baker's documentary-style, fairly-accurate accounting of the April 14, 1912 sinking of the RMS Titanic after it sailed from Liverpool and across the North Atlantic - it was the most expensive British film at the time and one of the earliest disaster films:
the climactic film ending in which the RMS Titanic oceanliner hit an iceberg ("Iceberg dead ahead, sir") and sliced a hole in the ship, causing it to sink fairly rapidly
as the ship slowly went under, lifeboats were deployed and women and children (in first and second class) boarded them
the ship began to list as it took on more water, and passengers became frantic, while some were resigned to their inevitable fate - in the first-class smoking room, a steward paused to ask the resolute, stone-faced ship's designer Thomas Andrews: "Aren't you going to try for it, Mr. Andrews?", but he received no reply
during the ship's final plunge of the front section of the ship into the deep water, passengers jumped into the sea as the stern rose high into the air, and many of those in the water suffered an icy death
On Lifeboats

Sinking of Bow

Listing of Ship and Final Sinking

Slanted Interior

Disaster At Sea
the final scene was on the deck of the Carpathia that had rescued the survivors from the water or from lifeboats; according to the latest count, 1,500 people were lost; while 705 survived; the wireless operator (Alec McCowen) brought Captain Arthur Rostron (Anthony Bushell) a transmitted message received from the nearby Californian (that earlier could have saved the Titanic), asking if they could help; the Captain responded with the film's final spoken dialogue: "Tell them no, nothing. Everything that was humanly possible has been done"
a scrolling epilogue postcript appeared above a tracking shot of the surface of the ocean, strewn with floating lifejackets, furniture (deck chairs, tables, etc.), a musical instrument, the playroom's rocking horse, and other discarded items: "BUT THIS IS NOT THE END OF THE STORY - FOR THEIR SACRIFICE WAS NOT IN VAIN. TODAY THERE ARE LIFEBOATS FOR ALL. UNCEASING RADIO VIGIL AND, IN THE NORTH ATLANTIC, THE INTERNATIONAL ICE PATROL GUARDS THE SEA LANES MAKING THEM SAFE FOR THE PEOPLES OF THE WORLD"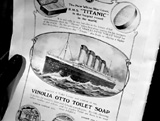 Advertisement for Titanic's Sailing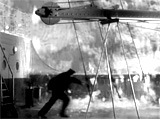 Collision With Massive Iceberg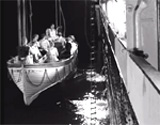 Lowered Lifeboat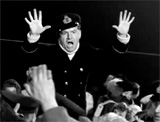 Chaos On-Board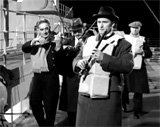 Orchestral Members Playing On Deck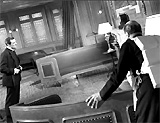 Ship's Designer in Smoking Room Asked By Steward: "Aren't you going to try for it, Mr. Andrews?"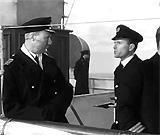 Carpathian Captain: "Everything that was humanly possible has been done"