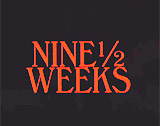 9 1/2 Weeks (1986) (aka Nine 1/2 Weeks)
In director Adrian Lyne's (and writer Zalman King's) sensual, soft-porn melodrama about sexual experimentation - a blockbuster hit only after being released to video, and a precursor to the Fifty Shades of Grey trilogy of films (from 2015-2018); in its original form before severe editing, it was five hours in length - two inferior successors to the original film appeared in 1997 and 1998: Another 9 1/2 Weeks (aka Love in Paris) (1997), and The First 9 1/2 Weeks (1998):
the main characters: enigmatic, aloof and handsome Wall Street executive arbitrageur John Gray (Mickey Rourke) and divorced, naive, and vulnerable 30-ish NYC art gallery (SoHo's Spring Street) assistant Elizabeth McGraw (Kim Basinger who had just recently posed for Playboy), who first met at an outdoor street fair; then, he impressed and surprised her by buying an expensive $300 scarf as a gift
the story: their bizarre romance that included endlessly creative, obsessive, sado-masochistic and experimental ways that the two erotic but kinky adventurers-lovers in New York City aroused themselves during foreplay in his luxury apartment, including submissive sexual power games initiated by John
Elizabeth McGraw
(Kim Basinger)

With John Gray
(Mickey Rourke)
after an ultimatum request that she accept being blindfolded, he caressed Elizabeth's half-naked body with melting ice cubes, and asked the thematic question: "Does this excite you?"
the scene of John presenting Elizabeth with an expensive gold watch in a red box - and instructing her to hopefully use it for self-stimulation: "Elizabeth, each day at 12 o'clock, would you look at that watch and think of me touching you?"
the scene of Elizabeth becoming aroused while watching art slides in her office; she touched herself all over and then masturbated; as the slide projector automatically clicked through the pictures with increasing intensity, she extended her legs outward onto a wall
Masturbation While Watching Slide Show
the long sequence of John's sensual sex games with food in front of a refrigerator, while spoon-feeding her many items (with her eyes closed), to the tune of the Newbeats' "Bread and Butter" [Note: The scene was parodied in Hot Shots! (1991) between Charlie Sheen and Valeria Golina but with vegetables and olives.]
Montage of Sensual Food-Sex Games

One Olive

Spoonfuls from Bowl of Maraschino Cherries

One Cherry Tomato

A Pint of Strawberries

One Glass of Champagne

Two Spoonfuls of Vick's Cough Syrup

Forkful of Cold Spiral Pasta

A Spoonful of Cherry Jello

Four Jalapeno Peppers

One Glass of Milk

Spray From A Shaken Bottle of Sparkling Water

Dripped Gobs of Honey
the scene of Liz snooping through his apartment's closet, clothes, and his personal items (and discovering a picture of him with another woman, April Tover); afterwards, John sexually assaulted and punished Liz, by spanking her, overpowering her and forcing her onto a dining room table to have sex ("pretend" rape?) with him, and she eventually pleasurably succumbed to him and stayed for the night
Snooping in John's Closet

Sexual Assault (Rape?) As Punishment
the scene of Elizabeth and John having steamy and wild sex on his apartment's roof-top behind a giant clock-face - to the tune of Bryan Ferry's "Slave to Love"
the sequence of gender-switched, cross-dressing Elizabeth (wearing a mustache, tuxedo and top hat) smoking a cigar and meeting John in a hotel lobby; after a violent skirmish in an alleyway against two homophobic guys who accused them of being gay (Elizabeth stabbed one of the thugs in the butt with a knife), they had steamy sex on a brick stairway as rain poured down on them; he ripped her tight leotard in two and then fondled her bare breasts
Elizabeth performed a slow sensual striptease for John's satisfaction on the outer roof balcony (to the tune of Joe Cocker's "You Can Leave Your Hat On")
another scene of dominance was introduced by John's question: "Elizabeth, we're gonna play a little game. I'm a man with a very big problem. Because, you see, I can't get excited. I can't get excited unless I see you get on your hands and your knees and crawl across the floor. And I'm willing to pay a lot to see you do that. Would you do that for me?"; although she thought his request was "stupid," he repeatedly commanded her to "Get on all fours and crawl...Elizabeth, I don't want to negotiate with you. Now crawl...Pick up the money"; as she reluctantly crawled across the floor and picked up bills, he brandished a horse-whip in front of her
Degradation and Sado-Masochistic Whipping
the controversial scene in a dingy hotel room of John hiring a black hooker (Cintia Cruz) to fondle, caress and sexually arouse the black-blindfolded Elizabeth - and then in Elizabeth's presence, he also began touching the semi-naked prostitute to make her jealous during the threesome; incensed by John's insensitivity, Elizabeth violently slapped the two of them and fled from the hotel
in the film's ending, the desperately-unhappy Elizabeth challenged John after one final night at his apartment; he vowed that although he had been with lots of women, she was different ("I want you to know somethin'. I want you to know that there's been lots of other girls. There's been lots of women. But I never felt anything like this before. You know, when I just hold you in my arms, it's just the way you feel. Somethin' I didn't count on. I never counted on loving you so much"); she questioned his mysterious lack of commitment after 9 1/2 weeks by asserting: "You knew it would be over when one of us said stop. But you wouldn't say it. I almost waited too long"
in the film's final moments, she walked out on him; after she shut his door and was out of hearing range, he whispered that he loved her and expected her to return within 50 seconds: ("Elizabeth. Elizabeth. I love you. Would you please come back by the time I count to fifty? One..."); she kept walking - with tears in her eyes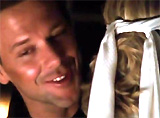 Elizabeth Blindfolded by John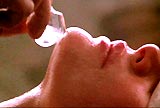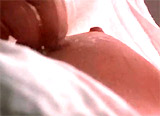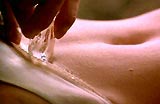 Tantalizing Ice Cubes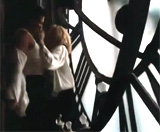 Sex Behind Clock-Face on Rooftop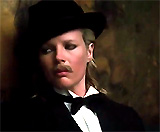 Gender-Reversed Cross-Dressing Rendezvous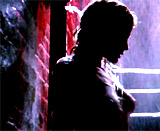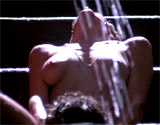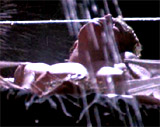 Rainy Stairwell Sex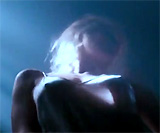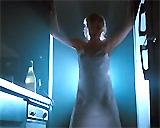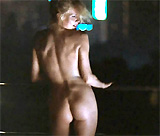 Complete Striptease on
Outdoor Roof Balcony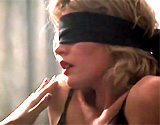 Elizabeth Blindfolded and Touched by Hooker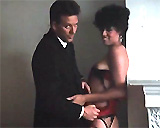 John With Hooker to Anger Elizabeth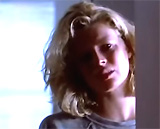 Ending: "You knew it would be over when one of us said stop"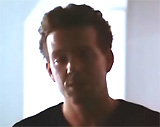 "Would you please come back by the time I count to 50? One..."