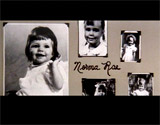 Norma Rae (1979)
In director Martin Ritt's acclaimed social problem drama, based on the true reported tale of Crystal Lee Sutton, a small-town textile factory worker in Charlottesville, North Carolina:
the title sequence, to the tune of the Best Original Song Oscar winner "It Goes Like It Goes" (sung by Jennifer Warnes), with views of typical images during a day in a noisy Southern cotton factory (the O.P. Henley Textile Mill), followed by black and white photos in an album of the stages of the title character's life: ("Ain't no miracle bein' born People doin' it everyday. It ain't no miracle growin' up, People just grow that way. So it goes like it goes Like the river flows. And time it rolls right on. And maybe what's good gets a little bit better And maybe what's bad gets gone. Bless the child of the workin' man She knows too soon who she is. And bless the hands of a workin' man, He knows his soul is his...")
the main character: 31 year-old single mother and small-town Henleyville (fictional), NC cotton mill worker Norma Rae Wilson (Oscar-winning Sally Field) paid minimum wage in the summer of 1978, who frequently protested factory working conditions; to silence her, her boss Gardner (Lonnie Chapman) promoted her to "spot-check" with a pay raise of $1.50 per hour; awkward in her new supervisory position, she was assigned to time (with a stopwatch) and report on the work of fellow employees, including her elderly father (Pat Hingle) on the job: (Norma Rae: "Well, they're watching me. They're watching you")
| | |
| --- | --- |
| | |
| Norma Rae (Sally Field) - Promoted | Norma Rae's New Supervisory Position: "Spot-Check" |
co-worker Sonny Webster (Beau Bridges), a childhood friend, became a romantic acquaintance when he visited Norma Rae one evening and apologized for his 'crazy' behavior during her spot-check earlier in the day; he explained: "I just came to apologize. I know I could have lost you your job today.... I got handed divorce papers this morning. I guess I went off my head"; she replied: "Well, things can get to ya" - and she accepted his invitation to go for a drink; her father complained that she had been mistreated by many casual male sex partners in her past: "Let me say some names to you. Buddy Wilson, Ellis Harper, George Benson, a US sailor. None of which is looking after you, as far as I can see"; she complained about his over-protectiveness: "You're always trying to keep men off me....You're loving me to death"; shortly later, Sonny proposed marriage and Norma Rae accepted
the delivery of an impassioned sermon-speech with platitudes by NY union organizer Reuben Warshovsky (Ron Leibman), representing the Textile Workers Union of America (TWUA), in a nearby backwoods North Carolina Baptist church, attended after work by Norma Rae; he advocated for workers who were underpaid and overworked; he first spoke about the 1970 death of his 87 year-old grandfather and his funeral when 862 members of the amalgamated Clothing Workers and the Cloth, Hat, and Cap Makers' Union of America loyally attended: "In death, as in life, they stood at his side. They had fought battles with him, had bound the wounds of battle with him, had earned bread together, and had broken it together. When they spoke, they spoke in one voice, and they were heard. And they were black, and they were white. They were Irish, and they were Polish, and they were Catholic, and they were Jews. And they were one. That's what a union is, one. Ladies and gentlemen, the textile industry, in which you are spending your lives and your substance, and in which your children and their children will spend their lives and their substance, is the only industry in the whole length and breadth of these United States of America that is not unionized. Therefore, they are free to exploit you, to lie to you, to cheat you, and to take away from you what is rightfully yours. Your health, a decent wage, a fit place to work"; he urged those who were interested to sign a union card; Norma Rae was inspired to persevere in her cause to unionize her shop
Union Organizer Speech

Reuben Warshowsky
(Ron Leibman)

Inspired Norma Rae
the scene of Reuben and Norma Rae skinny-dipping in a local "water hole" on a hot day after cleaning his soiled clothes in the river, where she used to swim naked after school ("We swam here as kids. We'd leave school, chuck off our clothes, and jump in"); as she joined him, she told him: "You're a fish out of water down here" - he admitted he was homesick for New York
lack of attention to home matters while involved in activist union worker issues with NY Jew Warshowsky against management caused Sonny to vehemently complain about her, and suspect that she was engaged in a romantic liaison with Reuben - jeopardizing her marriage: ("That damn milk is sour!...And you didn't get to the washing, or the kids, or to me!...That's right! Damn TV dinners! Kids going around in dirty jeans! I'm going around, uh, without! Altogether!")
the scene in a hotel room when two of Reuben's union colleagues dropped by his hotel room and saw him working with Norma Rae; they advised him to kick Norma Rae off the campaign because there are too many rumors about her lack of morals in the conservative town: ("It's a small, Southern Baptist town. You got to keep your nose very clean....If the company wants us to look bad, they'll use anything to make us look bad....They say she's made a porno movie with a local police officer, very explicit....The lady has an illegitimate child. She's slept around. She naps on your bed"); Reuben angrily defended Norma Rae and dismissed them: "Are we in the union business or the character assassination business? After an 18-hour day, I got the Legion of Decency here! She's broken her ass for this organization! She doesn't see her kids! Doesn't have time for bath!...Make it stick or get out! Get out anyway!"
the climactic scene in which the courageous and feisty Norma Rae was reprimanded by her boss Mr. Benson (James Luisi) for transcribing the words of a racist, anti-union flyer (Norma Rae shouted: "I'm gonna take down every word of this letter") posted by management to inflame racial tensions and diffuse union organization: ("They put up a letter saying blacks are taking over the union, that they're going to push the whites around"); although ordered to leave the premises by officials, she refused to leave, until Sheriff Lamar Miller (Gregory Walcott) arrived: "I'm staying put! Right where I am! It's gonna take you, and the police department, and the fire department, and the National Guard to get me outta here! I'll wait for the Sheriff to come and take me home! And I ain't gonna budge till he gets here!"
in a defiant rallying move, she held up above her head a hand-scrawled, cardboard "UNION" sign while standing on a table and slowly rotating around -- she refused to be intimidated during the stand-off; her steadfast determination caused her fellow factory workers to one-by-one shut down their machines in solidarity and stand up for their rights; gradually, the deafening noise of the hand-tended textile machines in the stuffy room subsided and there was intense quiet; when the Sheriff arrived, Norma Rae made a firm demand: "I want you to put it in writin' that Sheriff Lamar Miller is gonna take Norma Rae Webster straight home. And I want you to sign it, and I want you to hand it to me!"; she refused and was led out of the factory; she viciously fought back when she realized a police car was not taking her home and that she was going to jail; she kicked and loudly objected as she was forced into the squad car
the scene of Norma Rae's talk with her children when she wanted them to understand why she was fired and arrested: "If you go in the mill, I want life to be better for you than it is for me. That's why I joined up with the union, and that's why I got fired for it. You understand me? Now, you kids, you know what I am. And you know that I believe in standing up for what I think is right"
in the film's suspenseful conclusion, an election was held to unionize the factory and it won by a mere 100 votes, forcing the factory to capitulate to the union's demands; outside, Norma Rae gave a platonic hand-shake to Reuben before he drove way
Norma Rae Saying Goodbye to Reuben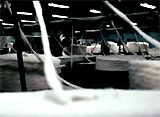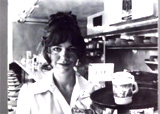 Opening - Title Song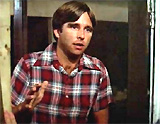 Acquaintance with Future Husband Sonny Webster (Beau Bridges)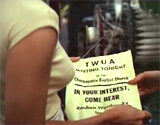 Union Meeting Leaflet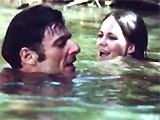 Skinny-Dipping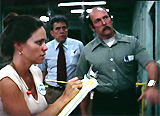 "I'm gonna take down every word of this letter"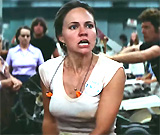 "I ain't gonna budge..."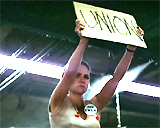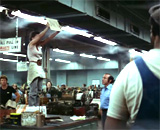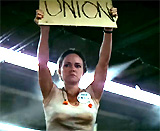 "UNION" Sign


Sheriff Lamar Miller Confronted by Norma Rae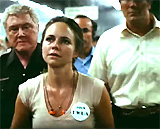 Led Away and Arrested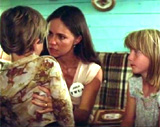 Speaking to Her Children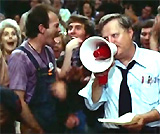 Victory for the Union in Election