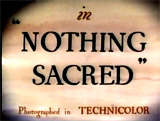 Nothing Sacred (1937)
In director William Wellman's great black comedy - a superb screwball comedy (the first filmed in Technicolor) from former newspaperman and scriptwriter Ben Hecht (who also wrote the play "The Front Page" - made into another famous screwball comedy His Girl Friday (1940)) - it satirized the world of tabloid reporting and its corruption and dishonesty, and was remade as Living It Up (1954) with Dean Martin, Jerry Lewis, and Janet Leigh:
the humorous opening title screen: "THIS IS NEW YORK, Skyscraper Champion of the World...where the Slickers and Know-It-Alls peddle gold bricks to each other...And where Truth, crushed to earth, rises again more phony than a glass eye..."
the early scene of a gala banquet, where the New York Morning Star and its editor boss Oliver Stone (Walter Connolly) was hosting a penniless black Harlem shoeshiner (bootblack) (Troy Brown, Sr.), honoring him as the foreign potentate of the Orient - "Sultan of Marzipan" (who was donating $10 dollars for every $1 dollar, for the establishment of an art institute known as the Morning Star Temple ("twenty-seven halls of learning and culture, twenty-seven arenas of art")); he was exposed as a fraud by his wife who interrupted the proceedings
revelations were that hot-shot star newspaperman - dapper, cynical ambitious tabloid reporter Wallace "Wally" Cook (Fredric March), had printed exaggerated stories in the paper about the impersonating Harlem worker; Oliver Stone was so angered that he announced: "I am going to remove him from the land of the living!"; Cook was severely reprimanded and demoted to writing obituaries for the remainder of his five-year contract
Cook learned of a promising story to redeem himself - "Poor little working girl doomed to death from radium poisoning" - he begged for a chance to travel to Warsaw, Vermont (fictional) and interview the dying girl: "Listen, Oliver, there's a story in this kid that ought to tear your heart out...Oliver, so help me. I'll be in Vermont by morning. I'll dig you up a story that'll make this town swoon...If I don't come back with the biggest story you ever handled, you can put me back in short pants and make me marble editor"
arriving in Vermont, Cook was regarded skeptically by the small-town folk as a scandalmonger; in the office of incompetent and bumbling Dr. Enoch Downer (Charles Winninger), Cook's profession was criticized: "I'll tell you briefly what I think of newspapermen. The hand of God reaching down into the mire couldn't elevate one of them to the depths of degradation. Not by a million miles"; Cook's requests to see the terminally-ill Hazel Flagg, diagnosed by Dr. Downer as having only six weeks to live, were deflected
after the appearance of watch factory worker Hazel Flagg (Carole Lombard), Dr. Downer informed her that she had been re-diagnosed as healthy ("Well, you can stop giving yourself the airs of a dying swan. According to this last analysis I made, you ain't going to die....You're fitter than a fiddle!...That first diagnosis I made was a mistake"); but she was very disappointed that a trip with $200 to the big city of New York was no longer possible and that she had to stay in Warsaw ("You know, I don't know which I am, happy or miserable, I'm all mixed up")
outside the doctor's office as Hazel cried about her predicament, Cook offered to bring her to NY as a guest of the newspaper on an all-expenses-paid trip, as a symbol of courage and heroism: ("We'll show you the town. We'll take you everywhere. You'll have more fun than if you lived a hundred years in this moth-eaten yep-and-nope village...You'll be a sensation. The whole town will take you to its heart. You'll have everything you've ever dreamed of. You'll have it on a silver platter. You'll be like Aladdin with the magic lamp to rub"); as they flew to New York with Dr. Downer, Cook exclaimed as they approached NY: "Well, there she is, in all her beads and ribbons"; he promised: "New York is going to lay its heart at your feet while the whistles blow and the bands play and the cameras grind"; Hazel became a national hero (with a ticker-tape parade and presentation of the key to the city) so the small-town rube could enjoy a taste of life before succumbing; she was given gowns, banquets, theatre tickets, homage poems, and more
| | | |
| --- | --- | --- |
| | | |
| Hazel Invited to NY by Cook | Hazel's Welcome Sign in Technicolor NYC Aerial Shot | "Belle of New York" |
at a nightclub, the floorshow "The Heroines of History" included women onstage on horseback (Lady Godiva, Pocahontas, etc.); the boozing Hazel was invited to the stage by the emcee to join them: ("That little soldier whose heroic smile in the face of death has wrung tears and cheers from the great stone heart of the city. I humbly invite her now to take her place beside all the great Heroines of History"); with the effects of excessive alcohol, she fainted on-stage - garnering even more sympathy
the next morning in bed, the hung-over Hazel began to feel anxious pangs of conscience about her phony and feigned illness; she worried about what would happen when she was found out: ("I've got a conscience...I'm ruining him"); and then she discovered that Cook was planning to make elaborate funeral arrangements for her death with NY's governor: ("There'll be about 30,000 automobiles and a considerable group on foot. About half a million, I think...I'm getting the governor to declare a public holiday for the, uh, occasion"); and then she also learned that Dr. Emil Egelhofer (Sig Rumann), a radium poisoning specialist, was going to examine her - she told Dr. Downer: "I've got to commit suicide in advance before that scientist gets to me. I-I've got to be drowned" - she planned on writing a suicide thank you note to the city and then disappearing and hiding out forever ("I'll change my name and hide away for the rest of my life and never, never see him again")
still in bed, Hazel listened to a 20-member elementary school glee club singing a dedicated song to her: "We're sorry you're dying, Hazel" - during the song, she was crawled over by a freckle-faced kid's pet squirrel
Hazel's suicide note was discovered by her empty bed: "Dear New York City, Goodbye. Remember me as someone you made very happy. I have enjoyed everything. There's only one thing left to enjoy. Your river - that smiled outside of my window. It is easy to die when the heart is full of gratitude. Hazel Flagg"; she was prevented from drowning herself at the pier by Cook (who was actually rescued by Hazel because he couldn't swim), who then proposed marriage to her
the arrival of Dr. Egelhofer and his three European colleagues to examine Hazel; after her X-rays proved that she was not ill, Morning Star editor Oliver Stone was notified of the new diagnosis: ("There is no vestige, no trace, no single symptom of radium poisoning in this young woman, Mr. Stone"); the doctors were paid to keep quiet, and then Stone chastised his star reporter Cook for promoting a hoax: "I am sitting here, Mr. Cook, toying with the idea of removing your heart - and stuffing it like an olive!...You ruined the Morning Star. You blackened forever the fair name of journalism. You and that foul botch of nature, Hazel Flagg!...The biggest fake of the century. A lying, faking witch with the soul of an eel and the brain of a tarantula!")
while Stone was worried about the revelation of the scandal, Cook was thankful about Hazel's newfound health and prospects of marriage: "I thank God on my knees that she's a fraud and a fake and isn't going to die" - he planned to tell the readership: "Wanna tell 'em we've been their benefactors. We gave 'em a chance to pretend that their phony hearts were dripping with the milk of human kindness," and he blamed Stone for the publicity stunt: "You used her like you've used every broken heart that's fallen into your knap-sack. To inflame the daffy public and help sell your papers"
| | | |
| --- | --- | --- |
| | | |
| Dr. Egelhofer and Colleagues | Stone to Cook: "You ruined the Morning Star!" | Cook: "You used her..." |
in a comic lady-beating scene, Cook wanted Hazel to look properly bruised, sweaty, and allegedly sick with pneumonia - before another diagnosis was made; Hazel was knocked out with a terrific punch; and then when she revived, she reciprocated and knocked Cook unconscious
exasperated by the whole situation of fakery, Hazel confessed to city officials, some citizens and the mayor outside her hotel room: "I'm a fake, I'm a phony, I'm not gonna die. I was never gonna die. I never had radium poisoning, I never had anything. I wanted a trip to New York, and I got it"; however, the group decided that the true news of her health would endanger her inspirational story for everyone ("This thing must not get out")
in the last analysis, Hazel declared: "Oh, let me alone. I wish I really could die. Go someplace by myself and, and die alone! Like an elephant!"; it was decided that Cook and Hazel would make their honeymoon disappearance-getaway as marrieds (incognito), sailing on a cruise ship to a tropical island, while it was rumored in the newspapers that she had committed 'suicide' based upon another suicide note left behind: "Dear New York - We've had a lot of good times together - you and I - but even the best of times must end, so I have gone to face the end alone - like an elephant. Sincerely, Hazel"
Ending: Solution -
"HAZEL VANISHES"

Disguised as Honeymooners
on Tropical Cruise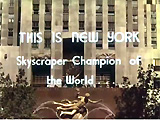 Opening Title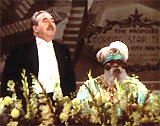 Editor Oliver Stone with Imposter "Sultan of Marzipan"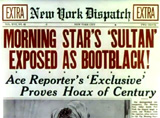 Hoax Revealed


Ace Reporter Cook Demoted But Allowed to Interview Dying Girl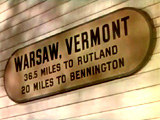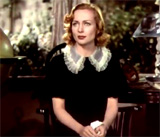 Hazel Flagg
(Carole Lombard)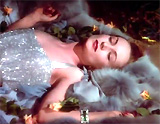 Fainting On-Stage as a "Heroine of History"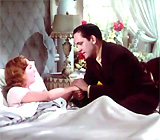 Cook's Plans for Her Funeral, and Examination by a Specialist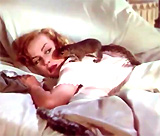 Squirrel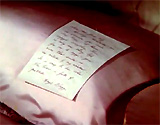 Hazel's Suicide Note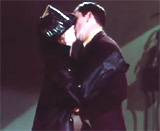 Hazel Kissing Cook After Rescue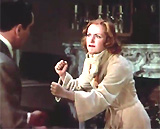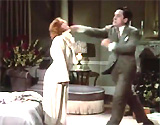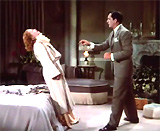 Fighting Sequence - Knocking Each Other Out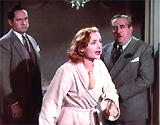 Hazel Confessing to City Officials and Mayor