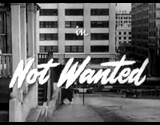 Not Wanted (1949) (aka The Wrong Rut)
In this daring and tragic melodrama about a major social issue (the taboo subject matter of out-of-wedlock pregnancy), the film's co-producer and co-writer Ida Lupino took over the reins of directorship when original director Elmer Clifton suffered a heart attack on the third day of shooting - it was Lupino's first directorial effort, but she didn't receive screen credit, although the film's title introduction was: "IDA LUPINO Introduces":
[Note: When the original release was a financial disaster, enterprising roadshow producer Jack Lake acquired the rights and revised the film to be more exploitational and sensational, with unrelated, inserted color Caesarian childbirth footage, and different beginning and end credits. It was re-released under new titles as a traveling roadshow movie, such as Shame, Streets of Sin, and The Wrong Rut.]
the opening prologue: "This is a story told one hundred thousand times each year..."
under the opening scrolling credits, a fixed shot came to rest on the face of the protagonist, unwed mother Sally Kelton (Sally Forrest), as she was walking up a city street's sidewalk toward the camera; and then a close-up of her worried face - it was not known until a closing parallel scene what the source of her anguished, trance-like disposition was, and what had led up to her plight
the sight of her picking up a baby in an unattended baby carriage, her quick arrest, and her incarceration in jail, where the story about her unhappy life was told, in flashback, after a blurry transitional dissolve ("How did I get here?")
the social issue of high school drop-out and small-town waitress Sally (who claimed she was "around 20") - an unwed pregnancy due to a one-night hook-up with dance-hall STUT N TUP barroom piano player Steve Ryan (Leo Penn, Sean Penn's father!) under the stars in a park (off-screen); after running away from home, she surprised Steve in Capitol City who showed disinterest in her following after him (Sally: "You don't seem very glad to see me"), calling it "a wacky thing for you to do...I'm busy. I've got a million things to do, I won't have any time to spend with you"; she was forced to live in a boarding house
her friendship and employment with Capitol City gas station manager and helpful, nerdy nice guy Drew Baxter (Keefe Brasselle), a disabled, gimp-legged veteran who described his crippling leg injury to Sally: "I had a little skirmish with a mortar shell, plastic. Bad habit of mine, I never watch where I'm going," but she had no romantic interest in him due to being enamoured with the uncommitted, wandering and loner Steve
the breakup scene, when Steve told Sally that he was leaving town without her; she begged for him to marry her ("Then take me with you, I'll take care of you, we can be married. I'll help you find where you belong. Oh please, Steve, it means everything to me. You won't be sorry. You couldn't stop caring just like that"), but was rejected ("Look Sally, you're a good kid. Some day you'll settle down with five kids and a husband with a pipe, but I'm not that guy. I've gotta keep moving, travel light, don't you see? Maybe I'll live miserably ever-after, but that's the way it is with me"); she realized that he never really cared about her - "not even a little bit"
| | | |
| --- | --- | --- |
| | | |
| Friendship with Drew | Rejected by Steve | Growing Romance with Drew |
her growing closeness to Drew after taking the day off and riding on a merry-go-round; while sharing popcorn, he tentatively 'proposed' to her but was fearful of rejection due to his disability: ("Sally, I wanna marry you... Oh Sally, I forgot to ask ya. Well, do ya think you could learn to care for me, I mean, the way I am and everything? Would you mind it?"); she called him the "nicest, sweetest person in the world," but asked for a little more time to consider his offer; the dizzying rotation of the merry-go-round caused Sally to faint
due to her diagnosis of a surprise pregnancy, Sally was forced to acknowledge that she was going to be an 'unwed mother'; she subsequently was forced to keep it a secret by leaving town, and taking a waitress job, but after fainting and collapsing again, she was referred to The Haven Hospital, a home for unwed mothers in Watertown, managed by a kindly Mrs. Elizabeth Stone (Ruth Clifford); ashamed, she refused to contact her parents, and did not know the whereabouts of the father
the memorable scene when she struggled with Mrs. Stone about her decision to give up the baby boy for adoption to a compatible couple - she realized she couldn't afford to take care of the child, and didn't want the stigma to affect the child: "All the arguments on one side and all the arguments on the other. I only want to do what's right for him. What can I give? Love, and love? That's about all. No money, no future, nothing...It wouldn't be fair to him....I don't want him to grow up without a father. I don't want him to look at me and despise me"; however, after a period of time, a remorseful Sally changed her mind and wanted her baby back: "I changed my mind. I've got to have him back. I've got to. I should have never let him go" - but it was already too late (the 'cheerful and healthy' baby had been baptized by the loving, adoptive parents)
after a return to the opening scene, Sally claimed to the Assistant DA (Larry Dobkin), after being charged with kidnapping, that she only wanted to hold the baby in her arms: ("I didn't mean to kidnap him. I just wanted to hold him for awhile. I thought he was like mine"); after hearing Sally's story and Mrs. Stone's intervention, the mother of the child, Mrs. Banning (Virginia Mullen) and her husband dropped the pending charges
in the final scene after leaving the DA's office where charges were dropped against Sally, she was confronted by Drew who had always shown an interest in her that she rejected -- she ran from him, climbed stairs to a railroad overpass, and threatened to jump into the path of an oncoming train below
when he caught up to her, she fled to another railroad trestle; he attempted to stop her but eventually collapsed from exhaustion; she decided not to commit suicide, turned back, and found herself in his caring arms, as the film concluded
| | |
| --- | --- |
| | |
| Running From Drew | Sally Threatening to Jump Into Path of Train Below |
| | |
| Drew Collapsing From Exhaustion | Sally in Drew's Arms |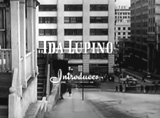 "IDA LUPINO" Introduces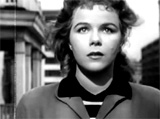 Unwed Mother Sally Kelton (Sally Forrest)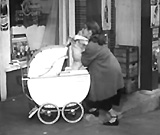 'Stealing' An Attended Baby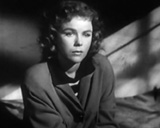 Arrested - In Jail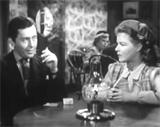 Piano Player Steve Ryan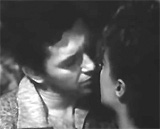 Sex in the Park with Steve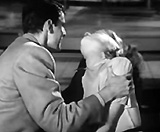 Fainting - Due to Pregnancy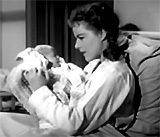 After the Baby's Birth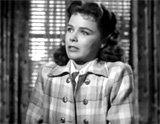 Struggling to Decide Whether to Give Up Child for Adoption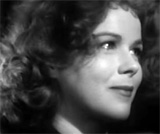 Return to the Present: "I didn't mean to kidnap him" - Kidnapping Charges Were Dropped