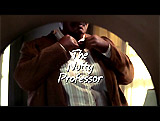 The Nutty Professor (1996)
In director Tom Shadyac's comedy remake three decades later, with Eddie Murphy as the title character - now obese - with Murphy playing most of the roles of the Klump family in the film:
the opening credits scene of the release of hundreds of hamsters on the campus of Wellman College from the laboratory of overweight Professor Sherman Klump (Eddie Murphy), a biochemistry researcher
Klump's first meeting with pretty chemistry graduate student, Carla Purty (Jada Pinkett), and his bumbling first words to her about chemistry that she was going to be teaching: ("Well, thank you very much. I'm fatter - uh, flattered that you, you've been following my work the way you have. A chemistry teacher. Chemistry sure is important to have... chemistry... to have and use it. ChemicaIIy. Chemistry. Well")
the Klump Family's dinner scene (five characters - including Professor Klump, his father Cletus, mother, brother and grandmother - all played by Eddie Murphy), when they first discussed obesity and ex-overweight black celebrities: ("What are ya talkin' about, where all the fat and calories is? You know where that come from? Watchin' that damn TV. Every time you turn it on, ya got somebody there talkin' about lose weight, get heaIthy, get in shape. Everybody lookin' all anorexic, talkin' about that's healthy. I know what healthy is. And I'll tell ya somethin' else. I don't know why everybody tryin' to lose weight in the first pIace! Ain't everybody supposed to be the same size. We're all different. Big, small, medium, midgets. You supposed to have all that. I don't know if I want to be the same size, like that Oprah Winfrey. She's gonna lose her weight. Wasn't nothin' wrong with her. She was fine. Oprah was a fox! She lose all that weight, her head Iook all big, skin hangin' all over. And Luther Vandross. Nigger used to be the black Pavarotti. Lost all that weight, lookin' all ashy. Oprah and Luther need to keep their ass one weight, 'cause I'm confused")
the continuation of the dinner scene when Sherman's ravenous father Cletus began to pass gas ("colon cleansin'") - and ended up soiling himself when he broke wind - and everyone began tooting: (Cletus: "Oops. Now see what you made me do? Goddamn it, I messed up my pants")
also the two scenes of Sherman's fantasy nightmares (spoofing well-known films From Here to Eternity (1953) and King Kong (1933)), kissing Carla on a beach (but with his tremendous weight buried her under the sand) and then terrorizing the city as a monstrous giant Fatzilla: ("It's Fat-zilla! Boy, you look Iike King Kong with titties"), and then a passerby cried out a warning: "Oh my God, he's gonna blow!" - and Sherman's gargantuan expelled fart caused massive destruction, although Cletus congratulated him: "Way to go, son! That's my boy!"; a bum lighting a match ignited an H-bomb-like explosion
Sherman's Two Fantasy Nightmares

Kissing Carla

As Fatzilla: "Oh my God, he's gonna blow!"
and the attempts in a Rocky-styled montage by Klump to work out, including a failed acupuncture session with thousands of needles
after taking a massive dose of genetic weight loss formula, Klump's transformation when he stood in front of a mirror and saw himself: ("Oh! Oh! I'm thin! I'm thin! Look at my cheekbones! I have cheekbones! Yes! Look at my chest. Look at my breasts. I don't have breasts. I'm an 'A' cup. I don't need a bra anymore. Oh, God! I'm thin! I'm thin! I'm thin! Nothin' but air there. Nothin' but air there. My ass is gone now. I'm slim, sIim, sIim. Well, I'll be damned! I can see my dick! My dick! My dick, my dick, my dick!"); however, he was also transformed into a split personality - as an obnoxious, testosterone-driven alter-ego Buddy Love (Murphy again)
the scene of Buddy's apology to Carla for being late in front of The Scream nightclub: ("Let's just have a meaI together. Why you leavin'? Hey, what you want? You want me to beg you? I'll get down on my knees. I'll beg you in front of all these peopIe. Think I care if these peopIe are watchin'? I'm sorry! I'm sorry! I want the worId to know that I was late! And I'm sorry! My car ran outta gas. I needed fresh drawers. My mother's sick. The car broke down on the street...I don't know why this is happenin' tonight. Of all nights this has got to happen to me tonight.... Why!? Why!?...Why?")
Buddy's fat jokes, told in merciless revenge against stand-up comedian Reggie Warrington (Dave Chappelle), deriding his mother's weight and other insults: ("Ok, fat jokes! You wanna do fat jokes? Alright! Your mother's so fat, the bitch needs Thomas Guide to find her asshole! Alright! Wait, wait, wait, your mother's so fat, after sex I roll over twice, and I'm still on the bitch! Your mother is so fat, she fell in the Grand Canyon and got stuck! Reggie's mother's so fat, that the bitch gets her toenails painted at Earl Scheib!... Reggie's mama is so fat, her blood type is rocky road! Last one! Reggie's mother's so fat... HER BELT SIZE IS EQUATOR!")
the embarrassing conversation at the Klump dinner table when Sherman brought Carla there for dinner, and they made inappropriate comments about the two having sex and getting married: ("Sherman has never had relations...I hope you got a strong back. When you get all that man, and reIease all that that's been built up for 35 years. Just wantin' and wantin' and wantin'! Whoo! Might make your head bIow off...I got my own seIf hot tellin' that story")
the scene of Buddy explaining in "rich-dummy" terms the secret of his weight loss plan to wealthy alumnus Harlan Hartley (James Coburn) at the hotel restaurant The Ritz: ("I'll break it down for all the rich dummies in the room, listen up! If you gonna eat nasty stuff like this. I know it looks good and some of you all like porkchop. But this greasy, nasty porkchop, do you realize that there's a gene in your DNA that routes this straight to your fat cells, and it causes all sorts of unsightly conditions. Case in point, this woman is sufferin' from what I like to call jello arms. You notice the arm has taken on a gelatin sort of vibe, and it's quite nasty. Now to my left, this gentleman has turkey neck, and to my immediate left, this woman is sufferin' from what we like to call saddlebag syndrome. And to my extreme left, this young lady is suffering from what I like to call tank ass... I'm your brother, I'm your brother. Like I was sayin' everybody, where there's a will, there's a way, and there is a way we can turn these genes off, and I'm not talkin' about usin' exercise or diet, I'm talkin' about by takin' a simple solution that helps reconstruct your metabolic cellular strands, thus giving you the appearance of, as they say in medical terms, gluteus minimus, or in layman's terms, an extremely tight, wonderful ass. Let's give a big round of applause for the woman with the nice ass, huh? It's so nice, don't you agree? She's worked so hard. Have a seat, have a seat. Oh, are these girls with you? Everyone has a nice ass at this table. Is this the nice ass section?")
and the final scene, when the two alter-egos: Buddy Love vs. Sherman "fought" against each other as he gave a demonstration on stage of the effects of the miracle serum, and transformed back into Sherman
Fighting Against Himself During Transformation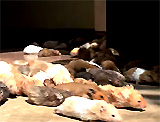 Release of Hamsters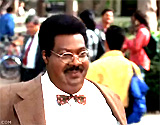 Professor Sherman Klump (Eddie Murphy)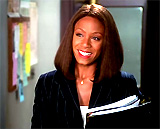 Carla Purty (Jada Pinkett)


Dinner Scene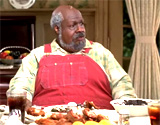 Klump's Father Cletus Passing Gas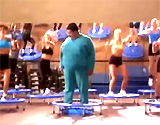 Klump's Exercise Workout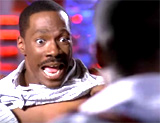 Klump's Transformation: "I'm thin! I'm thin!"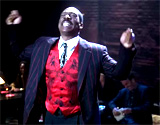 Klump as Obnoxious Buddy Love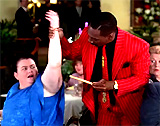 Buddy Explaining His Weight Loss Plan with Fat Shaming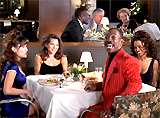 "Is This the Nice Ass Section?"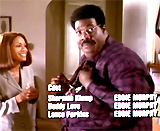 Credits: Eddie Murphy Playing Multiple Roles