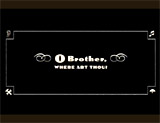 O Brother, Where Art Thou? (2000)
In the Coen Brothers' episodic 30s Homeric odyssey and crime comedy set in rural Mississippi in 1937, with a great, Grammy-winning musical soundtrack (bluegrass, old-time gospels, African-American spirituals, and country), and sepia color correction:
the opening prologue: "O Muse! Sing in me, and through me tell the story Of that man skilled in all the ways of contending A wanderer, harried for years on end..."
the characters of silver-tongued, escaped convict and con-man Ulysses Everett McGill (George Clooney), who liked Dapper Dan hair pomade, and his fellow escaped Mississippi chain-gang cons: angry Pete Hogwallop (John Turturro) and slow-witted Delmar O'Donnell (Tim Blake Nelson); McGill claimed he was looking for a hidden stash of money
Three Chain-Gang Cons Escape

Ulysses E. McGill (George Clooney)
their religious encounter with a church congregation singing "Down to the River to Pray" during a mass baptism
calling themselves the "Soggy Bottom Boys," their singing and recording of "I Am a Man of Constant Sorrow" at the WEZY radio station with blind disc jockey Mr. Lund (Stephen Root) (representing Homer) - a song that became a major hit
The Soggy Bottom Boys Singing at Radio Station with Blind DJ
their meeting up with notorious bank robber 'Baby Face' George Nelson (Michael Badalucco) with a tommy-gun, who single-handedly proceeded to rob a bank ("We're going for the record. Three banks in two hours")
the scene of a trio of seductive sirens washing their clothes in a river - the females paired off with each convict and drugged them with corn liquor from jugs - they lost consciousness; when they awoke, all that was left of Pete was his clothes lying on a rock, when a toad jumped out; Delmar thought that Pete had been transformed (he had actually been turned over to authorities, threatened with hanging, and returned to the chain gang)
their picnic lunch with one-eyed two-faced Bible salesman Daniel 'Big Dan' Teague (John Goodman) with an eye patch - representing the Cyclops; he assaulted Ulysses and Delmar with a large tree branch and killed the toad (by squeezing it to death in his fist)
the real reason for McGill's escape - to return home before his divorced ex-wife Penny Wharvey-McGill (Holly Hunter) (representing Penelope) remarried suitor Vernon T. Waldrip (Ray McKinnon); he lost a fistfight with Vernon after declaring: "You can't marry my wife!"
| | | |
| --- | --- | --- |
| | | |
| Ex-Wife Penny Wharvey-McGill (Holly Hunter) | Suitor Vernon T. Waldrip (Ray McKinnon) | Fistfight: "You can't marry my wife!" |
after the rescue of Pete, the trio's entrance into a nighttime KKK rally led by a red-robed Imperial Wizard (actually reform Governor candidate Homer Stokes singing "O Death"); while the escaped chain-gang trio knocked out three Klansmen to impersonate them as Color Guard members in order to rescue black blues guitarist Tommy Johnson (Chris Thomas King) from a lynching, the Wizard delivered a hateful speech: "Brothers! Oh, brothers! We have all gathered here to preserve our hallowed culture and heritage from intrusion, inclusion, and dilution of color, of creed and of our old-time religion. We aim to pull evil up by the root before it chokes out the flower of our culture and heritage. And our women. Let's not forget those ladies y'all, Iooking to us for protection from darkies, from Jews, from Papists and from all those smart-ass folks say we come descended from monkeys. That's not my culture and heritage.... Is that your culture and heritage?...And so we gonna hang us a Negro"; when one of the KKK members, 'Big Dan', identified the disguised trio, but the group escaped by cutting the wire holding the large flaming cross, which fell onto 'Big Dan' and killed him
| | | |
| --- | --- | --- |
| | | |
| KKK Rally | In blackface | KKK Imperial Wizard |
| | | |
| Tommy Held Prisoner | Hate Speech | Death of 'Big Dan' |
the sequence of McGill's orchestration of the rescue of Penny from suitor Vernon during a Homer Stokes campaign gala dinner, now disguised as bearded musicians-entertainers; when they sang and were recognized by the crowd as the popular Soggy Bottom Boys, Homer also realized they were the disruptive, disguised 'blackface' group at his KKK rally ("You's miscegenated. All you boys is miscegenated!), but his views as a white supremacist were also exposed ("...this band of miscreants here, this very evening, interfered with a lynch mob in the performance of its duties. Oh, yeah, it's true. See, I belong to a certain secret society. I don't believe I got to mention its name, you know? And these boys here, they trampled all over our venerated observances and rituals....These boys desecrated a fiery cross") - but he was denounced; incumbent governor "Pappy" pardoned the group ("by the power vested in me, these boys is hereby pardoned") to the crowd's delight
however, there were further complications in retrieving Penny's original marriage ring that she required before re-marrying Ulysses, including a flood that saved the trio from another hanging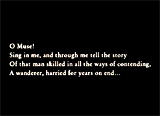 Prologue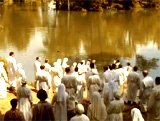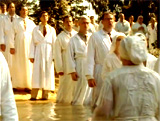 Mass Baptism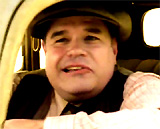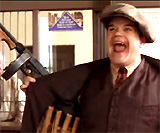 "Baby Face" George Nelson - Robbing Bank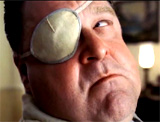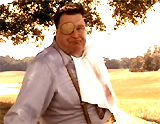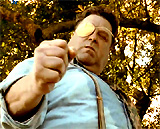 'Big Dan' Teague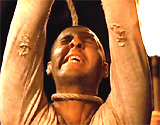 Pete Caught and Threatened With a Lynching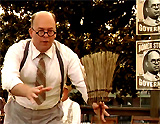 Governor Candidate Homer Stokes (Wayne Duvall) - also Revealed as KKK Imperial Wizard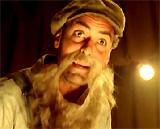 McGill's Rescue of Penny as Bearded Musician at Stokes' Gala Dinner: "It's me!"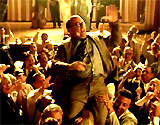 Unmasking of Homer Stokes - Literally Run Out on a Rail for White Supremacist Views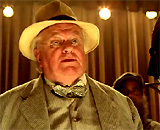 Incumbent Governor Menelaus "Pappy" O'Daniel (Charles Durning) Pardoning Musicians/Convicts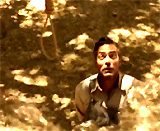 Salvation by Flooding Dam