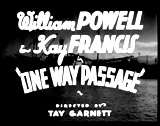 One Way Passage (1932)
In director Tay Garnett's and Warner Bros' pre-Code romantic, tragic, and tearjerking melodramatic love story, with a unique, ritualistic symbol of a couple's emotional commitment and connectivity (crossed, broken cocktail glass stems) - remade as 'Til We Meet Again (1940) starring Merle Oberon and George Brent:
the opening sequence in a Hong Kong bar, where male and female strangers met --- glamorous socialite heiress Joan Ames (Kay Francis) and debonair gentleman fugitive-crook Dan Hardesty (William Powell); he was ordering a "Paradise" cocktail from the bartender when she collided into him - jostling him enough so that he spilled the contents of his freshly-made glass; she prophetically apologized: "I'm so sorry...Such a beautiful drink, too"; he replied: "Yes, 'Paradise' cocktail. Seem to be a few drops left", after which she noted breathlessly: "Always the most precious, the last few drops. That's luck"
At a Bar: The Opportune Meeting of Joan and Dan

Symbol of Two Crossed Broken Cocktail Glasses
during their parting after experiencing 'love at first sight,' he deliberately smashed his cocktail glass on the bar counter, and she followed suit, then crossed the glass stems -- to honor their brief meeting and to signify luck - and her hope that they would meet again; they shook hands, said farewell, and Joan added: "Let's trust luck will come again"
their second meeting on a month-long trans-Pacific cruise ship, the SS Maloa, bound for San Francisco and the shipboard burgeoning of their fateful love affair during the voyage, amidst more drinking of cocktails and shattered glasses; however, mutual secrets were unrevealed to each other: she suffered from a terminal, incurable heart ailment (she was ordered by her doctor: "No more parties, no more cigarettes, no more dancing and NO MORE COCKTAILS!"), and he was a convicted murder who had been apprehended since their previous meeting, and was being taken back to San Quentin Prison (for execution by hanging) by SF police Sgt. Steve Burke (Warren Hymer)
the sequence of the brief stop-over in Honolulu, where the two shared an idyllic day together and a cigarette break - their two discarded butts were symbolically crossed in the sand; and Dan made a sacrifice to help Joan when she fainted and collapsed, and he brought her back onboard for medical assistance, rather than taking advantage of his last chance to escape and get away from authorities on a cargo freighter
as the ship approached the coast of California and passed by Alcatraz Island, Dan envisioned his own fate in a dissolve - his execution: hanging on a gallows
the sequence of the star-crossed, doomed lovers' final toast aboard the ship when they made a mutual vow to meet again in a month at a Mexican nightclub bar (in the state of Aguacaliente) on New Year's Eve; she told him: "It's fun to plan ahead. Let's see. I'd like to be in Caliente for New Year's"; he pondered: "It's just a month, isn't it? Well, then, here's to Agua Caliente, New Year's Eve"; she told him: "Nothing can keep me away" - and he agreed: "Nor me"; they drank, smashed their drinking glasses against the side of the bar, and laid the two broken stems across each other
by the time the ship docked in San Francisco, both had learned privately of each other's secrets - that he was a condemned man (wearing handcuffs), and she was soon to die; when the two were about to disembark from the ship, she gave him one final tearful smile; he prompted her to say "Auf wiedersehen - until New Year's Eve" - and they kissed
moments later after waving goodbye, she fatally collapsed; as she succumbed, the scene dissolved into a New Years' Eve balloon at midnight, labeled ("Agua Caliente Happy New Year")
the great ending -- the mystical or metaphysical, spiritual re-enactment of the broken and crossed cocktail glass stems at the Mexican Caliente bar, when neither Dan nor Joan were there; one of two bartenders was shocked when he heard breaking glass (their invisible toast?) and told his partner: "Hey - look out for them glasses with your elbows"; the second bartender claimed: "I never touched any glasses" - the film's final line of dialogue - and then the broken glass dissolved away and vanished before their very eyes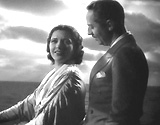 Trans-Pacific Cruise From Hong Kong to San Francisco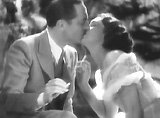 Burgeoning Love Affair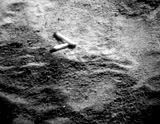 Their Two Crossed Cigarette Butts in Hawaiian Sand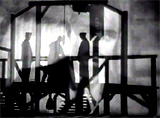 Dan's Envisioning of Execution: Hanging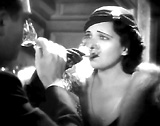 Last Toast with Broken Glasses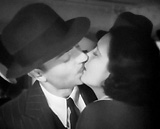 Final Parting Kiss at Dock in San Francisco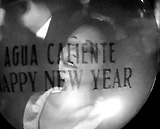 New Years' Eve - One Month Later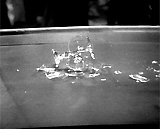 Mystical Ending: At a Mexican Bar in Caliente