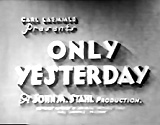 Only Yesterday (1933)
In director John M. Stahl's pre-Code romantic, soapish tearjerker melodrama - a saga about an unwed mother - most clearly an adaptation of Stefan Zwieg's 1922 novella Letter from an Unknown Woman - remade with the title Letter From an Unknown Woman (1948) a decade and a half later by Universal Pictures and director Max Ophuls:
the opening montage of the disastrous effects of the Great Depression as a result of the October 29, 1929 Stock Market Crash, including a dejected-looking man having a shoeshine - and then shooting himself in the head (off-screen) inside a "Gentlemen"'s room (a gunshot was heard from outside the door)
the scene of financially ruined, unhappily-married Wall Street banker James "Jim" Stanton Emerson (John Boles) - to unfaithful socialite Phyllis Emerson (Benita Hume) - was about to suicidally shoot himself at his office desk in his locked Park Avenue study; he opened a deathbed letter from an unknown, dying woman from his past (that he couldn't remember!) whose paths had crossed over the years without her revealing her identity; it began: "My dear, Does the name Mary Lane mean anything to you? And have you forgotten completely a night in Virginia during the war? To me, it seems only yesterday..."
their story was told in flashback, beginning with twelve years earlier in 1917 - a one-night stand in a moonlit garden setting during an officers' ball-dance in Virginia between Lt. Emerson and 19 year-old southern belle Mary Lane (Margaret Sullavan in her film debut); he told her before kissing her: "I think I'm going to be in love with you in just a minute now" - and after they disappeared into the greenery, they later returned with Mary's dress sash untied (after sex) and found to their surprise that the dance had ended long ago -- it was on the eve of his departure to serve in the Great War in 1917; in an embrace, she reminded him as she gave him a sad goodbye: "Good night, my love. And when we walk down that lane, I want you to remember that I've loved you for two years, not just tonight"
Jim's One-Night Stand with Mary in Moonlit Garden in 1917
the depiction of Mary's struggling ordeal as an unwed single mother and raising her son Jimmy, Jr. (Jimmy Butler) on her own - born on Armistice Day (November 11, 1918), while she roomed in NYC with her Aunt Julia Warren (Billie Burke), manager of a beauty shop
the scene of Emerson's return from the war in New York during a welcome ticker-tape parade down Fifth Avenue, when he didn't recognize Mary after she greeted him: "Hello, Jim...It's so wonderful to see you again"; instead - without realizing her identity, he turned and embraced female acquaintance Helen (Mabel Marden) and then his socialite fiancee Phyllis - and there was a long close-up and shock of disappointment and hurt that registered on Mary's face, who later recalled to her Aunt Julia Warren: "Yes, I saw him...and he didn't know me...he spoke to me, he shook hands with me, and he didn't know who I was"; she was stunned that after their one momentous night of love-making ("One evening! It was a lifetime for me"), he couldn't remember her
the additional seduction scene about a decade later when Mary (who was being pursued by suitor-fiancee Dave Reynolds (George Meeker)) happened to spot Jim during a New Year's Eve party at the St. Regis Hotel; he immediately invited her to leave the party: "We can't talk here, can we go?", and she agreed to accompany him to his "bachelor" apartment; on the way, he asked: "Haven't we met before?" and obviously didn't remember her --- but tried to compliment her: ("When I saw you tonight across the room, for just a moment, I did think I knew you...That isn't possible isn't it?...But I couldn't have forgotten anyone so lovely as you are!...I don't have to tell you how very attractive you are!...You're pretty, lovely"); she called him by his name, claiming that he was a well-known public figure
at midnight, they had a drink to toast the New Year (Mary: "Here's luck!"), but she remained evasive and "mysterious," and didn't reveal her own past relationship or identity with him: ("Does that make it better, knowing?... the ideal way -- no questions asked, no questions answered"); when he told her: "You are marvelous....I like you enormously. Does it worry you being here?...You're not afraid here?...You like me? (they kissed) You know, this is the most delightful New Years I've ever spent...But I want more than just this moment. I'm already thinking when I can see you again. Would, uh, tomorrow be too soon?"; she challenged him about his claim of their having a "happy ending": "I'll bet that in six months, in one month, you'll have forgotten we ever met"; he disagreed: "Don't be silly," then kissed her again before the scene faded to black (they made love - off-screen)
six hours later, the morning dawned and she still hadn't told him her name or romantic availability; when he requested seeing her again, she answered: "Not ever. Let's leave it at this. Just a moment together and gone. I've had two moments like this in my life...Oh no, this must be the end. Otherwise, there would be complications. It's so much better to leave it at this - perfect. Goodbye, and thank you for a Happy New Year"
the scene of Mary's lingering death from a chronic heart ailment after she penned the final words of the letter to Jim of her life's story on October 29, 1929 (to be mailed by Julia following her death), and was calling out to her son Jimmy, Jr: ("Jimmy! Hurry darling! Julia, why doesn't he come?...I mustn't go yet. I must wait for him...Doctor, Doctor, I'm getting weaker, I don't want him to see me like this. Can't you do something?")
her final moments with 11 year-old Jimmy dressed in his military uniform: ("I've got to go away for quite a long time, and I want you to promise to be as good a boy when you're big as you have been to mother when you were little. Darling, don't cry"), before she died (off-screen)
| | | |
| --- | --- | --- |
| | | |
| Mary Writing The Final Words of Letter to Jim | Lingering Death: Calling Out to Son | With Son Before Death |
the scene of Jim reading the end of the letter that revealed he had fathered a son by her: ("...and now goodnight, my dear. I should have never told you all this except for your son -- go and see him -- I know you will love him. God bless and keep you both. Yours, Mary Lane"); with a solid reason to live, he replaced his gun in a drawer, and had a confessional talk with his wife Phyllis about how their marriage was essentially over: ("I'm not walking out on anything because there's nothing here to walk out on. There's nothing between us. We've both known that for a long time. Today when I saw the world go to pieces, I realized how empty my life had been, and then I found this letter here. A letter out of the past. It has given me something to live for. And I'd hope, Phyllis, that you might have found someone who would make you happy, too. But that's all in the future to be talked over. The great thing is, Phyllis, that there is a future")
the final sequence of Jim arriving at Mary's apartment, his first glance at Jimmy, Jr. ("I've come to see your mother") - and discovering that she had already passed away: (Jimmy: "My mother died"); he comforted the weeping boy in his arms: ("Next to you, I'm the sorriest person in the world"); after becoming better acquainted and learning about the boy's medals on his uniform, he then confessed that he was Jimmy's father - and the boy's tremulous response: "My father?" - as the film abruptly ended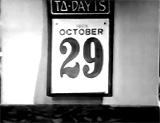 Stock Market Crash


Suicidal Wall Street Banker "Jim" Emerson Reading Deathbed Letter From Mary Lane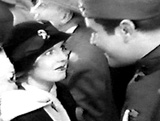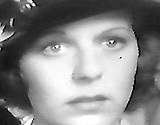 Welcome Home Parade: Hurt on Mary's Face For Not Being Recognized

Seduction Scene About a Decade Later: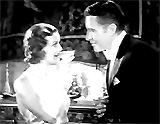 Mary's New Year's Toast: "Here's luck"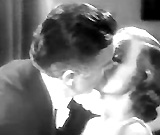 Kiss Before Fade-Out to Black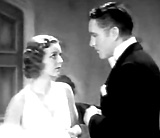 Mary: "Leave it at this - perfect"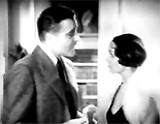 Jim's Confessional Talk with Wife Phyllis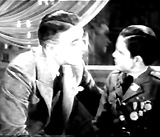 Jim with Son Jimmy, Jr. ("My father?")