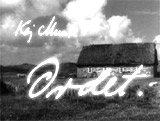 Ordet (1955, Denm.) (aka The Word)
In Carl Theodor Dreyer's beautifully-photographed, fantasy supernatural drama about faith and religion - set in 1925 in the Danish countryside; the film told of the clash between orthodox religion and true faith:
the three Borgen sons of a pious, white-bearded, widower - the traditionalist Lutheran father Morten Borgen (Henrik Malberg):

(1) Mikkel Borgen (Emil Hass Christensen) - the eldest, anti-religious, agnostic (married to religious, kind-hearted wife Inger (Birgitte Federspiel))
(2) Johannes Borgen (Preben Lerdorff Rye) - a crazy and demented theology student who believed himself to be Jesus of Nazareth after reading Soren Kierkegaard
(3) Anders Borgen (Cay Kristiansen) - the youngest son, disobedient because of his love for Anne (Gerda Nielsen), the daughter of strict, religious fundamentalist (or conservative) tailor Peter Petersen (Ejnar Federspiel) - their relationship was a Romeo and Juliet romance that led to warring between the Petersen and Borgen families
the illogical, miraculous religious sequence during the funeral service for Inger, who had died while delivering a stillborn baby
Funeral Service for Mikkel's Wife Inger
when Johannes arrived, he asked quizzically: "Not one of you has had the idea of asking God to give Inger back to you again?...All of you blaspheme God with your lukewarm faith. (To Mikkel) If you had prayed to God, He'd have listened to your prayers. (To all) Why is there not one among these believers who believe?"; Johannes' first inclination was to let her remain dead: "Inger, you must rot, because the times are rotten. Put the lid on"
but then, Johannes inquired about the faith of Inger's young daughter Maren (Ann Elisabeth Rud): "The child - the greatest in the kingdom of heaven...Do you believe I can do it?"; when she responded positively ("Yes, uncle"), he decided to act: ("Thy faith is great, thy will shall be done. Look now at your mother. When I say the name of Jesus, she will arise") - he then offered a transcendent prayer ("Hear me, thou who art dead....Is it crazy to wish to rescue life? Trust in God. Jesus Christ, if it is possible, then give her leave to come back to life, give me the Word, the word that can make the dead come to life. Inger, in the name of Jesus Christ, I bid thee, arise!"), and his words resurrected Inger from the dead - in her open coffin, she unclasped her joined hands, slowly opened her eyes, and kissed her husband Mikkel during an embrace; she was helped and lifted out of the open casket by her husband
in the conclusion, the miracle united the patriarchs of the two families: Morten Borgen and Peter Petersen, who spoke to each other - Peter: "Morten, it is the God of old, the God of Elijah, eternal and the same" - Morten: "Yes, eternal and the same"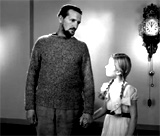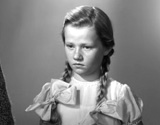 Johannes Borgen with Inger's Young daughter Maren (Ann Elisabeth Rud)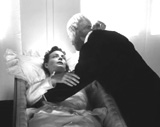 The Miraculous Resurrection of Inger From Her Coffin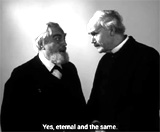 Conclusion: United Families (the Borgens and Petersens): "Yes, eternal and the same"