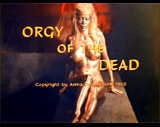 Orgy of the Dead (1965)
Schlocky scriptwriter Ed Wood's notoriously bad, sexploitational, low-budget nudie horror film was advertised as being shown featuring NAKED Spirits and TOPLESS Dancers, and presented "In Gorgeous Astravision" and "Shocking Sexicolor":
in the opening prologue, two muscle-bound strong-men with silver head and arm bands and skimpy shorts, removed the coffin lid of a stone casket inside a cemetery's crypt - the corpse sat up. It was the film's rambling narrator Criswell (scripter Ed Wood's buddy) - the Emperor of the Dead, aka the leader of the 'twilight people.' Throughout the film, Criswell as the Emperor served as the emcee and provided absurdist and odd commentary. He spoke as dramatic music played:

"I am Criswell! For years I have told the almost unbelievable, related the unreal, and shown it to be more than a fact. Now I tell a tale of the threshold people, so astounding that some of you may faint. This is a story of those in the twilight time, once human, now monsters, in a void between the living and the dead. Monsters to be pitied, monsters to be despised. A night with the ghouls, the ghouls reborn, from the innermost depths of the world."

the story really began when California horror book writer Bob (William Bates) and his buxom red-haired girlfriend Shirley (Pat Barringer or Pat Barrington) were driving to a cemetery late one night. Bob claimed a graveyard would help to serve as an inspiration for his lucrative writings on the topics of necrophilia and ghost stories: ("It's on a night like this when the best ideas come to mind... stir in the mind the best ideas for a good horror story"). The two suffered a car wreck in their Chevrolet Corvair in the fog - fortuitously, they crashed next to a cemetery, and they were flung from the car.
the demonic Emperor Criswell again described the circumstances in voice-over:

"It is said on clear nights, beneath the cold light of the moon, howls a dog and a wolf, and creeping things crawl out of the slime. It is then the ghouls feast in all their radiance. It is on nights like this most people prefer to steer clear of, uh, burial grounds. It is on nights like this, that the creatures are said to appear, and to walk!"

in the moonlight while he sat at the exterior of the marble crypt, he summoned his undead consort, the Black Ghoul (Fawn Silver) or Ghoulita, a Vampira/Elvira clone known also as the Princess of Darkness, who was sporting with a black beehive hairdo. She took his hand and bowed before him, to join him for the festivities. He threatened the ghouls that were about to appear: "If I am not pleased by tonight's entertainment, I shall banish their souls to everlasting damnation!"
the ghouls that the two were commanding included a bevy of topless, zombie-like, graveyard 'creatures of the night' (hired LA strippers), who were about to perform ten interminable stripteases (with uncoordinated shimmying) in the fog.
Indian Dance (Bunny Glaser) - "One who loved flames. Her lovers were killed by flames. She died in flames"
Street Walker Dance (Coleen O'Brien) - "One who prowls the lonely streets at night in life is bound to prowl them in eternity"
meanwhile, Bob and Shirley revived, heard chanting and music nearby in the cemetery, and decided to investigate. As they observed the dancing, Shirley hypothesized that it was some sort of college initiation, but Bob doubted her theory ("Nothing alive looks like that").
Gold Girl Dance (Pat Barrington) - a gold-worshipping, buxom Gold Girl (with a platinum blonde wig), also seen in the credits, danced as her red-headed alter-ego watched nearby; at the end of her dance, she was showered with gold coins, but then Criswell 'rewarded' her with a punishment ("For all eternity, she shall have gold") - she was dipped into a pot of bubbling liquid gold where she became an immobile, golden statue; her stiff corpse was carried by the two strong men back into the crypt
before more dancing, two other characters were introduced: a Werewolf (John Andrews) and a Mummy (Louis Ojena), who seized the two "live ones" or interlopers Bob and Shirley, and tied them to gravestone posts - forcing them to watch throughout the entire proceedings.
Cat Dance (Texas Starr) - appearing first in a leopard costume with exposed breasts ("To love the cat is to be the cat"), while bull-whipped by her S&M trainer: ("A pussycat is born to be whipped")
Slave Dance (Nadejda Dobrev) - a tunic-wearing slave who was chained to a wall, and whipped as torture ("Torture, torture, it pleasures me!")
Mexican Dance (Stephanie Jones) - represented by a skull, and the Mexican festival Day of the Dead, who enjoyed dancing for dead matadors and bull-fighters
Hawaiian Dance (Mickey Jines) - wearing a Polynesian garment, she worshipped snakes, smoke, and flames, and appeared with a rattlesnake
Skeleton Dance (Barbara Nordin) - a Bride Ghoul (wearing a bridal veil) who murdered her husband on her wedding night, and danced with his skeletal remains
Zombie Dance (Dene Starnes) - a zombie with arms outstretched ("She lived as a zombie in life, so she will remain forever a zombie in death"
Fluff Dance (Rene De Beau) - whose main interests were feathers, fur, and fluff ("This one would have died for feathers, furs, and fluff, and so she did")
The Graveyard Dancers (in order of appearance)


Indian Dance (Bunny Glaser)

Street Walker Dance (Coleen O'Brien)


Cat Dance (Texas Starr)


Slave Dance (Nadejda Dobrev)

Mexican Dance (Stephanie Jones)

Hawaiian Dance (Mickey Jines)

Skeleton Dance (Barbara Nordin) - a Bride Ghoul

Zombie Dance (Dene Starnes)

Fluff Dance (Rene De Beau)
when the tenth and final breast-jiggling and hip-swiveling dance ended, the Emperor offered Shirley to the Ghoul: ("You may take her now...Now hurry, hurry, I will watch! Your desires may be my pleasure also, our fitting climax to an evening's entertainment"), but the arrival of the bright sun of dawn interrupted her stabbing of Shirley. The Black Ghoul sank to the ground - as well as all of the other dancers and ghouls, as they were turned to skeletal dust.
The Light of Dawn Turned Ghouls Into Skeletal Dust
in the film's twist ending revealing that everything was a dream (Bob: "It was all a dream"), Bob and Shirley woke up at the crash site as they were being treated by paramedics. Shirley asked: "Where are they, where did they go?...They tried to kill me." They were reassured that they were lucky to be alive before being loaded into an ambulance.
Criswell ended the film with a partial voice-over warning about visiting graveyards at night - and then laid back into his crypt's coffin:

"As it is with all the night people, they are destroyed by the first rays of the sun, but upon the first appearance of the deep shadows of the night, and when the moon is full, they will return to rejoice in their evil lust, and take back with them any mortal who might happen along. Yes, they were lucky, those two young people. May you be so lucky. But do not trust to luck at the full of the moon. When the night is dark, make a wide path around the unholy grounds, of the night people. Who can say that we do not exist, can you? But now, we return to our graves, and you may join us soon!"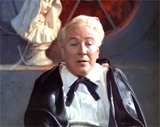 Criswell - The Narrator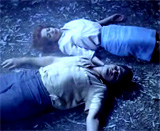 Car Crash Victims - Shirley (Pat Barrington) and Bob (William Bates)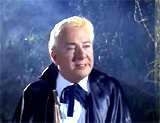 Criswell Inviting His Black Ghoul Consort to Join Him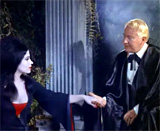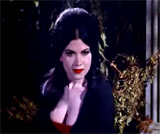 Ghoulita (Fawn Silver) - The Black Ghoul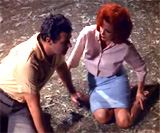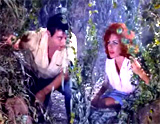 Bob and Shirley - Revived From Car Crash and Spying on Dancing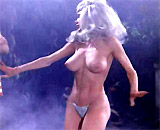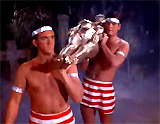 Gold Girl Dance (Pat Barrington) - Also In Opening Title Credits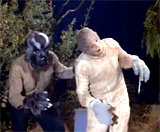 Werewolf and Mummy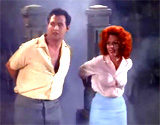 Shirley and Bob Tied on Posts and Forced to Watch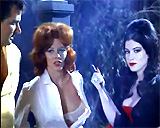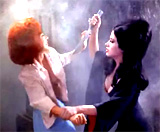 At the End of the Dances, Shirley Was Given to the Black Ghoul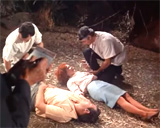 Plot Twist: "It was all a dream"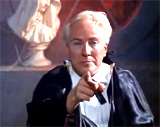 Criswell's Final Warning