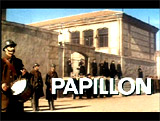 Papillon (1973)
In director Franklin J. Schaffner's lengthy, episodic, biographical prison-escape film, highlighting the horrible prison conditions in the notorious French penal colony - the film's tagline: "FOR PAPILLON SURVIVAL WAS NOT ENOUGH. HE HAD TO BE FREE":
the character of indomitable French safecracker Henri "Papillon" Charriere (Steve McQueen) (nicknamed "Butterfly" for his chest tattoo), imprisoned for life for murdering his pimp (although he claimed that he was framed); Papillon met a fellow prisoner during the voyage to French Guiana: withdrawn and shy embezzler and counterfeiter-forger Louis Dega (Dustin Hoffman) with Coke bottle-thick glasses
after arrival in the seaside town of Saint-Martin-de-Re in French Guiana, the prisoners were welcomed to the Penal Colony - the two soon bonded in friendship after Papillon became Dega's bodyguard
Henri "Papillon" Charriere (Steve McQueen)

Louis Dega
(Dustin Hoffman)

Papillon and Dega
the view of the three infamous islands (St. Joseph's, Royale and the brutal Devil's Island on the right) - Devil's Island was where some of the more extreme prisoners would be kept for punishment ("The current is so strong it'll push you right back where you started from. You know, when you're on those islands, you're there for keeps!"); most prisoners were assigned to the harsh work camp known as Kilo 40
the stern and hopeless speech given to Papillon by Warden Barrot (William Smithers) - after his first failed escape attempt, and his sentencing of two years in solitary confinement on St. Joseph's Island: "The rule here is total silence. We make no pretense of rehabilitation here. We're not priests, we're processors. A meatpacker processes live animals into edible ones. We process dangerous men into harmless ones. This we accomplish by breaking you. Breaking you physically, spiritually, and here (he pointed to his head). Strange things happen to the head here. Put all hope out of your mind and masturbate as little as possible. It drains the strength. That's all, take him away"
during a brutal interrogation, Papillon was threatened by continuing solitary confinement and starvation, but was told he could be back on full rations if he ratted on his food helper-benefactor (Dega) who had been providing him with coconuts: ("Unless you tell us who sent them, your rations will be cut in half....I want that name and I want it now. Put him on half rations and screen his cell for six months. Darkness does wonders for a bad memory"); later, Papillon was again questioned: ("Give me the name and you're back on full rations. Just one name"), he curtly responded: "Well, I don't get that hungry" - when told: "You'll starve, you should see yourself," he replied: "I was born skinny"; the Warden warned: "Then you'll die"
finally, after Papillon lost a molar tooth, he decided to promise to squeal to the Warden, but instead rambled incoherently like an insane man: ("I had the name, honest to God. I must be light - I must be light-headed or something because I'm trying. I'm trying. I can, l can't remember. Honest to God, I can't. I can't, I can't remember. It's not there, Mr. Prosecutor. I don't know, it's not, it's not there. No. It's gone"); he was declared almost dead ("He's dying. You're dead. Your term is completed") - he was released from solitary and sent to the infirmary to recover
| | | |
| --- | --- | --- |
| | | |
| Interrogation About a Benefactor | Worsening Conditions | 2nd Interrogation: "I was born skinny" |
the multiple times the obsessed Papillon continued to plot escape attempts but was usually recaptured and caged
after a miraculous second escape when Papillon was tracked by Indian natives and shot with drugged blow darts, he lept from a cliff into a river; he recuperated in an idyllic sequence in a remote jungle area of Charriere where he was nursed back to health by a Colombian Indian native tribe (the Guajiras) and by topless native pearl diver Zoraima (Ratna Assan in her sole feature-film appearance); he was requested by the tribal Chief to have his 'butterfly tattoo' replicated on his chest
after being apprehended a second time, Papillon was returned to St. Joseph's Island and released after another stint of solitary confinement (five years); afterwards, now white-haired and weak, he was taken to the remote Devil's Island, surrounded by high jagged cliffs; a guard cautioned: "We try to take things easy here. The sharks and the tide do all the real guard work so it's live and let live - unless you make trouble" - he was reunited with Dega: (Papillon: "It's funny you and me ending up here. We're the only ones left. Do you ever wonder about it?"); Papillon realized that Dega had become mentally-ill, half-mad and broken
during a final goodbye scene between Papillon and Dega, Papillon was waiting for the 7th large wave to take him to freedom on his third escape attempt: ("The mainland's only 24 miles. You just drift with the current. Only two days...They come in a series of seven. And the seventh wave is big enough to take us both out beyond the point of return"); Dega declined to join him, so thoroughly accustomed to the solitary life of gardening on the windswept lonely island; he begged Papillon not to attempt the plunge and leave him ("You'll be killed. You know that?...Please don't do it") - he refused to join him
Papillon's Final Escape Attempt from Devil's Island - Without Dega
Dega watched Papillon's final successful escape as he took a plunge off a Devil's Island cliff with his improvised raft made of a bag of coconuts lashed together; on the floating raft, Papillon challenged his keepers and yelled to the sky: "Hey you bastards, I'm still here!"
the narrator (director Schaffner) provided a voice-over epilogue, heard with a view of the abandoned and overgrown historic prison in French Guiana: "Papillon made it to freedom. And for the remaining years of his life, he lived a free man. This, the infamous penal system in French Guiana, did not survive him"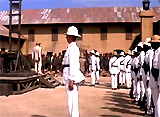 After a Boat Journey, "Welcome to the Penal Colony" in French Guiana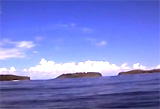 The View of the Three Infamous Prisoner Islands From Shore


The Warden to Papillon: "We make no pretense of rehabilitation here"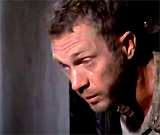 In Solitary Confinement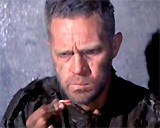 Turning Point: Loss of Molar Tooth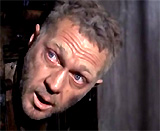 Feigning Insanity During Confession - Before Release


Reunited with Dega and Helped by Him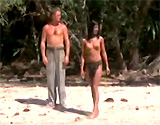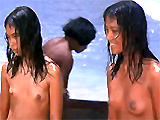 Idyllic Respite with Colombian Native Pearl Diver Zoraima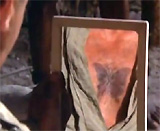 Tribal Chief Requested Papillon's Butterfly Tattoo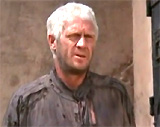 The End of 5 Years of Solitary Confinement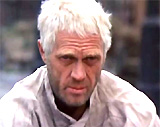 Sent to Devil's Island For the Remainder of His Sentence