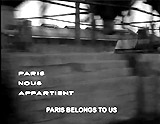 Paris Belongs to Us (1961, Fr.) (aka Paris Nous Appartient)
In Jacques Rivette's low-budget, French New Wave debut film - a frustrating, dark, doom-laden, psychological thriller-mystery set in 1957 Paris:
the film's opening contradictory epigraph: "Paris Belongs to No One" from a poem by Charles Péguy, and the camera's blurry train trip (shot through the train window) through Paris, ultimately arriving at the apartment of college literature student-ingenue Anne Goupil (Betty Schneider) reading The Tempest; she heard the grieving and sobbing of a Spanish female neighbor who knew her older brother Pierre Goupil (François Maistre) (and falsely claimed he was dead!); she spoke about the death (or suicide?) of an unseen character named Juan
young innocent heroine Anne with her brother Pierre attended a Left Bank party scene of a diverse group of youthful, self-deluding, troubled bohemian idealists; the party was hosted by struggling and tortured theatre director Gerard Lenz (Giani Esposito), the current boyfriend of Terry Yordan (Françoise Prévost); she was the film's pivotal character - she was a political exile from the US, and also the mysterious femme fatale ex-wife of expatriate American and boozy, angry and neurotic Pulitzer Prize-winning writer Philip Kaufman (Daniel Crohem) who was escaping blacklisting McCarthyism
the main subject of party conversation was the mysterious and suspicious death of Juan (a strong-willed anti-Franco Spanish political activist, avante-garde guitarist and Terry's ex-boyfriend), and the possible intriguing and fearful notion of the existence of a secret worldwide organization involved in conspiracy and political assassination, including Juan as a victim: ("Everything's threatened - the world. And nothing can be done"); however, Terry claimed that her breakup with Juan was the cause of his suicide, not conspiracy; it was suspected, according to Philip, that Gerard would be the organization's next victim
a play-within-a film - director Gerard's rehearsal of Shakespeare's play Pericles, Prince of Tyre, and the choice of Anne to play the role of Marina in the off-beat, no-budget, bare-bones, left-wing summer production
Anne's elusive and intriguing detective-like quest for the truth about Juan's death, and for the dead Spaniard's legendary last musical guitar recording before his death, to be used as part of the soundtrack for Gerard's play
the sequence of a bizarre sidewalk cafe cameo appearance by Jean-Luc Godard (as Himself) wearing sunglasses, who was asked questions by Anne about Juan's tape recording - he responded: "A tape? It's possible. All Spaniards play the guitar"; he claimed he had heard the tape at a friend's place: "Tania somebody. A Russian name. A descendant of Genghis Khan...Tania Fedin" - who lived "near the Odeon somewhere"; Godard continued: "Was this Juan talented? He didn't look it - the Modigliani type. His genius lay in sitting for hours without saying a word. He'd watch passers-by, especially girls. If he didn't like someone, he'd hit him. Once he got two weeks for hitting a man he said was a Fascist spy. You believe that? It's OK by me"; he didn't believe in the rampant paranoia; Godard scribbled "You're adorable" on the edge of his newspaper and flirtatiously showed it to a cute female customer at a nearby table; when she ignored it, he stated: "That's all I know and all I want to know"
the unusual doodling artwork of writer Philip - pictures of evil, open-mouthed, growling and demonic, Pacman-like heads that littered his bedroom wall
at a private cinephile party, the viewing of an excerpt from Fritz Lang's Metropolis (1927, Germ.) - the sinister Tower of Babel sequence evoking capitalistic, dictatorial greed, cross-talking confusion, hands reaching skyward, and pride leading to apocalyptic destruction (and a blank white screen)
Anne's famous line of dialogue to her brother Pierre: "Am I going crazy, or is it the whole world?" - and Pierre's reply: "Both, kid"
in the confusing conclusion set in the outdoor woods near a country pond, Anne finally came to the conclusion that the deaths of Juan and Gerard (from suicide) had nothing to do with any coordinated conspiracy - it was speculated, however, that Juan might have been killed by agents of the Falange (Spanish Fascists); suddenly, there was a quick cutaway or sudden flash - a premonition in Anne's mind of a murder scene - Terry shooting and murdering her brother Pierre
Anne's Premonition of Femme Fatale Terry
Murdering Her Brother Pierre
and then shortly later when Terry drove up by herself, Anne was suspicious that Terry had just murdered her brother Pierre: ("You killed him, it's you!"); to add to the deadly motive, the ultra-paranoid Philip admitted that the existence of an evil international organization was completely fabricated and make-believe, and that he had been wrong about Pierre: "I was wrong, Terry. Pierre wasn't guilty....I was wrong, Terry. Pierre wasn't guilty"
during a final confrontation in the country house bedroom, Terry and Anne spoke together, and Terry briefly explained to Anne what was going on - Terry confirmed that her boyfriend Gerard had committed suicide, but that the organization was "just an idea. It exists only in Philip's imagination. It's easy to encompass everything in one idea. His idleness, his cowardice. Nightmares are alibis"; Anne was regretful about Gerard's suicide: "And Gerard died for that"; Terry continued: "Such organizations do exist, but less clear-cut. Money, policing, factions - all the figures of fascism. Evil has more than one face"
then, Anne asked about Pierre's fate: "And what about Pierre? Pierre too?" Terry: "Pierre is dead." Anne: "You killed him?" Terry: "Yes, for no reason...Anyway, he was a rat!" Anne: "And you?!" Terry: "We're imbeciles. It's all your fault. You sought the sublime. Poor fool" - Anne shouted: "Go away!"
by the downbeat conclusion, Anne's sleuthing had been unable to prevent Gerard's suicide, or the murder of her own brother Pierre; forlorn, she sat by herself at the country pond and watched white birds skim over the surface of the water
Downbeat Conclusion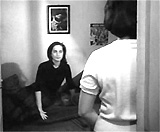 Anne's Grieving Spanish Neighbor in Apartment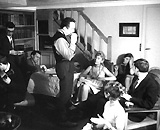 Left Bank Party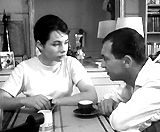 Thoughts of Conspiracy Regarding Death of Juan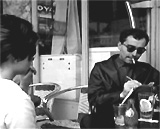 Cameo by Jean-Luc Godard, Questioning Anne About Juan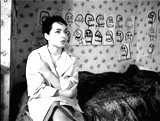 Artwork on Wall in Philip's Bedroom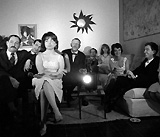 Viewing of Metropolis (1927)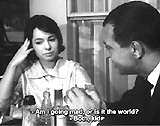 Anne to Brother Pierre: "Am I going crazy, or is it the whole world?"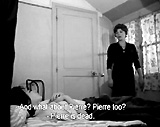 - Anne to Terry: ("And what about Pierre? Pierre too?)
- Terry ("Pierre is dead")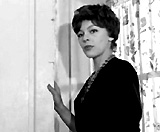 Terry Admitted to Anne That She Had Killed Pierre