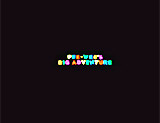 Pee Wee's Big Adventure (1985)
In director Tim Burton's garish first major feature film - a road film:
the normal outfit of the quirky and nerdy man-child Pee Wee Herman (Paul Reubens) character (tight and small gray flannel suit, white shoes, a large red bow tie, with lipstick, etc.)
the cartoon-like toy/contraption-filled environment of Pee Wee's home and the Rube-Goldberg breakfast routine he had created - in which he woke up and had breakfast completely made for him (pancakes, two eggs and bacon shaped like a happy face), topped off with Mr. T cereal
Pee Wee's Rube-Goldberg Breakfast Devices
Pee-Wee's worship of his ridiculously over-gadgeted, over-decorated beloved bicycle (customized and complete with plastic lion's head on the handle-bar)
Bicycle with Plastic Lion Head on Handle-Bar
the scene of Pee Wee's argument with his covetous neighbor Francis Buxton (Mark Holton): ("I know you are but what am I?"), and "PeeWee!" ("That's my name, don't wear it out!")
his famous remark after tumbling when he attempted to perform too many tricks on his bike, and told a group of young male onlookers: "I meant to do that!"
his Rebel Without a Cause (1955)-inspired warning to love interest Dottie (Elizabeth Daily), a bicycle shop employee: "There's things about me you don't know, Dottie. Things you wouldn't understand. Things you couldn't understand. Things you shouldn't understand...You don't want to get mixed up with a guy like me. I'm a loner, Dottie. A rebel"
his delighted perusal of Mario's Magic Shop (trying on X-Ray Spex, and at one point putting on an oversized ear and yelling, "WHAT? WHAT?")
his anguished realization that his overly-chained red bike had been stolen - and collapsing in a bike store - causing a row of bikes to topple over
his feverish questioning of Francis in an oversized bathtub - and PeeWee's offer of gum - that turned out to be "trick gum," and then his long over 3-hour meeting with his friends to discuss the loss of his bike, including a large detailed map and scaled model, and exhibits to look at
Pee Wee's search for his bicycle during a tour of America after a sham fortune-telling gypsy named Madam Ruby (Erica Yohn) told him it was in the Alamo's basement, in San Antonio Texas
while hitchhiking across the country from LA to Texas, Pee-Wee's helping of a fugitive con Mickey (Judd Omen) to escape the law by pretending to be his wife, and telling an officer when asked to step out of the car: ("Why don't you take a picture? It will last longer")
his crashing the car and strolling around in total darkness (cartoonishly, only his eyes were seen)
Pee-Wee's startling and hysterical encounter with the ghost of deceased fat trucker Large Marge (Alice Nunn); she was transformed into a bug-eyed ghostly victim of a horrendous auto accident
Pee-Wee's nightmares about the fate of his bike (e.g., eaten by a T-Rex, destroyed by clown surgeons)
Pee-Wee proving over the phone that he was in Texas (he shouted "The stars at night are big and bright...", and a crowd sang back: "...deep in the heart of Texas!")
Pee-Wee's visit to the Alamo, the tour, and his question to the guide: "Where's the basement?...Aren't we gonna see the basement?" and his astonishment when informed: "There's no basement at the Alamo"
in a movie being filmed at the Warner Bros. studio (using Pee Wee's bike as a prop), bratty and spoiled child actor Kevin Morton (Jason Hervey) growled at his director: ("Doesn't it look like I'm ready? I am always ready! I have been ready since first call! I am ready! ROLL!")
Pee-Wee's escape from the Warner Bros. studio lot - ensnaring Santa Claus, Godzilla, and swinging across a ravine on a bike and yodeling like Tarzan
Pee Wee's Role in a Film of His Bike Retrieval Story as a Bell-Hop

Pee Wee: "Come on, Dottie. Let's go."
Dottie: "Let's go? Don't you wanna see the rest of the movie?"
Pee Wee: "I don't have to see it, Dottie. I lived it."
appearing in a Hollywood movie about his own bike-retrieval story (a James Bond-style film with James Brolin as PW Herman and Morgan Fairchild as Dottie), Pee Wee took a role (a small cameo) as a red-uniformed bell-hop; he delivered a PA announcement, with an hilarious deep voice that was dubbed: ("Paging Mr. Herman, Mr. Herman, you have a telephone call"); with his friends, Pee Wee watched his own big screen debut at a drive-in theater
the evocative closing shot as the silhouettes of Pee-Wee and Dottie bicycled sedately in front of the silhouetted, kissing Hollywood versions of themselves on the drive-in theater screen; as he departed, Pee Wee quipped to Dottie: "I don't have to see it, Dottie. I lived it."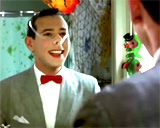 Pee Wee's Outfit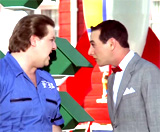 Pee-Wee's Argument with Neighbor Francis: "I know you are but what am I?"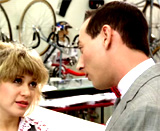 "There's things about me you don't know, Dottie"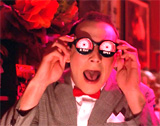 In Mario's Magic Shop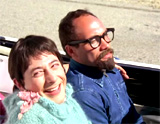 Pretense of Being the Wife of a Fugitive Con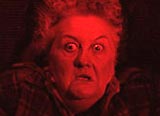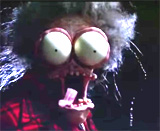 Ghost of Large Marge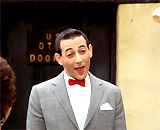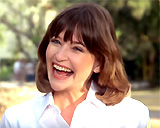 At the Alamo: "Aren't we gonna see the basement?" The reply: "There's no basement at the Alamo"


Tarzan Swing on Bike,
With Yodel Yell as He Escaped Warner Bros. Studio