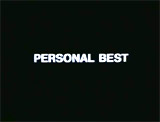 Personal Best (1982)
In director/screenwriter Robert Towne's debut film about two female athletes training for the 1980 Olympics, with the tagline: "How do you compete with a body you've already surrendered to your opponent?":
the physicality of the athletic, well-toned women
the honestly-depicted lesbian relationship between bisexual track star hurdler Chris Cahill (Mariel Hemingway) and older pentathlete lesbian Tory Skinner (Patrice Donnelly)
as they laid naked together, they took turns softly touching and pleasuring each other, as Chris noted: "I've never had this done before." Chris' experimentation was only a phase since by the film's conclusion, she went off with waterpolo player Denny (Kenny Moore)
the frank dialogue in the locker room and steam room scenes, while emphasizing their taut bodies; bits of conversation were heard:

"So, well, how was Norman?"
"Well, actually, he's got a curved weenie."
"To the left or to the right?"
"To the left."
"That could be a problem."
Female Athletes in a Steamy Spa