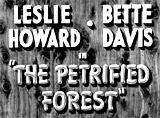 The Petrified Forest (1936)
In director Archie Mayo's romantic crime drama:
the sad, tear-jerking death scene at the finale when idealistic and disillusioned writer/world traveler Alan Squier (Leslie Howard) died in culturally-starved waitress Gabrielle (Gabby) Maple's (Bette Davis) arms after being shot by ruthless fugitive gangster Duke Mantee (Humphrey Bogart) in a run-down Arizona desert cafe
before dying, he told her: You know, they were right, Gabrielle, the stars I mean. I had to come all this way to find a reason. The Duke understood what it was I wanted. I hope you...I hope you... (he slumped dead in her embrace)
Gabby tried to get Alan to continue talking ("What Alan? What did you say? Alan!"), but he was gone; she realized that he had found a purpose in his life; his life insurance policy for $5,000 had been made out in her name - allowing her the freedom to leave the town and move to France; she planned to bury Alan out in the petrified forest ("That's what he said he wanted")
Gabby's concluding recitation of the film's final poetic lines, taken from "Ballad Written For a Bridegroom" (Part VI) by Victorian poet Algernon Charles Swinburne: "Thus in your field My seed of harvestry will thrive For the fruit is like me that I set God bids me tend it with good husbandry This is the end for which We twain are met."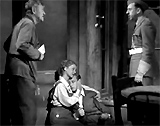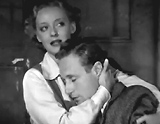 "This is the end for which we twain are met."