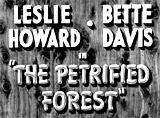 The Petrified Forest (1936)
In director Archie Mayo's romantic crime drama, a screen adaptation of Robert E. Sherwood's play - the film would forever typecast Humphrey Bogart (who was reprising his 1935 Broadway stage role) as a gangster or "heavy" for the rest of his career; it told about a group of characters brought together - most of whom felt that they didn't existentially belong where they were in life:
a trio of main characters was brought together in a run-down, roadside Arizona desert service-station diner-cafe operated by Jason Maple (Porter Hall) near the Petrified Forest National Park - the Black Mesa Bar-B-Q: idealistic, penniless, frustrated and disillusioned writer/world traveler and burned-out, British philosophical intellectual Alan Squier (Leslie Howard), the diner owners' idealistic, naive, and culturally-starved daughter-waitress Gabrielle ("Gabby") Maple (Bette Davis) who was an aspiring artist-poet, and brutal, vicious, ruthless, Dillinger-like fugitive gangster Duke Mantee (Humphrey Bogart in his first major, star-making movie role) with his gang
other individuals in the diner included a wealthy tourist couple - maritally-unsatisfied Edith Chisholm (Genevieve Tobin) with her banker-husband Mr. Chisolm (Paul Harvey), and local hefty football star and gas-pump employee Boze Hertzlinger (Dick Foran) who was infatuated by girlfriend Gaby, and became jealous of Alan's attentions toward her
with his desperado thugs, Mantee arrived at the cafe to hide out and hold everyone as hostages - long enough to wait and rendezvous with his girlfriend Doris before fleeing for the Mexican border; however, he would soon learn that Doris had been captured and had told the authorities about his location
to be a hero, Boze attempted to reach for one of the gangsters' rifles, but Mantee was able to shoot him in the hand; he was tended to by Gabby in the back-room; as the police surrounded and converged near the restaurant-cafe, Duke intended to shield himself with the Chisholms
Alan made a private deal with Mantee - in exchange for amending and signing over his $5,000 life insurance policy to Gaby, Mantee would shoot him in cold-blood - he had been looking for a cause or person worth living or dying for anyway: ("I'd be much obliged if you'd just kill me. It couldn't make any difference to you. Even if they catch you, they can only hang you once....It will be difficult to find a more suitable candidate for extermination. I shall be mourned by nobody....I want to show her that I believe in her, and how else can I do it? Living, I'm worth nothing to her. Dead, I can buy her the tallest cathedrals, golden vineyards, and dancing in the streets. One well-directed bullet will accomplish all that, and it'll earn a measure of reflected glory for him that fired it and him that stopped it. This document will be my ticket to immortality. It'll inspire people to say of me, 'There was an artist who died before his time.' Will you do it, Duke?")
as Mantee fled, Alan prevented him and was shot in the abdomen, as arranged; in the sad, tear-jerking death scene in the film's conclusion, Alan died in Gaby's arms after being lethally shot
before dying, he told her: "You know, they were right, Gabrielle, the stars I mean. I had to come all this way to find a reason. The Duke understood what it was I wanted. I hope you...I hope you..." (he slumped dead in her embrace). Gabby tried to get Alan to continue talking: ("What Alan? What did you say? Alan!"), but he was gone
ignorant of Alan's sacrifice, Gaby inherited his life insurance policy for $5,000 made out in her name - the money would allow her the freedom to leave town, to pursue her dream, and move to France as she had always wanted to pursue her dreams; she planned to bury Alan out in the petrified forest ("That's what he said he wanted"); she also felt that he had found a purpose in life
Duke escaped, and would almost certainly be caught or killed by the police
in the film's final moments, Gabby recited the film's final poetic lines, taken from "Ballad Written For a Bridegroom" (Part VI) by Victorian poet Francois Villon, and translated by Algernon Charles Swinburne: "Thus in your field My seed of harvestry will thrive For the fruit is like me that I set God bids me tend it with good husbandry This is the end for which We twain are met."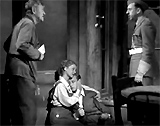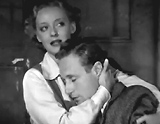 "This is the end for which we twain are met."