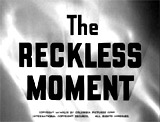 The Reckless Moment (1949)
In Max Ophuls' taut domestic noirish 'woman's melodrama' and thriller, with stark shadowy cinematography (by Burnett Guffey) - his fourth and final Hollywood film before returning to Europe - about a mother's 'reckless' attempt to protect her endangered daughter:
the central character: upper middle-class, chain-smoking, bespectacled, and sheltered housewife Lucia Harper (Joan Bennett) (with her patriarchal husband Tom (Henry O'Neill) noticeably absent and away on business in Berlin, Germany); they lived in a small, sleepy beach-seaside community (Balboa) 50 miles from Los Angeles; one of their children was an arrogant, nail-biting, stubborn and impetuous 17 year-old daughter Beatrice or "Bea" (Geraldine Brooks), an LA art school student
in the opening scene, Lucia drove to Los Angeles to confront slimy Ted Darby (Shepperd Strudwick) in an empty bar; he was her daughter's older creepy lover; she threatened him to stay away: ("I don't want you to see my daughter again...She's only a child, only 17...It's plain to see she's not old enough to know what's good for her. You're not the kind of person I want Bea to see"); he replied that he would - but for a price ("Just how important is it to you that I don't see her anymore?...I mean as far as money is concerned. Otherwise, I couldn't possibly promise not to see her again, Mrs. Harper"); Lucia replied sarcastically: ("You won't have to, Mr. Darby. You've made it very simple for me. I can discuss it with her now and I'll have nothing to worry about when she hears how deeply you feel about her")
Lucia Confronting Ted Darby in a Los Angeles Bar With an Ultimatum About Her Daughter Bea
and then upon her return home, Lucia confronted a resistant Bea who refused to stop seeing him; Lucia wrote a letter to her husband, stating that Bea was in her room ("rebellious, furious") - she ended the note with: "I have to handle it alone. If you were here, you'd get rid of that beast" - but then had second thoughts and crumpled it up; she was unaware that at that very moment, Bea had ignored her warnings and was sneaking out of the house to meet up with Darby in the nearby boathouse
during the clandestine boathouse scene when Bea met up with Darby, she found out he had demanded money from her mother; it affirmed for her that Darby was a scheming scoundrel and during an angry struggle, she slapped him and then struck him in the head with her flashlight; after she fled, he stumbled around, lost his balance, tripped, and fell onto a large boat anchor
the next morning, Lucia found Darby's corpse next to the jetty, dead in a case of manslaughter; she wrongly assumed that Bea had killed her lover; in a panicky and "reckless moment," the determined, frantic, devoted and selfless mother (to defend her domesticity and family from scandal) dragged the body to a motorboat, and dumped the body (with the anchor) in a swampy lagoon
soon after, the corpse washed ashore and was discovered; headlines in the Balboa Daily Bulletin read: "EX-ART DEALER DARBY FOUND SLAIN! - Stabbed in Back; Left in Swamp" - an investigation into the death commenced
the sequence of blackmail by suave, small-time Irish crook Martin Donnelly (James Mason in his third US film) who visited Lucia in her home and demanded $5,000 hush money in exchange for the incriminating letters that Bea had written to Ted Darby; he was there on behalf of his tough boss-partner Nagel (Roy Roberts), a loan shark to whom Darby owed money; Martin soon became infatuated with Lucia, although his dangerous and unprincipled partner Nagel continued to pressure him and demand payment
the neurotic and entrapped woman-in-peril Lucia attempted to raise the funds (at first she was unsuccessful in securing a loan from a bank, due to her husband's absence), and resorted to pawning her jewelry (for only $800), with Donnelly in tow; Lucia was cleared for a short time when a murder suspect (one of Darby's associates) was arrested, but then he was released
in the stirring conclusion, Donnelly decided to defend Lucia against Nagel who waited in the boathouse to collect the entire $5,000 himself; after being stabbed, Donnelly strangled Nagel to death and then drove off with Nagel's body in the car, as he reached for Bea's letters in Nagel's pocket, he was distracted and there was a devastating car crash into a roadblock; as he lay dying in the upside-down car wreckage, Donnelly returned Bea's incriminating love letters to Lucia, and assured her that he would be self-sacrificing and would take the blame for the deaths of Darby and Nagel
Violent Finale

Donnelly Choking His Boss Nagel

Donnelly Dying in a Car Crash - Assuring Lucia That He Would Take the Blame
the film's ending: when Lucia returned home, Bea confirmed Donnelly's dying promise - she heard the police mention at the site that the man in the car accident, before expiring, admitted to killing Darby
Lucia phoned her distant husband and assured him that everything would be fine once he returned home: "Tom, Tom, we've mailed your Christmas packages. We're gonna have a blue Christmas tree. Everything's fine except we miss you terribly. Yes, Tom"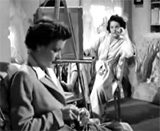 Lucia with Daughter Bea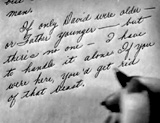 Lucia's Letter to Her Husband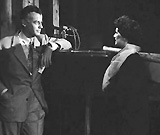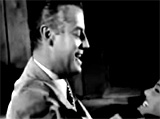 Angry Confrontation at Boathouse Between Bea and Ted Darby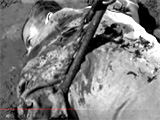 Ted Darby's Accidental Death - Boat Anchor Impalement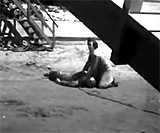 Lucia Disposing Ted's Body The Next Morning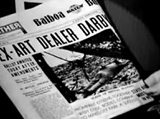 Newspaper Headlines About Ted Darby's Death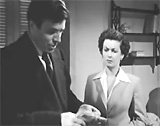 Blackmail Attempt on Lucia by Martin Donnelly (James Mason) - $5,000 in Exchange for Bea's Love Letters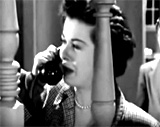 Ending: Lucia's Assuring Phone Call to Absent Husband Tom