In Michael Powell and Emeric Pressburger's sensitive, surrealistic fairytale masterpiece - the best ballet film ever made - with magnificent and beautiful Technicolor cinematography - was taken from Hans Christian Andersen's tragic fairy tale of the same name, about a ballerina who wore an enchanted pair of magical red ballerina slippers that forced her to never stop dancing - and she danced herself to death:
the film opened with the mysterious entrance scene of Svengali-like ballet producer and impresario Boris Lermontov (Anton Walbrook) - he was seated in the darkness behind the red curtain of his opera box, with only his hand showing, during the opening performance of Heart of Fire by the Ballet Lermontov
the film's up-and-coming star was introducted - ambitious young, red-headed English prima ballerina Victoria "Vicky" Page (Moira Shearer) - she had her first face-to-face meeting with her future mentor and producer Boris Lermontov of the Lermontov Ballet Company; they discussed dancing: (Lermontov: "Why do you want to dance?" Vicky: "Why do you want to live?" Lermontov: "WeIl, I don't know exactly why, but, uh, I must." Vicky: "That's my answer too")

Entrance of Boris Lermontov (Anton Walbrook)


Introduction of Vicky Page (Moira Shearer)

Vicky's First Encounter with Lermontov
young composer Julian Craster (Marius Goring) was hired by Lermontov to be an orchestra coach and deputy conductor with the Covent Garden Opera House at the same time Vicky was successfully auditioning to be a ballet dancer
Vicky performed with the Ballet Rambert in a Saturday matinee performance of Tchaïkovski's Swan Lake ("Lac des Cygnes") at the Mercury Theatre
Lermontov described (to Craster) the work required on an upcoming project - the rewrite of the musical score for The Red Shoes, an adaptation of Hans Christian Andersen's fairy tale - he described the plot about a young girl overtaken by her obsession to dance in red shoes: "'Tis the story of a girl who's devoured by an ambition to attend a dance in a pair of red shoes. She gets the shoes, goes to the dance -- At first, all goes well and she's very happy. At the end of the evening, she gets tired and wants to go home. But the red shoes are not tired. In fact, the red shoes are never tired. They dance her out into the streets. They dance her over the mountains and valleys through fields and forests, through night and day. Time rushes by. Love rushes by. Life rushes by. But the red shoes dance on....Oh, in the end, she dies"
there was continuing jealousy between Boris Lermontov about the romance that was developing between Vicky and Craster - her young composer and lover/future husband; Lermontov continually pressured the struggling Vicky to make a painful choice between career or art (ballet) and heart-felt love (as Lermontov explained: "You cannot have it both ways. The dancer who relies upon the doubtful comforts of human love will never be a great dancer. Never")
in Monte Carlo, Lermontov was grooming Vicky to be the prima ballerina in his new project - The Red Shoes ballet; she was wearing a crown and a flowing, elaborate light-blue party or ball gown as she climbed a long series of steep stone stairs (overgrown with weeds) of a country estate-villa to speak to Lermontov about her starring role
Vicky (with Crown) Ascending Steps of Villa
just before the opening night's performance, Lermontov tried to calm Vicky's jittery nerves - by reminding her of how the music would guide her memory, and he further encouraged her to dance with "ecstasy": ("The music is all that matters and nothing but the music. If I had any doubts about you at all, I should be nervous...I believed in you from the very beginning. But now everybody does. I want you to dance tonight with the same ecstasy I've seen in you only once before")
the film's magical highlight was the visually-exciting, 15-minute stylized "The Ballet of the Red Shoes" with young, red-headed prima ballerina Vicky's performance as a dancer who died because of her obsessive need to dance with her shoes; at one point in the ballet, the audience became a roaring ocean coastline behind the conductor-composer Craster; in the ballet's finale, her shoes were removed by the Church Minister as she died of exhaustion; a spotlight was directed onto the deadly pair of shoes; the Church Minister carried the Girl's limp body up the front steps, as the Shoemaker grabbed the shoes and returned them to his shop, to be enticing for his next victim; the curtain closed on a close-up of the shoes in the Shoemaker's hands
"The Ballet of the Red Shoes"
Vicky and Julian began an intense romance during The Red Shoes project, and then, instead of attending Lermontov's birthday dinner, Julian and Vicky were escorted in a moonlight horse-carriage ride by the shimmering ocean and coastline, obviously in love and hugging and kissing each other
the jealous Lermontov confronted Caster - complaining about how Vicky's love affair was detracting from her art: ("She's not, however, a great dancer yet. Nor is she likely to become one if she allows herself to be sidetracked by idiotic flirtations"); the impresario fired Julian; and Vicky left with him - to marry and live in London with him: ("I thought once, Mr. Lermontov, that there would be no room in my life for anything but dancing....But if Julian goes, I shaIl go too.... I shall dance somewhere else")
later, Lermontov enticingly requested that Vicky return and perform in a one-time revival of The Red Shoes: "Nobody else has ever danced The Red Shoes since you left. Nobody else ever shall. Put on the red shoes, Vicky, and dance for us again"
just before an encore concert presentation of The Red Shoes ballet - both Craster and Vicky met with Lermontov in her dressing room; Julian feared that Vicky would leave him forever, and the two men contended for Vicky's affection and commitment; Lermontov threatened the very-distressed Vicky: "If you go with him now, I wiIl never take you back. Never!"; Vicky contended that her true desire was to dance and she chose to stay and dance and not leave with Julian; the victorious Lermontov gloated to Vicky: "...from now onwards, you will dance like nobody ever before!"
just before her appearance, the broken-hearted and conflicted Vicky approached the stage from her dressing room in the theatre; her red shoes began to glow and she was compelled to move backwards; she was pulled down numerous sets of stairs to a terrace balcony overlook (of the Monte Carlo hotel) above the railway station - her controlling red ballet slippers had willfully directed her there, and forcefully pulled her off to her death (into the path of an oncoming train on the tracks below)
she tragically died (was it an accident or suicide?), as did the girl in the ballet - paralleling real life with the ballet's plot; the melodramatic tragic death scene was a real-life recreation of the role she had played in the 'Red Shoes' ballet
| | | |
| --- | --- | --- |
| Vicky's Willful Glowing Red Shoes | Vicky Pulled Backwards | Racing Down the Steps |
| Vicky's Leap From Balcony Overlook Into Path of Train | The Shaken Lermontov's Announcement of Vicky's Death | Ballet Performed Without Vicky |
a white-faced and shaken Lermontov (with a halting voice) delivered a solemn announcement in front of the red curtain, amidst gasps and murmuring: "Ladies and Gentlemen. I am sorry to tell you that Miss Page is unable to dance tonight, nor indeed... any other night. Nevertheless, we've decided to present The Red Shoes. It is the ballet that made her name, whose name she made. We present it because we think she would have wished it"
the film's final images were of the ballet being performed as planned but without her (with a spotlight shining on the floor where she would have been dancing)
the film's final words back at Vicky's death location included a closeup of her bloody legs (and tights) and feet wearing the shoes; she was on a stretcher and requested that Julian remove her red ballet shoes before she expired: "Julian?" "Yes, my darling?" "Take off the red shoes"
the last two striking images were of the 'red shoes' on stage, highlighted in a spotlight at the conclusion of the ballet, and a solitary Lermontov viewing the production from his opera box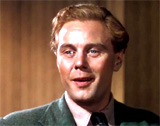 Julian Craster (Marius Goring) - Hired By Lermontov as Deputy Conductor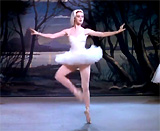 Vicky's Performance of Tchaikovski's Swan Lake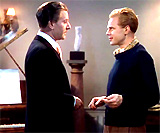 Lermontov Offering Work to Craster on 'The Red Shoes'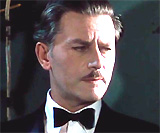 Lermontov to Vicky: "You cannot have it both ways..."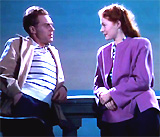 Julian and Vicky on Balcony Before Her Major Red Shoes Performance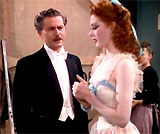 Vicky's Opening Night Jitters with Lermontov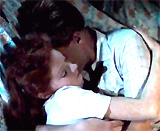 Julian Caster and Vicky Secretly in Love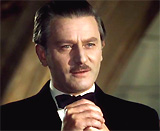 Jealous Lermontov Firing Julian For His Love for Vicky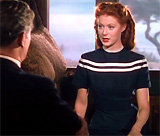 Vicky to Lermontov: "If Julian goes, I shall go too"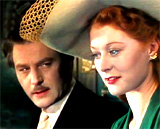 Later, Lermontov's Enticing Invitation to Vicky to Dance The Red Shoes One More Time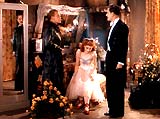 Julian and Lermontov Contending for Vicky Before Her Final Performance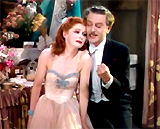 Lermontov to Vicky: "From now onwards, you will dance like nobody ever before!"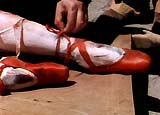 Vicky's Final Words to Julian: "Take off the red shoes"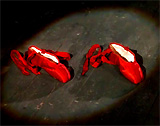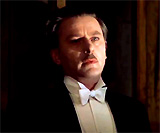 The Last Images