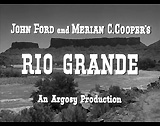 Rio Grande (1950)
In the third of Ford's "Cavalry Trilogy" (the best of the three by most accounts), John Wayne made his third appearance in the three-part series, with a co-starring role by Maureen O'Hara (who would also appear with Wayne in Ford's future film The Quiet Man (1952) and three other films); the plot was taken from a 1947 Saturday Evening Post story by James Warner Bellah; it was filmed in the sandstone-rich SE corner of Utah near Moab:
the promoted, duty-devoted Lieutenant Colonel Kirby Yorke (John Wayne) was the commander of a cavalry unit at the remote outpost of Fort Starke in the summer of 1879; the area on the Texas frontier near the Mexican border (marked by the Rio Grande River) was threatened by renegade Apache Indians, who often would cross the river during guerrilla raids, and then retreat by recrossing the river to sovereign Mexican land, where the US Cavalry was disallowed from taking action
Yorke's son Trooper Jefferson "Jeff" Yorke (Claude Jarman, Jr.) whom he had not seen for 15 years, had been expelled from West Point's Military Academy as a cadet in officer's school after flunking mathematics; to Col. Yorke's surprise, Jeff had enlisted in the US army and was assigned to his father's outpost for service as a low-level cavalry trooper
Yorke delivered a speech to recent arrivals, including his son - 18 raw recruits - about the dangers that faced them: ("I don't want you men to be fooled about what's coming up for you. Torture, at least that. The War Department promised me 180 men. They sent me 18, all told. You are the 18. So each one of you will have to do the work of 10 men. If you fail, I'll have you spread-eagled on a wagon wheel. If you desert, you'll be found, tracked down and broken into bits. That is all")
| | |
| --- | --- |
| Yorke's Harsh Speech to 18 New Recruits | Yorke's Flunkee Cadet and Enlisted Son Jeff Yorke (Claude Jarman, Jr.) |
the younger recruit Yorke was refused favoritism-treatment by his father, and then was warned about finding glory in the service: ("You've chosen my way of life. I hope you have the guts to endure it. But put out of your mind any romantic ideas that it's a way of glory. It's a life of suffering and of hardship and uncompromising devotion to your oath and your duty"); the younger Yorke agreed: "I didn't ask to come to this regiment, but I wouldn't have it otherwise now I'm here...I'm not in this post to call you Father"
soon after during recruit horse training administered by Sergeant Major Timothy Quincannon (Victor McLaglen), the underaged Jeff was befriended by two older recruits: troopers Travis Tyree (Ben Johnson) and blonde Daniel "Sandy" Boone (Harry Carey, Jr.), both skilled horsemen who displayed their skill in standing upright and simultaneously riding on two horses (like the ancient Romans) during a race
Lieut. Col. Yorke's estranged, socially-privileged southern wife Kathleen Yorke (Maureen O'Hara) of 15 years, also the mother of Jefferson, made an unexpected arrival with a supply wagon; although the reunited couple wouldn't admit it and had their differences, they were secretly attracted to each other, but didn't want to show their renewed romantic feelings for each other
<
The Unexpected Arrival of Jefferson's Mother Kathleen Yorke (Maureen O'Hara)


An Estranged Couple, But Still Attracted to Each Other


Kathleen Remembering Their Lost Love
Kathleen was there to attempt to buy out her son Jefferson's US Army service for $100 in Yankee gold, to discharge him and return him home, although both Comm. Yorke and the green recruit objected - he insisted on not signing discharge papers and remaining at the post
that same night, the Indians (composed of three consolidated tribes, Chiricahua, Mescalero, and White Mountain) viciously attacked and partially damaged the fort and killed a few soldiers, but many of the Indians were killed (although they were able to free their captured leader from an outdoor stockade)
in one of the film's continuing subplots, a Texas US Deputy Marshal (Grant Withers) arrived to arrest Trooper Tyree on manslaughter charges; the accused Tyree (who claimed he was innocent) was placed in the infirmary under the supervision of surgeon Dr. Wilkins (Chill Wills) and the Sergeant
there was also long-standing tension between Yorke and his wife due to the past torching of the crops and barns at Bridesdale, her plantation home in the Shenandoah Valley during the Civil War; years earlier, Sgt. Quincannon (regarded as an "arsonist" by Kathleen) had been ordered by Captain Yorke (and Yorke's Union Army superior - his ex-Civil War commander Gen. Philip Sheridan (J. Carrol Naish)) - to carry out the destruction of Kathleen's family home
Yorke and part of his regiment went on patrol to the Mexican border, to investigate whether they could stop the Apaches from using Mexico as a sanctuary from pursuit, and found he was powerless inside Mexico; the journey was cinematically beautiful, with scenic views of the landscape on the way
| | | |
| --- | --- | --- |
| Yorke and His Men on Patrol to the Mexican Border | Commander Yorke on Patrol | Kissing Kathleen Upon His Return |
when Yorke returned to his fort outpost, Kathleen was waiting for him in his tent and they kissed, but due to Yorke's "sense of duty," he turned cold toward her, and worried that they could never reestablish their relationship; she continued to stubbornly insist on removing Jeff from his command
Tyree was helped to escape from the infirmary before being taken away, with the aid of the surgeon and Sergeant Quincannon; he stole Yorke's horse in the corral and rode off
Yorke's superior officer Gen. Sheridan, who had arrived at the outpost, ordered Yorke and his regimental troops to enter Mexico (by crossing the Rio Grande), to pursue and eliminate marauding Apaches: ("I want you to cross the Rio Grande, hit the Apache and burn 'em out. I'm tired of hit-and-run. I'm sick of diplomatic hide-and-seek"); Yorke was threatened with a vindictive court-martial if he didn't obey orders
although he objected to the improper command, he proceeded to comply to Sheridan's orders by first evacuating the outpost of women and children (including his wife) to seek refuge at nearby Fort Bliss, with young Jeff serving as their escort rather than staying with the main regiment; Yorke and Kathleen kissed goodbye
the western concluded with the outpost's wagon-train caravan attacked and captured by the Apaches; Jeff was ordered to bravely ride off from the besieged group to seek help: ("Back to post. Tell the colonel what's happened"); fortuitously, he was aided by Tyree to fend off and kill three trailing Apaches
Commander Yorke was successfully alerted to rescue them, and when he arrived back at the caravan, he was told that four troopers were dead, and that a small group of women and children had been taken captive; on their way to rescue those who were kidnapped, they found the ravaged remains of Corporal Bell's wife
at the Mexican border on the US side of the Rio Grande, deserter Tyree furiously rode up after crossing the river - and convinced Yorke to not arrest him; he reported that he had trailed the vengeful Apaches and that the children were being held in a small Mexican village's church; Tyree chose Boone and Jeff to join him in an initial attempt to rescue the hostages in the hideout, followed closely behind by Yorke's regiment of cavalrymen
Deserter Tyree Reported to Yorke on the Location of the Hostages in Mexico Held by the Apaches

Yorke's Regiment Crossed the Rio Grande to Rescue Hostages
during the major conflict against the Apaches during a cavalry charge, Colonel Yorke was wounded with an arrow in the chest shot by an Indian (Chuck Roberson), while his son Jeff displayed heroism and bravery when ordered to remove the arrow ("Pull it out, Jeff. Go ahead") and help his father ride back to the fort ("Son, help me to my horse") after the children were secured
Yorke Hit In Chest with Arrow - Jeff Was Ordered by His Father to Remove the Arrow
the romantic relationship between Yorke (who was recovering from his wound) and his wife was rekindled as the film ended, and many of Yorke's regiment members, including Jeff, were commended for their dedication. Tyree, who had aided in the rescue of the hostages, was allowed to escape from the Deputy Marshal - with Yorke's encouraging support, help, and horse: ("And Trooper Tyree is given a seven-day furlough!")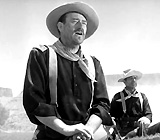 Lieutenant Colonel Kirby Yorke (John Wayne)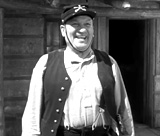 Sergeant Major Timothy Quincannon (Victor McLaglen)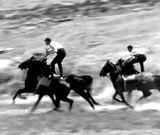 Racing - Standing Up on Two Horses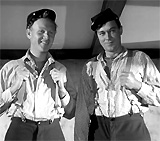 (l to r): Troopers Daniel "Sandy" Boone (Harry Carey, Jr.) and Travis Tyree (Ben Johnson)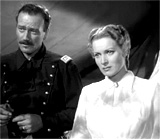 Kathleen Yorke (Maureen O'Hara) with "Dispossessed" Husband Comm. Yorke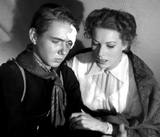 Kathleen With Her Young Son Jefferson - Who Refused to Sign Discharge Papers For Himself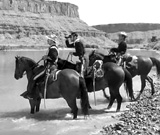 Director John Ford's Scenic Views of Sandstone Formations Near Moab, Utah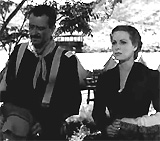 Problems in the Relationship Between Yorke and Kathleen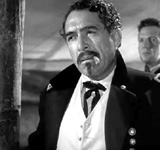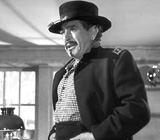 General Philip Sheridan (J. Carrol Naish) - Ordering Yorke to Attack the Apaches Across the Mexican Border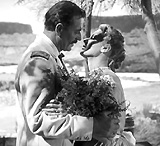 Yorke and Kathleen Kissing Goodbye Before Her Evacuation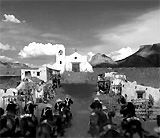 Climactic Cavalry Charge Toward Mexican Church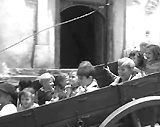 Wagon Carrying Rescued Children From the Church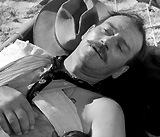 Yorke Wounded But Alive: "Our boy did well"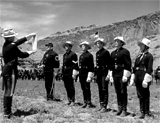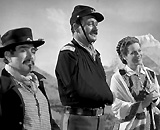 Honoring the Soldiers' Bravery: Concluding Ceremony