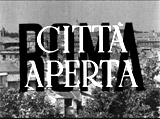 Rome, Open City (1945, It.) (aka Roma: Citta Aperta)
In Roberto Rosselini's influential, landmark, low-budget, post-war classic - he formally introduced Italian Neo-realism, and it was the first film in a Rossellini 'war trilogy' (followed by Paisan (1946) and Germany Year Zero (1948)) - it featured on-location cinematography, grainy low-grade black-and-white film stock (due to war-time), and untrained actors in improvised scenes - it told of the Nazi occupation of Rome (and Italian resistance) in 1944:
in the opening scene, German soldiers marched through occupied Rome, chanting: "Soar high, Red Eagle! O'er swamp and sand, O'er dark pine forests, All hail my Brandenburg homeland"
the introduction of some of the major characters: atheistic, underground Resistance leader Giorgio Manfredi (Marcello Pagliero), an engineer, was viewed evading Nazis who had come searching for him in his rooming house; warned of the SS' imminent approach in a dragnet operation, he fled across rooftops and escaped
the German soldiers were being commanded by vicious and cruel Gestapo Nazi Major Bergmann (Harry Feist), who in an early scene met with the city's Police Commissioner (Carlo Sindici) - as they spoke together about Bergmann's main objective to capture Giorgio Manfredi, a professor was screaming nearby (off-screen) during a torturous interrogation
Giorgio sought refuge in the walk-up apartment of a lithographer/printer friend - another underground leader named Francesco (Francesco Grandjacquet), who worked for a Communist newspaper; Francesco lived next door to his pregnant bride-to-be Pina (Anna Magnani), a widowed, former fuse factory worker with a ten year-old mischievious son Marcello (Vito Annichiarico) - who was involved with other boys in planting bombs in the city; Pina and Francesco were to be married the next day by the local parish priest instead of by "some Fascist in city hall"
Effete SS Gestapo Nazi Major Bergmann (Harry Feist)

Pina
(Anna Magnani)

Giorgio Manfredi
(Marcello Pagliero)

Marina (Maria Michi)

Parish Priest Don Pietro (Aldo Fabrizi)

Francesco (Francesco Grandjacquet)
the film's main spiritual force was Catholic parish priest Don Pietro Pellegrini (Aldo Fabrizi); he appeared first at a boys' soccer game in the street; he was secretly involved in the resistance movement, and had agreed to transfer messages and money (1 million lire hidden in the pages of a book) from Giorgio to a group of 500 Resistance fighting rebels outside the city after the 5 pm curfew (recognized by a whistle signal); while in a shop - a front for the rebels, Don Pietro reacted to two statues: a small statue of St. Rocco and another statue of a voluptuous nude; he faced them away from each other to avoid temptation
soon, a number of paths would cross, due to Giorgio's disgruntled mistress Marina (Maria Michi), a cabaret/nightclub worker, drug-user and part-time prostitute; in her dressing room, Marina was being spied upon by Ingrid (Giovanna Galletti) - SS Commander Bergmann's sinister assistant
before her wedding in a semi-'confessional' scene, Pina (while walking on her way home) expressed her doubts and shame to the priest about how Francesco could be better off by marrying someone other than a penniless widow with a child: ("I know he could have found someone better"); she was distraught about her difficult life of suffering, anxiety and fear: ("Doesn't Christ see us?") and received reassurances from the priest: "So many people ask me that: 'Doesn't Christ see us?' But are we sure we haven't deserved this scourge? Are we sure we've always lived according to the Lord's laws? People never think of changing their ways, but when the piper must be paid, they despair and ask, 'Doesn't the Lord see us? Doesn't he take pity on us?' Yes, he does, but we have so much to be forgiven for, and for that we must pray and forgive many things"; Pina was more despairing: "You're right, but how do we forgive?"
that night in their apartment stairwell, an upset and tired Pina (who had just had a fight with her sister Laura (Carla Rovere)) spoke to her fiancee; the engaged couple discussed their two year relationship and the precarious situation the war had put them in: (Francesco: "Everyone foolishly thought it would be over quickly, and that we'd only see it on newsreels" Pina: "When is it going to end? Sometimes I just can't go on. This winter feels like it will never end") - Francesco reassured her that they were fighting for a more beautiful world: "It will end, Pina, and spring will come again, more beautiful than ever, because we'll be free. We have to believe it and want it. I can feel these things inside, but I can't explain them.....We mustn't be afraid now or in the future because we're on the just path. Understand, Pina? We're fighting for something that has to be, that can't help coming. The road may be long and hard, but we'll get there, and we'll see a better world. And our children especially will see it - Marcello and the one on the way. That's why you mustn't ever be afraid, whatever happens"
in a shocking, realistic scene early the next day - a raid was conducted by the Gestapo and police on Francesco's apartment building (on his planned wedding day); the building was evacuated and Pina's fiancee was being dragged by Germans and Fascists to a truck; during the seizure, Pina broke away from a SS guard molesting her and ran after the military truck carrying him away; she hysterically screamed Francesco's name but was abruptly machine-gunned and killed in front of her young son Marcello and heroic, brave Catholic parish priest Don Pietro Pellegrini; the priest rushed to her body, held her in his arms, and prayed for her soul
The Murder of a Pregnant Pina on Her Wedding Day
meanwhile, during Francesco's transport, he escaped when he and many others were rescued by other freedom fighters - END of PART ONE
PART TWO - Francesco reconnected with Giorgio and the two were aided by his lover Marina who suggested that they stay at her place for the night; that evening, Giorgio and Marina argued and she admitted she used her body to acquire things to avoid poverty and starvation: "I've gotten by like every other woman...Life is filthy and brutal"; he denounced her materialism: "Poor Marina. You think happiness means a fancy apartment, nice clothes, a maid, and rich lovers"; shortly later, the eavesdropping Marina sold out and betrayed him after she overheard that Giorgio and the grieving Francesco were planning to meet with the priest the next day with plans to hide in a monastery; out of spite, Marina informed Ingrid (and the Gestapo and Italian police) of his whereabouts, in exchange for drugs and a fur coat given to her by Ingrid - although she soon realized her mistake: ("What have I done?")
the next morning after Giorgio and the priest were seized by the Nazis (Francesco avoided arrest), Major Bergmann was pleased and announced his plan for the captured rebels: "These men must talk before the curfew is up. The rebels must not learn of their arrest. We have ten hours"
in an excruciatingly-long sequence (16 minutes in length), Giorgio was subjected to extreme torture and beating by the Nazis - as military justice for being a leader of the National Liberation Committee; simultaneously, sympathizing rebel priest Don Pietro (who had provided refuge and forged documents to help the cause) was forced to endure high-pressure questioning at the Nazi headquarters - but he refused to cooperate and claimed innocence: "A man who humbly seeks to practice charity...God will judge...I know nothing. What little I know I learned in the confessional, and those secrets must die with me. It's our vow"; the priest listened as Giorgio was accused of being a subversive Communist by Bergmann: "He's a subversive and an atheist - your enemy"; the priest replied calmly that he would refuse to comply with the Major: "I am a Catholic priest. I believe that anyone fighting for justice and liberty walks in the ways of the Lord. And the ways of the Lord are infinite"
during the torture session, in an adjoining bar/lounge area, Major Bergmann spoke to drunken Nazi Captain Hartmann (Joop van Hulzen) who affirmed that due to the rebels' righteous cause, the brave and courageous Giorgio would never talk - therefore, his refusal negated the widespread assumption that Germans were a master race: "We Germans refuse to realize that people want to be free....All we're really good at is killing, killing, killing! We've strewn all of Europe with corpses, and from their graves rises up an unquenchable hatred. Hatred - hatred everywhere! That hatred will devour us. There's no hope....We'll all die without the slightest hope"; Bergmann left even more frustrated
Images From Giorgio's Torture Sequence
on the verge of death and refusing to talk, Giorgio defiantly spit blood into Major Bergmann's face; he was then subjected to more beatings and burning by blowtorch (in a Christ-crucifixion pose pressed against a blood-stained wall) and the ripping out of his fingernails, as the priest was compelled to witness his gruesome death; the priest cursed the Germans and blessed Giorgio's soul: "It is finished. You tried to destroy his soul, but you only destroyed his body! Curse you all! You'll be trampled in the dust like worms. Curse you all!"
Major Bergmann made efforts to avoid creating a martyr, by falsifying the report on Giorgio's death (it was declared a heart attack), and by using his alias name Giovanni Episcopo, saying: "Else we create another martyr, and they already have plenty"; Marina, who screamed and fainted at the sight of her dead ex-lover, had her fur coat removed by Ingrid
in the film's concluding sequence, the uncooperative priest was taken to an open field for an early-morning execution; he was to be positioned in a chair in front of an Italian firing squad; the only witnesses were a group of church altar boys (including Marcello) contained behind a barbed-wire enclosure; Don Pietro spoke to a fellow priest: ("Come, be brave. Oh, it's not hard to die a good death. What's hard is to live a good life"); during the first round of gunfire, the hesitant Italian soldiers all deliberately missed their target; the priest appealed to God to forgive his executioners for what they were about to do ("God forgive them"); the angered German Gestapo officer in charge personally decided to shoot Don Pietro in the head; the group of altar boys with bowed heads sorrowfully walked arm-in-arm back to the city, in view of St. Peter's Basilica
| | |
| --- | --- |
| | |
| The Dead Priest | Altar Boys Walking Back Into the City |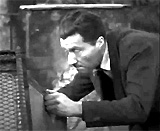 Giorgio Manfredi Fleeing onto Rooftop From German Soldiers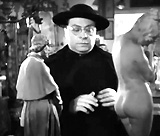 Priest Don Pietro with Two Contrasting Statues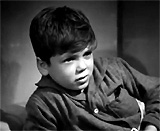 Marcello - Pina's Mischievous Son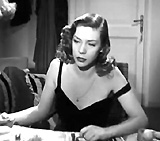 Marina (Maria Michi) in Dressing Room of Cabaret/Nightclub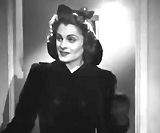 Bergmann's Sinister Spy-Assistant Ingrid
(Giovanna Galletti)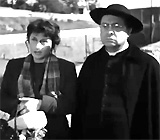 Pina with the Priest, Speaking About Her Difficult Life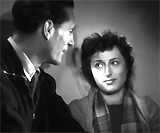 Pina's and Francesco's Stairwell Talk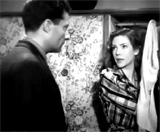 Giorgio's Argument with Marina About Her Materialism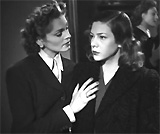 For Her Betrayal, Marina Received Fur Coat From Ingrid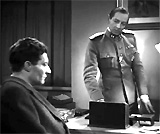 Giorgio's Face-Off With Major Bergmann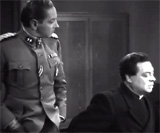 Priest Don Pietro's Questioning by Major Bergmann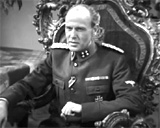 Nazi Captain Hartmann (Joop van Hulzen)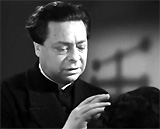 The Priest's Blessing Over Giorgio's Dead Body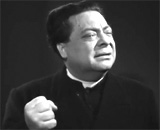 The Priest's Curse Upon the Germans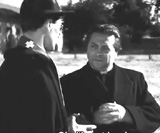 The Priest's Last Words to a Fellow Priest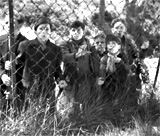 Altar Boys Witnessing Execution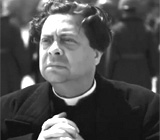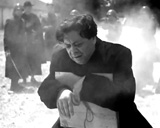 Deliberately Missed Shots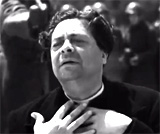 Shot in Head