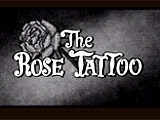 The Rose Tattoo (1955)
In director Daniel Mann's black and white romantic melodrama - an overwrought adaptation of legendary playwright Tennessee Williams' 3-act play that premiered in 1950-51. It marked the first English-speaking role in a Hollywood film for the Best Actress Oscar-winning actress Anna Magnani. There were two other Academy Awards, for Best B/W Art Direction and Best B/W Cinematography (James Wong Howe):
buxom Sicilian-American Serafina Delle Rose (Anna Magnani) with an unlicensed seamstress business, lived in New Orleans, LA on the Gulf Coast where she idolized her handsome, robust and virile truck-driving husband - the "Baron" Rosario Delle Rose (Larry Chance), after an arranged marriage many years earlier; she was now pregnant with their second child: ("I have a new life in my body"); her daughter was teenaged, 15 year-old Rosa (Marisa Pavan)
Serafina was approached in her home by a customer requesting that she sew a rose-colored silk shirt for the man she claimed that she passionately loved; the customer was blonde and slutty blackjack dealer Estelle Hohengarten (Virginia Grey) from Texas who worked at the local Mardi Gras Club; in the opening scene, Estelle had exited from a tattoo shop and bragged about a rose tattooed on her chest right over her heart
the cuckolded Serafina was unaware that her beloved Rosario had been unfaithful for a full year with Estelle (and both had matching rose tattoos)
that same evening, her husband was killed in a fiery truck accident as he attempted to evade police and a blockade during a smuggling "night run" that started at the Mardi Gras Club; Serafina was devastated and stunned by her loss and soon miscarried her unborn child
she refused burial for her husband's already-burned body and instead, in disobedient violation of her Catholic faith and the rules of the church, had him cremated so she could display his ashes in a marble urn on a shelf below her small Virgin Mary statue
over the next three years, the shattered and melancholy Serafina withdrew from the world; while mourning and grieving, she became disconnected from everything as a disheveled and frowsy recluse in her own home, with her hair in disarray; she was often not fully-dressed and clad only in her bedroom robe and undergarments; in front of the neighbors and others, Serafina's appearance disgusted and embarrassed her "sweet and refined" now-18 year-old daughter Rosa
tension flared when Serafina learned that Rosa had fallen for virginal, boyish-faced sailor Jack Hunter (Ben Cooper) when she was about to graduate from HS; they had attended an end-of-year prom dance and had fallen in love, even though Serafina had refused to sew a formal dress for Rosa
the embittered Serafina revolted against the world, treated her daughter with severe discipline, and refused to have her see any male suitors; the rebellious Rosa was infuriated with her mother: "She wants me to be like her, a freak of the neighborhood. The way she is!"; Serafina had vindictively locked a collection of graduation dresses she had sewn for Rosa and her classmates inside her house, but finally relinquished them, under pressure from school representative Miss Yorke
| | | |
| --- | --- | --- |
| Jack Hunter (Ben Cooper) - a Sailor | Father De Leo (Sandro Giglio) - a Priest | Estelle Hohengarten (Virginia Grey) - Card Dealer at Mardi Gras Club |
Serafina's belief system about her loving husband collapsed when she heard devastating rumors of her husband's infidelity from two floozies named Flora (Florence Sundstrom) and Bessie (Jo Van Fleet) - sewing customers who barged into her house; they were on their way to an American Legion Convention in New Orleans
Bessie hinted of Rosario's affair with Estelle at the Club: ("Well, everybody knows"); both claimed that Serafina had been blissfully ignorant of their long-standing affair, and Bessie provided more damning details: "It was a romance, too. Not no fly-by-night thing, but a real steady affair that went on for more than a year...He had a rose tattoo on his chest, the stuck-up thing. Estelle was so gone on him that she went down to Bourbon Street and had one put on her, too!"; in disbelief, Serafina tossed them out of her house
in front of her statue of the Virgin Mary, Serafina begged for a sign that the rumors were not true: "Lady, give me a sign. Tell me is not true," and then locked up her house, closed the shutters, and collapsed in the darkness - and missed her daughter's graduation
Jack and Rosa arrived at the Delle Rose home shortly after attending Rosa's HS graduation ceremony; Rosa proudly showed off her diploma to her mother, and introduced boyfriend Jack; Serafina remained protective and suspicious of Rosa's association with the young sailor; she questioned him: "What are you hunting, Jack?...What all of them are hunting. To have a good time, and the devils cares who pays for it. I'm sick of men, and I'm sick of women"; she asked him if he had taken sexual advantage of the innocent Rosa: ("You mean you haven't been alone with my Rosa, huh?...My girl is innocent, pure. She is, or she was. I would like to know which"); Jack sheepishly admitted that he was a sailor, but contrary to most sailors' reputations, he was also "innocent" - but honestly confessed that he did have very strong urges for Rosa: ("This is the first time I really wanted to...make love")
| | | |
| --- | --- | --- |
| Rosa with Boyfriend Jack - Eyed Suspiciously By Her Mother | Serafina Confronting Jack About His Sexual Intentions Toward Rosa | Jack Kneeling and Swearing Before Virgin Mary Statue |
Serafina made it known that she never wanted Jack to take advantage of Rosa: ("I want nobody to take advantage of that....I know what men want. Not to eat ice cream with girls or dance on the floor, no. And boys are the same, only younger"); she forced Jack (who was Catholic also) to ritualistically bow to her Virgin Mary statue and swear: "I promise the Holy Mother That I will respect the innocence Of the daughter Rosa of Rosario Delle Rose"; after Serafina was "satisfied" and convinced of Jack's sincerity, the couple left with their teenaged friends; she again beseeched the statue: "Give me a sign"
afterwards, Serafina marched into town to the church where a bazaar was being held and approached the village priest Father De Leo (Sandro Giglio) to divulge her unfaithful husband Rosario's private confessions, but the priest adamantly refused; she aggressively grabbed him and insisted to know; during their squabbling, dumb, simple-minded, boisterous, wild, carefree, clownish and good-hearted Sicilian truck driver Alvaro Mangiacavallo (Burt Lancaster) who transported bananas, broke them up and drove Serafina home in his truck; he had been introduced earlier to her through his match-making "old-maid sister"
| | | |
| --- | --- | --- |
| Alvaro Mangiacavallo (Burt Lancaster) | Serafina Driven Home by Alvaro in His Truck | Serafina Noticed Alvaro's Body Resembled Her Husband's Body |
the film's turning point came in her home shortly later when Alvaro removed his torn shirt in front of Serafina for it to be mended, and she exclaimed how his body resembled her late husband - from the neck down: "The light on the body was like a man that lived here...my husband's body with a head of a clown"; she realized that he was also a fellow Sicilian; she wondered to herself if the Virgin Mary was giving her a sign: "My husband's body with a head of a clown...Oh, Lady. Lady, speak to me. Is it the sign, this? Oh, please!" [Note: In many ways, he was a reincarnation of her deceased husband.]
Serafina described how on the night that she conceived her son (that she later miscarried when her husband died), she saw a rose tattoo on her own chest, matching her husband's tattoo: "You know, my husband, he had this rose tattoo on his chest. One night I woke up with a burning pain on me here. I turned on the light in the bedroom, and I looked in the mirror. On my breast, I saw the rose tattoo of my husband. On me here, his tattoo.... That was the night that I got my son. The little boy that I lost when I lost Rosario. When I lost my husband"; they became acquainted with each other, although he was fired from his delivery-truck job for being late to Biloxi with a load of bananas
as they parted, he encouraged her - even though she was a widow - to put a rose in her hair to brighten the day: "It's always for everybody the time of the roses...The rose is the heart of the world like the, like the heart is the heart of the body"; he explained how she had hidden her heart when her husband died: "You have put your heart in the marble urn with the ashes," and suggested that her heart needed to be released from the urn
she lent Alvaro the rose silk shirt that she had sewn the night of her husband's death (it was requested to be sewn for Estelle), while Alvaro's own torn shirt was being mended; when Alvaro returned later in the evening, he courted her with rose-scented hair, and a box of chocolates, and they danced to the sounds of her electric player piano
he also revealed that on the way over, he had impulsively stopped to have a rose tattooed above his heart on his chest similar to the one her husband had, in order to impress her and prove his affection for her; she was sickened, and then upset when he forced himself on her and she angrily ordered: "Go home! Don't touch me!"; he apologized for making a mistake and told her: "We should have been friends. I think maybe we meet on the wrong day"
but then, after she learned that Alvaro was acquainted with Rosario's alleged former mistress Estelle, she demanded to be taken to the Mardi Gras Club to confront her; the defiant Estelle proudly confessed to Serafina her affair with her ex-husband and proved it by publically showing off her rose tattoo, and shouting out proudly: "His Rose Tattoed on My Chest!"; Serafina promptly slapped her and stormed off
Serafina immediately returned home and smashed the urn containing Rosario's ashes; Alvaro attempted to comfort her: "After a while, you will stop feeling the pain. I know. You need human comfort. Lean on me"; she told Alvaro to leave, but then privately invited him to come back later; however, when the drunken Alvaro finally arrived to the awaiting and expectant Serafina, he passed out on the floor
that same evening, Rosa and Jack had decided to elope and get married in the lobby of his New Orleans hotel at noon the next day before he shipped out at 5 pm
the next morning, Alvaro awoke and mistakenly thought that Serafina was sleeping on the couch, and approached to kiss her - without touching her. Rosa screamed, alerting Serafina who rushed in and thought Rosa was being assaulted; she angrily slapped Alvaro and threw him out of the house. To Rosa, she tried to cover up the fact that she knew the man: ("I closed my eyes and dreamed he was your father"); Rosa accused her mother of hypocritical lying: "The only thing worse than a liar is a liar that's also a hypocrite!"
| | | |
| --- | --- | --- |
| Serafina: "I closed my eyes and dreamed he was your father" | Jack and Rosa - Plans to Marry | Alvaro Shouting From the Top of a Boat Mast |
Jack suddenly arrived and the couple revealed their intentions to marry; Serafina realized she must finally assent to her stifled and rebellious daughter's grown-up wishes and give the young couple her blessing: ("Go with the boy"), and they rushed off to catch the train to New Orleans
in the film's contrived happy conclusion, she also heard a shirtless Alvaro shouting to her from outside the house from the top of a boat mast, and asking for her forgiveness and love; she responded by openly offering him the silk shirt and re-inviting him back into her home after being won over by his romantic persistence; she implied that they could easily reconcile and be back together: "Now we can go on with our conversation, hmm?"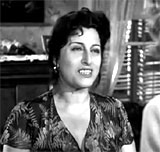 Serafina Delle Rose (Anna Magnani) - A Seamstress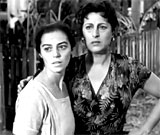 Serafina with Her 15 Year-Old Daughter Rosa (Marisa Pavan)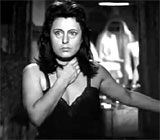 Serafina Learning the News of Her Husband's Fiery Death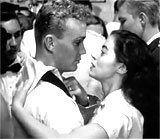 18 Year-Old Rosa with Young Seaman Jack at a Formal Prom Dance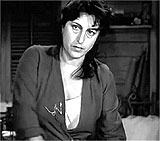 Disheveled Serafina For Three Years After Her Husband's Death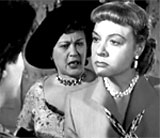 Two Floozie Customers, Bessie and Flora - Who Told Serafina About Her Husband's Infidelity with Estelle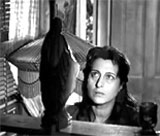 Serafina Beseeching Her Virgin Mary Statue: "Give me a sign"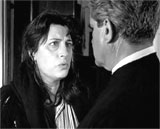 Serafina Begging the Priest to Divulge Her Husband's Private Confessions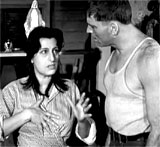 Serafina Describing For Alvaro Her Own "Rose Tattoo" On Her Chest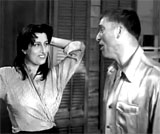 Alvaro Encouraging Serafina to Put a Rose in Her Hair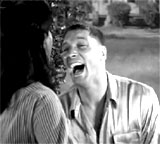 Serafina Called Him a "Buffoon" ("Che buffone")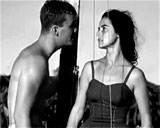 Jack with Rosa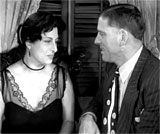 Alvaro's Return Visit to Court Serafina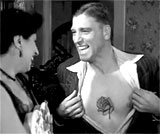 Showing Off His Chest's Rose Tattoo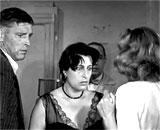 Estelle in the Club Bearing Her Chest to Serafina: "His Rose Tattooed on My Chest!"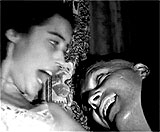 Alvaro Approaching Rosa on the Sofa and Frightening Her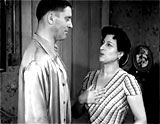 Serafina to Alvaro - The Film's Final Line of Dialogue: "Now we can go on with our conversation, hmm?"