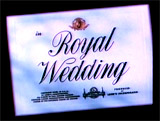 Royal Wedding (1951)
In director Stanley Donen's romantic musical (in his first solo directorial assignment and his second film) - loosely based on Fred Astaire's early dance career with his own sister Adele (for almost three decades, beginning in the early 1900s) - with Astaire and Jane Powell (as Tom and Ellen Bowen) - a famed sister/brother dance/song team and act on Broadway (in a smash hit revue show titled Every Nite at Seven at the 49th St. Theatre) - featuring some of the most creative dance acts in film history:
the Broadway musical production's opening number: "Every Nite at Seven" - a "play within a play" by the film's two main characters: brother and sister act Tom Bowen (Fred Astaire) portraying a bored crowned king and his sister Ellen Bowen (Jane Powell) as his flirtatious pretty maid
after the closing of their long-running NYC show, their agent Irving Klinger (and his twin brother Edgar in London - both Keenan Wynn in a dual role) had booked them overseas; Tom and Ellen were to take their show to London's Mayfair Theatre, to cash in on a 'Royal Wedding" and its festive crowds - the marriage (scheduled in one month) of Princess Elizabeth II to Prince Philip Mountbatten, the Duke of Edinburgh, in 1947 (an actual historical event that occurred on Nov. 20, 1947)
they were to depart on a French Trans-Atlantic ship to London; at the dock as they left, Ellen said goodbye to two competing boyfriends: Billy (John Hedloe) and Pete Cumberly (John R. Reilly), they waved at her and then engaged in a fight; as she was boarding, she had her first glimpse of a womanizing Englishman who was saying a heartfelt goodbye to two different women; he winked at her - she was unaware that he would become her future love interest
both would soon find romance during their sojourn - Ellen was the first to fall in love on board the ship in the letter-writing room, with secretly-poor English aristocrat Lord John Brindale (Peter Lawford) - a socially-connected gentleman (later Tom noted how she had fallen hard for him: "He didn't have to chase very hard after her. She stood still and waited")
in an incredible and inventive practice dance number titled "Sunday Jumps" (a hat and coat stand-rack routine), Tom was forced to dance solo (Ellen missed her 2 pm rehearsal time with him) to a metronome beat with a clothes-horse (or hatstand-rack) and gym equipment in the ship's workout room; inserted into the dance was a body-building segment, using wall-mounted weights, parallel bars, a pummel horse, and a suspended boxing bag, to mock and parody his muscle-bound dancing rival/friend Gene Kelly; when finished, he bowed to an imagined audience
during the song-dance number "Open Your Eyes" set in the ship's ballroom during a gala benefit show, rough weather caused the two dancers (Ellen in a sparkly lilac-colored dress with a red sash and Tom in a tuxedo) to slip and slide on the seesawing, rocking dance floor
the sequence of Tom's discovery of romance with Anne Ashmond (actress Sarah Churchill, Winston's daughter!, in her American film debut); he first met her on a London street and then realized she was one of his aspiring, auditioning dancers for his show - and he chose her on the spot; he learned that she was the daughter of Cockney, Yankee-hating pub landlord James Ashmond (Albert Sharpe); she claimed she was already engaged to Chicago area-dwelling American Hal Rayton, who worked in the luggage department at Olgivy's department store
both Tom and Ellen feigned tiredness, but then snuck out of their hotel rooms for dinner and a night on the town with each of their newfound partners - they caught sight of each other leaving the hotel, smiled and realized their mutual ploys
Romance in London

To the Countryside - Ellen With Lord John Brindale

Tom Meeting Anne on Street

Anne - One of Tom's Auditioning Dancers

Dinner Between Tom and Anne

Tom and Ellen Bowen in London

Ellen Seriously in Love with Lord Brindale
on opening night in London, Tom and Ellen's comic, vaudeville-like, slightly vulgar song-dance (with Brooklyn-accents) to the impossibly-titled "How Could You Believe Me When I Said I Love You When You Know I've Been A Liar All My Life" - [Note: It was noted as the longest title of any song in an MGM musical]
the amazing, most spectacular song and dance scene ever created (a "wall and ceiling walk") - after being lovestruck by Anne but forlorn, Tom Bowen sang to her photograph, and then solo tap-danced energetically in the number "You're All The World To Me" on the walls and ceiling of his London hotel room
[Note: the set - his hotel room - was devised as a rotating cube that rotated at the same speed as the strapped-down camera.]
Tom Dancing on His Hotel Room Walls: "You're All the World to Me"
the sultry performance of the two star dancers wearing colorful costumes (Tom was clad in a yellow suit and tie with pink shirt, and Ellen in a bright blue outfit with green waist-sash and headdress) in a lavish Latin American or Caribbean production number to the tune of "I Left My Hat in Haiti"
after an investigation, it was discovered that Anne's fiancee Hal Rayton in Evanston, IL had married a few months ago - so Anne's long-standing engagement was called off, and she was free to be with Tom; she responded with a surprised reaction: "How wonderful, how simply wonderful" but he was unsure of marriage and feared being a failure: "I know I'd be an awful flop as a husband"
by film's end, Tom and Ellen had resolved to not marry their respective partners and stay together as a team-act - (Ellen: "How can you even consider breaking it up? And breaking it up for what? To get married"; Tom was coerced to agree: "It's you and me, just like it's always been"); but then while viewing the jubilation of the royal wedding parade, they changed their minds; bursting with excitement, they told Edgar: "We want to get married" - and he replied: "I thought you two were related!"
after pulling strings to hastily get a marriage license, the film concluded with the aftermath of a double-marriage ceremony that afternoon at 4 pm at the Clyde Street Church between Tom and Anne, and Ellen with Lord Brindale - the two couples emerged from the church, where Tom quipped: "They didn't have to go to all this trouble. A small wedding would've been all right"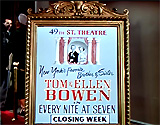 Tom and Ellen Bowen's
Broadway Show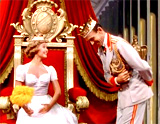 "Every Nite at Seven"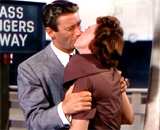 Ellen's First Glance at Girl-'Chaser' Lord Brindale at the NYC Dock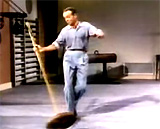 "Sunday Jumps" - in Ship's Exercise-Weight Room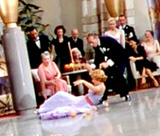 "Open Your Eyes" - On-Board Ship During Rough Weather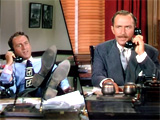 The Dual Roles of Irv and Edgar Klinger (Keenan Wynn)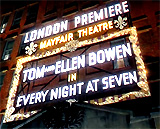 Opening Night in London


"How Could You Believe Me..."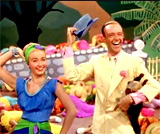 "I Left My Hat in Haiti"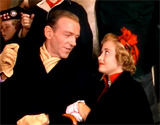 Tom and Ellen Watching the Royal Wedding Together - Inspiring Them to Get Married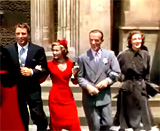 The Two Married Couples