Saving Private Ryan (1998)
In Best Director-winning Steven Spielberg's WWII epic:
the film's opening with an American flag and the first word heard - "father" as an elderly man knelt at a tombstone while visiting the war dead
the gripping, documentary-style, graphically-bloody, visceral Allied D-Day landing on Omaha Beach (actually filmed on the coast of Ireland) in the opening half-hour (beginning with a close-up of shaking hands of a young soldier on a PT boat - later revealed as belonging to Capt. John Miller (Oscar-nominated Tom Hanks))
Mass Casualties On Omaha Beach
the mission of a unit of soldiers led by Miller to rescue the last Ryan son (the other three Sean, Peter, and Daniel had been killed)
the scene of Miller's revelation: "I'm a schoolteacher. I teach English composition... in this little town called Adley, Pennsylvania..." and his concern about how the war might change him
the badly-injured Miller's heroic, dying order to Private James Ryan (Matt Damon) with the terse words: "James, earn this. Earn it" - his words requested that Ryan "earn" all of the sacrifices that had been made for him and not let their dying efforts go to waste, so that he could go back to his mother
in the film's ending, as a lengthy letter from General George C. Marshall to Ryan's mother was read (in voice-over) informing her that her sole surviving, youngest son was alive and returning home from the European battlefield, Ryan's face transitionally dissolved or morphed into the face of the nameless, elderly teary-eyed veteran (Harrison Young) - revealed to be an older Ryan - visiting the Normandy cemetery at the film's beginning (50 years later) - at the grave site of Captain Miller
the older, teary-eyed Ryan asked his wife for reassurance - remembering Miller's words to him: ("Am I a good man? Tell me that I have been a good man"), and uncomprehendingly - she reassured him
the final image of a back-lit American flag billowing in the wind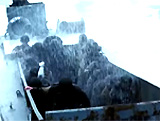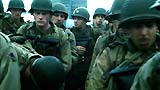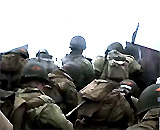 The Tense Landing on Omaha Beach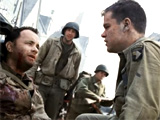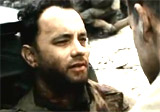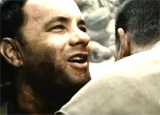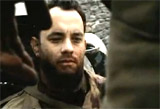 Miller to Ryan: "James... Earn this. Earn it"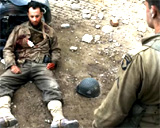 Death of Captain Miller