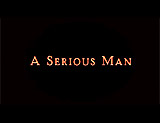 A Serious Man (2009, US/UK/Fr.)
In this Best Picture-nominated dark comedy from the Coen Brothers, perplexed, middle-class Jew in suburban Minnesota in 1967 -- a beleaguered, mild-mannered, Job-like university physics professor named Larry Gopnik (Michael Stuhlbarg), experienced a series of unexpected batterings, trials and tormenting tribulations:
a letter containing money was given to Larry as a bribe by disgruntled South Korean student Clive Park (David Kang) to change his mid-term grade from an F to passing (and there were additional threats of a lawsuit by the student's father (Steve Park))
imminent tenure consideration was threatened with unofficial warnings from the chairman of the committee Arlen Finkle (Ari Hoptman) that anonymous letters had been received referring to his "moral turpitude"
Larry's matronly, discontented and adulterous wife Judith (Sari Lennick) was seeking a divorce during an affair with overbearing, erudite, and unctuous widower Sy Ableman (Fred Melamed)
Larry was engaged in high-priced consultation with pessimistic, expensive divorce lawyer Don Milgram (Adam Arkin)
an expensive bar-mitzvah was approaching for his indebted marijuana-smoking son Danny (Aaron Wolff), who loved listening to the Jefferson Airplane and complained repeatedly about poor TV reception from the rooftop TV antenna, making it impossible for him to watch F-Troop
Larry's rebellious, self-centered eldest daughter Sarah (Jessica McManus) was stealing money from Larry's wallet for a desired nose-job
Larry's wife emptied his bank account, and forced him to move out of the house to a nearby Jolly Roger Motel, taking along his own socially-inept, ailing, unemployed loser, odd-ball brother Arthur (Richard Kind), who had a sebaceous draining cyst on his neck and was suspected of both illegal gambling and sodomy
a property line dispute was occurring with Larry's redneck, anti-semitic neighbor Mr. Brandt (Peter Breitmayer)

Larry became disoriented after spying on his nude-sunbathing, semi-abandoned, blase, promiscuous next-door neighbor Mrs. Vivienne Samsky (Amy Landecker) from his rooftop while adjusting the antenna - who later offered to smoke a joint with him in her home (she asked provocatively: "Do you take advantage of the new freedoms?")
his uncertain, upturned life compelled Larry to meet with rabbis to question his faith and his treatment by Hashem (aka God), and to plead for them to help, without success; in his last meeting, he pleaded: "I've tried to be a serious man, you know? Tried to do right, be a member of the community, raise Danny, Sarah, they both go to school, Hebrew school....Please, I need help"
Larry experienced a triple fender-bender on the same day that Sy was killed in another automobile accident; Larry was forced to finance the funeral
there were repeated annoying phone calls from Dick Dutton at the Columbia Record Club for four-months non-payment of fees for receipt of the selection of the month
his life was succinctly illustrated by a blackboard completely filled with physics formulas demonstrating "The Uncertainty Principle" -- as he told the exiting class when the bell rang: "It proves we can't ever really know what's going on. But even though you can't figure anything out, you will be responsible for it on the mid-term"
the clincher was a film-closing call from his doctor to ominously discuss recent X-rays (taken at the start of the film) amidst a threatening tornado
at the end of the credits, it was noted: "No Jews Were Harmed in the Making of This Motion Picture."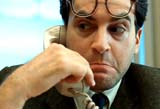 Larry's Torment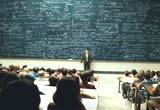 "The Uncertainty Principle"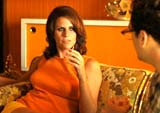 Provocative Neighbor Mrs. Vivienne Samsky