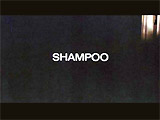 Shampoo (1975)
In Hal Ashby's adult sex comedy farce about the sex lives of rich, narcissistic individuals in Beverly Hills, CA, set during a 24-hour time period on Election Day, November 4th, 1968 when Richard Nixon won the presidency - it was a satirical look at the social and sexual mores of the late 1960s, as exemplified by the main characters:
studly, liberated, seductive, single, 34-year-old playboyish Beverly Hills hair-dresser George Roundy (Warren Beatty) was often engaged in sexual relations with his female clients, and in one instance had three women - all in one day; he would always ask his quintessential sensual question: "Want me to do your hair?" - George often inarticulately repeated the expression: "You're great!" to all of his female conquests
randy hair-stylist George feared commitment and was suspected to be gay, but engaged in simultaneous, round-robin heterosexual affairs with three women (actor Beatty's role reportedly mirrored his own Tinseltown exploits): George's foul-mouthed old lover-girlfriend Jackie Shawn (Julie Christie) - now the mistress of conservative, wealthy businessman Lester (Jack Warden) (George's potential financier), Lester's self-centered, opportunistic wife Felicia Karpf (Oscar-winning Lee Grant), and George's current pert but dumb aspiring actress/girlfriend Jill (Goldie Hawn), an aspiring actress; Jill was best friends with Jackie, who had not told Lester about her previous relationship with George; Jill was also dating film director Johnny Pope (Tony Bill) who was considering her for a role in his next movie filming in Egypt
George Roundy's "Shampoo" Females


Jill (Goldie Hawn)


Jackie (Julie Christie)


Felicia Karpf (Lee Grant)
George's objective was to open his own hair salon, but he lacked a credit rating and financial references, and the bank refused to offer him a loan; the convergence of characters and issues arose when George sought to obtain financial bankrolling-backing from Lester. Felicia supported George's business venture, while implying that George (her lover on the side) was homosexual to avoid bringing suspicion upon herself
in one scene after George cut Jackie's hair in Lester's steamy bathroom, George proceeded to have sex with Jackie on the floor, when they were interrupted by Lester. To fool him, they pretended to be doing her hair and told him to close the door and not let the steam out
George Caught Having Sex With Jackie in Her Steamy Bathroom After Cutting Her Hair
next was Lester's seductive, resentful, Lolita-esque 17-year old teenaged daughter Lorna (Carrie Fisher) who wanted to avenge her cheating mother Felicia through sex with her hairdresser; in a startling scene while George was waiting for Felicia to arrive for her appointment in the kitchen, she asked a series of personal questions, and then offered him a very forward proposition: "You're my mother's hairdresser...Are you gay?...Are you queer?...Have you ever made it with a guy?...Do you wanna f--k?" After going to bed with Lorna, Felicia arrived home and the exhausted George was immediately forced to have sex with her too
in the film's central highpoint, Lester (who believed that George was gay) allowed him to escort his wife Jackie to a 1968 Nixon-Republican Party election-night victory dinner at The Bistro restaurant. George also found himself in the company of a gorgeous-looking Jill (with her date Johnny Pope) and Felicia. The drunken Jackie groped between George's legs under the table - and when executive Sid Roth (William Castle) offered to get her anything she liked, she pointed to George sitting next to her and boldly confessed her true sexual intentions: "Whatever I'd like...Well, most of all, I'd like to suck his c--k!"; her blurted out desirous statement caused George to do a spit-take and almost choke on his glass of water; she ended up under the table with her face in his crotch
later in the evening, when all the main characters proceeded to a hip and posh counterculture party at a private Beverly Hills mansion with lots of booze and drugs, Lester and Jill (with her date) stumbled upon an unidentified couple in a boathouse during the party. George was in the midst of having sexual intercourse with Jackie in the dark. Lester gave his first amused and admiring reaction (without knowing their identities): "That's what I call f--kin'! Am I right, or am I right?" But then, when the refrigerator door slowly opened, it illuminated and spotlighted Jackie and George in the act. Lester was shocked and left. Outraged by the sight, Jill tossed a lawn chair through the double doors before storming off, as George was forced to ask a blatantly-innocent question of an enraged Jill: "Honey, where have you been? We've been looking everywhere for you"
| | |
| --- | --- |
| Lester: "That's what I call f--kin'!" | George Having Sex With Jackie in the Boathouse |
later, George excused his rampant sexual proclivities with so many women (he had sex with Lester's wife, mistress and daughter!) when he told Lester about how women were most often concerned about how they were being used by men: "How am I gonna tell you what they got against you. I mean, Christ, they're women aren't they? You ever listen to women talk, man? Do ya? 'Cause I do till it's runnin' outta my ears! I mean, I'm on my feet all day long listenin' to women talk, and they only talk about one thing: how some guy f--ked 'em over. That's all that's on their minds. That's all I ever hear about! Don't you know that?...Let's face it. We're always trying to nail 'em and they know it. They don't like it. They like it and they don't like it, it's got nothin' to do with you, Lester. It just happened"
by film's end, George's world had fallen apart when all his various secretive liaisons were revealed, when he was shown to be incapable of love, and he deserved to be abandoned
the final sequence was of morally-shallow, bleak miserable and hedonistic George with Jackie atop a Hollywood/Beverly Hills bluff. George proposed to Jackie, but it was already too late. George learned that Lester had left Felicia and was planning to divorce her, and had already proposed to Jackie. George realized to his dismay that he had lost Jackie to Lester. After she left him, he looked down from a distance and saw them drove away on a trip to Acapulco. She had decided that Lester's offer of security and financial well-being was more important to her than George's irresponsible behavior and promise of sexual fulfillment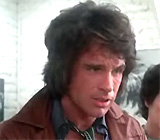 Beverly Hills Hairdresser George Roundy (Warren Beatty)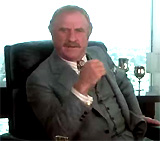 Lester Karpf (Jack Warden)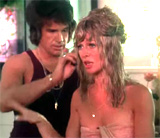 Cutting Jackie's Hair in Lester's Bathroom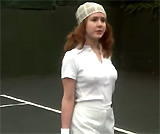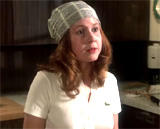 Lorna (Carrie Fisher) to George: "Do you wanna f--k?"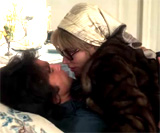 Immediately After, George Bedded Felicia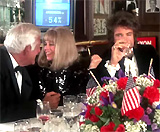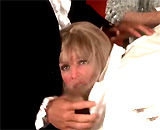 Jackie: "Well, most of all, I'd like to suck his c--k!"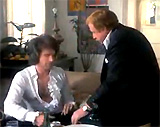 George Explaining His Many Sexual Partners to Lester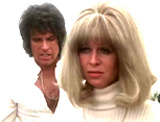 George's Last Conversation with Jackie