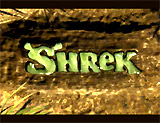 In the first winner of the Best Animated Feature Film Oscar, a biting satire of classic Disney animated films by DreamWorks/PDI's revisionist fairy tale:
the opening Sleeping Beauty (1959) reference (through the use of a stylized storybook), and many other fairy tale references and one-liners
the character of surly, sarcastic, wisecracking, Scottish-accented green, smelly but affable ogre Shrek (voice of Mike Myers) in his swamp home, bathing in mud, brushing his teeth with caterpillar goo, and using the outhouse
Shrek's love/hate relationship with the faithful, talkative, wisecracking, annoying tag-a-long sidekick Donkey (voice of Eddie Murphy)
Shrek's rescue of the pouty, fiercely independent Princess Fiona (voice of Cameron Diaz) on a mission to save her from the Dragon for the nefarious, narcissistic midget Lord Farquaad (voice of John Lithgow) - who had banished fairy tale characters into exile, and tortured the Gingerbread Man on a cookie sheet
Donkey's romance with the female fire-breathing Dragon
the scene of a mechanical Information Booth featuring a spoof of Disney's sugary It's a Small World (It's a Perfect Place) with vaguely sarcastic wooden puppets, tiny welcome dolls
the unlikely romance between Shrek and Fiona, who initially rejected him for being an ogre
the revelation of the plot twist: Fiona was a maiden by day, and an ogre by night
the climax in which the forced marriage between Fiona and Farquaad was interrupted by the dragon, and Donkey's quip after Lord Farquaad was eaten by the dragon: "Celebrity marriages! They never last, do they?"
the sharing of their true love's first kiss when Shrek kissed Fiona to free her from her enchantment -- resulting in a glorious explosion of light, shattering the church's stained glass windows
in another twist, Fiona remained an ogre permanently -- love's true form
also the celebratory party finale in which Donkey and the other fairy tale characters sang The Monkees' "I'm a Believer"