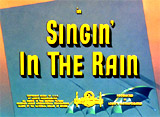 In Gene Kelly's, Stanley Donen's and MGM's classic film musical - a perfect example of an organic, 'integrated musical' in which the story's characters naturally expressed their emotions in the midst of their lives, with song and dance replacing the dialogue; it was one of the all-time best and most enjoyable of Hollywood musicals, produced by the Freed Unit; this colorful and appealing film spoofed and satirized the transitional chaos surrounding the end of the silent film era and the dawn of the 'talkies':
during the opening credits, the three stars danced in bold yellow raincoats and sang the title song "Singin' in the Rain"
in the film's opening, vaudeville, egocentric silent film actor/dancer Don Lockwood (Gene Kelly) and his vain, empty-headed, shrill, nasal boiced, blonde co-star actress Lina Lamont (Jean Hagen) were attending their Monumental Pictures' 1927 film premiere held at Grauman's Chinese Theatre in Hollywood; the film was their latest romantic, black and white swashbuckler, The Royal Rascal; both were at the height of their box-office popularity
on his way to a post-preview party after leaving the theatre's film premiere, Don met pretty young ingenue Kathy Selden (a pert 19 year old Debbie Reynolds, a former 1948 Miss Burbank, in her third film for MGM and in her first major role), a young, bouncy, flapper - an aspiring, fresh-faced and enthusiastic actress
at a post-preview party held at studio boss R.F. Simpson's (Millard Mitchell) home to celebrate the premiere, he announced that the studio didn't have to worry about competing with the advent of sound heralded by Warners' full-length sound picture The Jazz Singer (1927)
studio boss Simpson soon changed his mind after the success of Warners' talking picture a few weeks later; his stars were pressured to change their next silent romantic drama (The Duelling Cavalier) and make it their first sound picture
Don's wise-cracking pal Cosmo (Donald O'Connor) attempted to cheer Don up, because he was an actor and 'the show must go on'; Cosmo performed a wacky but memorable sequence - an amusing, acrobatic, highly energetic tour-de-force number, entitled "Make 'Em Laugh"
in the studio, silent film hero Don was delighted and thrilled to see Kathy again, and made his peace with her, but he was tongue-tied with words, so he sang and danced a fabulous love duet with her on an empty sound stage: "You Were Meant for Me," in which he declared his love to her
in scenes of comic exaggeration, making fun of the problems Hollywood faced with the coming of sound, Don and Lina were both ordered to take diction lessons from an elocution coach, memoralized by the song "Moses Supposes" between Don and Cosmo
the filming of the sound version of the film The Duelling Cavalier was one of the high points of the film; the problems of placing hidden microphones on the set and filming with bulky cameras in the early talkies was comically illustrated; Lina made a disastrous attempt to speak into a concealed microphone; the revised film turned out laughable before studio preview audiences, due to unsynchronized and uneven sound, and Lina's ghastly ungenteel voice
depressed by the preview, fellow conspirators Don, Cosmo and Kathy discussed their problems later that drizzly evening during an all-night talk session; it ended in the early morning with the marvelously upbeat production number "Good Mornin'"; Don had received helpful advice from his dance partner and friend Cosmo Brown and his ingenue girlfriend Kathy Selden. Their idea was to recruit Kathy to rescue and salvage the film - by secretly dubbing over Lina's uncouth voice: ("She can't act, she can't sing, and she can't dance, a triple threat...Use Kathy's voice. Lina just moves her mouth and Kathy's voice comes over singing and talking for her"); the disastrous costume drama would become a musical swashbuckler titled The Dancing Cavalier
in a classic, unforgettable, heart-lifting, enchanting dance scene during a cloudburst in the middle of the night after taking Kathy home, Don performed a glorious and joyous, almost five minute rendition of the title song "Singin' In the Rain" - it was a spontaneous expression of his crazy-in-love, euphoric mood and love-struck happiness over his new-found love for Kathy; in the rain dance during a downpour, he passed by shop windows, splashed through puddles, and stood on a streetlamp - with his trusty umbrella; it ended with a policeman's quizzical look after Don tipped his hat
the next day, Don and Cosmo explained their saving idea to Hollywood studio head R. F. Simpson; The Duelling Cavalier was to be renamed The Dancing Cavalier and the plan was to include large-scale musical numbers within the film; Kathy's dubbed voice would be superimposed onto the soundtrack
during the film's production, Don also explained what the film needed to Simpson - he suggested a large, modern, dance number that would be inserted into the sound film; it became the film's largest and lengthiest segment titled "Broadway Melody Ballet"; it was comprised of a show-business rags-to-riches story of a young hoofer's success on Broadway, featuring a seductive dance by a gangster's moll portrayed by guest dance artist Cyd Charisse; although Simpson agreed to the idea of making the film a musical, he wasn't so sure about Don's extravagant idea
the newly-envisioned sound film was a tremendous success, and Lina's career was saved, when Kathy had her voice substituted for all of Lina's lines and songs; however, the voice-dubbing deception was ultimately exposed during The Dancing Cavalier's premiere (advertised as "ALL SINGING, ALL TALKING, ALL DANCING"), at Grauman's Chinese Theatre; Lina was embarrassed in front of the audience and laughed off the stage at the film's premiere when she was unable to duplicate the film's singing style in a live performance and appearance onstage; Kathy was revealed to be the true singer behind her, substituting for Lina's voice; as the embarrassed Kathy fled up the theatre aisle, Don from the stage shouted "Stop that girl", and then he told the audience: "That's the girl whose voice you heard and loved tonight. She's the real star of the picture. Kathy Selden"; Don started to sing to her: "You Are My Lucky Star" as she returned to the stage and they embraced
afterwards, the two hugged in front of a billboard on a hillside announcing their new starring roles as the new stellar love team of Monumental Pictures, as romance blossomed between Kathy and Don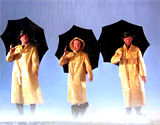 Opening Credits: "Singin' in the Rain"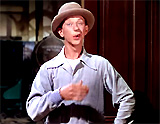 Cosmo Brown: "Make 'Em Laugh"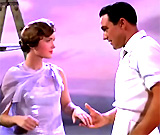 Don and Kathy: "You Were Meant For Me"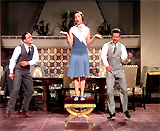 "Good Mornin'"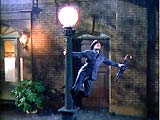 "Singin' in the Rain"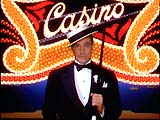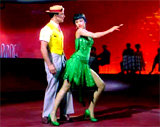 "Broadway Melody Ballet"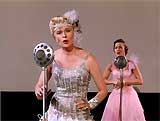 Kathy Revealed to be the True Singer When the Curtain Was Raised Behind Lina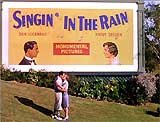 Film's Ending: Don and Kathy in Front of Billboard