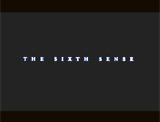 The Sixth Sense (1999)
In M. Night Shyamalan's haunting, twist-ending signature film:
the startling opening sequence in which Dr. Malcolm Crowe (Bruce Willis) was shot (and killed) by angry ex-patient Vincent Grey (Donnie Wahlberg)
the anniversary date dinner scene of Crowe with his troubled and depressed wife Anna (Olivia Williams) in a fancy restaurant
the scary scene of frightened, paranormal and tormented 8 year-old Cole Sear (Haley Joel Osment) hiding in his tent, shining a flashlight under his chin and seeing pale ghostly young girl Kyra (Mischa Barton) with bloodshot eyes vomiting up her morning oatmeal next to him
Cole's Sightings of Two Ghosts
the scene of Cole telling his divorced mother Lynn (Toni Collette) a comforting message from her dead mother - as a bloody car accident victim appeared in the car window behind
in the revelation scene, Malcolm returned home to find his mourning wife Anna watching their videotaped wedding on TV. With her eyes closed, she was asking questions, such as: "Why, Malcolm?...Why did you leave me?" She was clutching the wedding ring that used to be on his hand. After it rolled noisily in a circle across the parquet-wood floor, he held his own left hand up, realizing that he was not wearing his wedding ring - with the startling revelation that Crowe was one of the "dead people" seen by Cole
Dr. Crowe's Realization That He Was Dead


Cole: "I see people..They don't know they're dead."
the famous line of dialogue by Cole: "I see people" followed by its real meaning: "...They don't know they're dead. They only see what they want to see"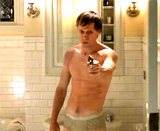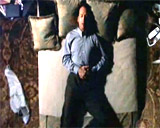 Unexpected Plot Twist Death of Dr. Crowe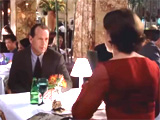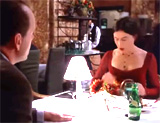 Anniversary Date Dinner Scene with Anna