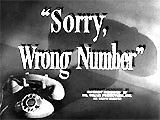 Sorry, Wrong Number (1948)
In director Anatole Litvak's engrossing, expressionistically-filmed, psychological thriller and film noir classic:
the suspenseful film opened in a Manhattan apartment with a view of a bedridden, spoiled, manipulative hypochondriac heiress Leona Stevenson (Oscar-nominated Barbara Stanwyck), whose domineering father was wealthy, drug company industrialist James "J.B." Cotterell (Ed Begley); an invalid, she was confined to her bed or wheelchair on the top floor of a claustrophobic Manhattan apartment
while making a call from her home phone (PLaza 5-1098) to her husband Henry Stevenson's (Burt Lancaster) VP office, she accidentally overheard a crossed-wires telephone conversation between two thugs; the strangers were discussing the lurid details of a planned murder plot for that evening at 11:15 (the exact time of a loud, passing train) - she began to fear that she was the intended victim
as the film unfolded, it appeared that Henry had been engaged in the theft of drugs from her father's Cotterell medicinal plant (in Cicero, IL and then in Bayonne, NJ) that were then trafficked to a crooked fence named Morano (William Conrad) for a cut of the profits; after a number of months, the greedy Henry began to swindle Morano by absconding with some of the drugs in order to make more of a profit. When Morano found out, the blackmailer insisted that Henry pay off an IOU debt of $200,000 within 90 days. This was when Henry decided to get rid of his manipulative and controlling wife in order to inherit her estate (and an insurance payout) to pay off the debt of $200,000 to the blackmailing Morano, by hiring a hitman to kill Leona; however, with Morano's recent arrest, now it appeared that Henry would no longer be threatened by blackmail, and therefore, his murder-for-hire scheme to eliminate his wife was no longer necessary
after a number of revealing phone calls and flashbacks, Leona was powerless and time was dwindling in the thrilling finale; she became increasingly desperate as 11:15 pm approached: ("I'm a sick woman and I'm all alone in this horrible empty house!"). When Henry called collect at about 11:10 pm, Leona admitted she had just learned of Henry's dirty dealings through timid company chemist Waldo Evans (Harold Vermilyea), and realized he was in deep trouble. She said she would have bailed him out with money if he had asked: ("I would've given it to you gladly if it would've saved your life"). Henry confessed his guilt ("I confess everything, everything. I did steal from your father, and I was so desperate I even tried - I arranged to have you..."), but also regretted that it was too late to stop the killer
Henry instructed her to go to her balcony and scream for help: ("I want you to get out of that bed and walk to the window. I want you to scream out into the street"), but then, the intruder's shadow appeared in the stairwell, entered her room and strangled her to death - after covering her with his shadow. Henry listened until she hung up the phone - she was murdered at 11:15, when her hysterical screams were drowned out by a passing train.
in the final line of dialogue when Henry called back, a white gloved hand picked up the phone receiver. Henry heard the film's title spoken by an unknown voice: "Sorry, wrong number"
| | | |
| --- | --- | --- |
| | | |
| Henry on Phone With Desperate Leona | Intruder's Shadow in Stairwell Outside Leona's Room | Leona's Scream As She Was Murdered |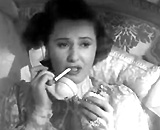 Leona Stevenson (Barbara Stanwyck)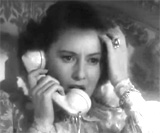 Overhearing Murder Plot on Crossed Phone Line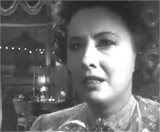 Leona Beginning to Be Scared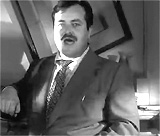 Blackmailing Fence Morano (William Conrad)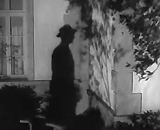 Shadow of the Murder-For-Hire Intruder Outside the Apartment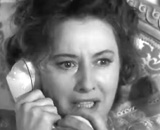 Fearing For Her Life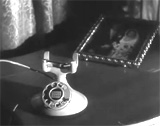 Last Line: "Sorry, wrong number"