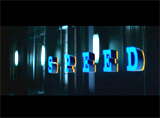 Speed (1994)
In director Jan De Bont's superb action film (his debut film), one of the most exciting action thrillers of all time:
the set-up: an L.A. city bus rigged with explosives ready to blow if the booby-trapped bus went under fifty miles per hour
the character of elusive mad bomber Howard Payne (Dennis Hopper) with his threatening description of the film's actual plot-pitch about an extortionist ransom of $3.7 million: ("Pop quiz, hotshot. There's a bomb on a bus. Once the bus goes 50 miles an hour, the bomb is armed. If it drops below 50, it blows up. What do you do, Jack? What do you do?")
the scene of LA SWAT team specialist Jack Traven (Keanu Reeves) leaping onto the bus from a moving car next to it
Annie Porter (Sandra Bullock) as the terrified passenger driving the fatal bus under the guidance of Jack, after the original bus driver Sam (Hawthorne James) was wounded
the amazing sequence of the improbable long jump the bus made over a missing and incomplete section of freeway and other scenes of the bus hurtling through congested LA traffic
the exciting sequence of Annie and Jack dropping through an escape hatch in the floor of the bus just before it rammed into an empty cargo airplane and exploded
the death of Howard, disguised as a police officer, after a hand-to-hand struggle atop a runaway subway train with Jack, and the criminal was beheaded by an overhead red signal light
the ultimate crash of the train after it derailed through a construction site and ended up skidding sideways down Hollywood Boulevard in front of Grauman's Chinese Theatre, followed by a very passionate kiss of relief between Annie and Jack, who exchanged the last few lines of dialogue: Jack: "I have to warn you. I've heard relationships based on intense experiences never work." Annie: "OK, we'll have to base it on sex, then." Jack: "Whatever you say, ma'am"