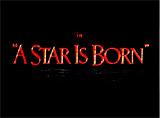 In director George Cukor's dramatic musical and classic tearjerker - it was a superior remake of William Wellman's non-musical, classic 1937 film of the same name starring Janet Gaynor and Fredric March that was inspired by What Price Hollywood? (1932) also directed by Cukor. [Note: It was also updated to modern times twice as a musical drama - first as A Star Is Born (1976) with Barbra Steisand and Kris Kristofferson, and second as A Star Is Born (2018), starring director/actor Bradley Cooper and Lady Gaga.] The emotionally-intense psycho-drama also hinted at the real-life troubles and problems (five marriages) in the career of its female star - Judy Garland - a victim of the Hollywood studio system - during the film's making; it was Garland's comeback and self-referential film (after she had been dismissed from her lead role in MGM's Annie Get Your Gun (1950) for health problems), and then suffered from alcoholic binges and suicide attempts:
during a late-night gala benefit "Night of Stars" held at Hollywood's Shrine Auditorium, boozing, womanizing, brilliant, but fading alcoholic movie actor Norman Maine (James Mason) lurched onstage during a song and dance act being performed by young, aspiring newcomer-star actress and vocalist Esther Blodgett (Judy Garland) with the Glenn Williams Orchestra; he made a drunken spectacle of himself in front of the audience before she saved him from major embarrassment and led him off the stage as the audience applauded
| | |
| --- | --- |
| Esther Awkwardly Dancing on Stage with Norman at Shrine Auditorium's "Night of Stars" | Backstage - Norman Drew a Heart on Wall with Esther's Lipstick |
still inebriated but thankful to Esther for saving him, Norman drew a heart with an arrow through it and their initials, using her lipstick on one of the backstage walls; Esther politely refused a dinner date with him
later that night after being haunted by Esther's memory, Norman tracked her down and found her in an empty, after-hours Sunset Strip musicians' hangout (the Downbeat Club with stacked chairs all around); he became transfixed as he watched her sing the memorable torch song blues/ballad classic: "The Man That Got Away," accompanied by her pianist Danny McGuire (Tommy Noonan) - the performance was a classic, three and a half-minute uninterrupted camera take
Norman was impressed by her star quality and spark of genius; as he drove her home, she told him her life story, ending with: "I somehow feel most alive when I'm singing"; at her single apartment, Esther dreamt of having a lucky break, being discovered by a record company talent scout and having a number one hit song; Norman advised her to give up her small-time band for a chance at a movie career: ("Don't settle for the little dream. Go on to the big one"); he gave her some final words of encouragement before he left: "Don't ever forget how good you are. And hang on to that. Because I'm right." And then, he delivered his trademark farewell words to her, repeated later in the film: "I just want to take another look at you"

Words of Encouragement to Esther: "Don't ever forget how good you are"

Norman: "I just want to take another look at you"
afterwards, with hopes of getting a screen test, Esther dreamily envisioned her future success as recommended by Norman: ("He saw something in me nobody else ever did. He made me see it too. He made me believe it"); Esther told her pianist Danny that she was not going to Frisco with the band the next morning, and that she was determined "for a chance at being something, something bigger than I ever dreamed of" - a screen test
she took Norman's advice and dropped her band - but immediately became unemployed when Norman unexpectedly left town for a movie shoot; Esther was forced to work singing in TV commercials and as a car-hop waitress at a burger drive-in
weeks later, Norman reunited with Esther and was able to get her a screen test at his studio; she was hired as a contract bit player at the Oliver Niles (Charles Bickford) Movie Studio, although she was treated as another one of Maine's conquests; Norman intervened and refused to have her look changed - with a blonde wig and nose prosthetic; however, she realized that the studio had given her a new screen name when she received her first paycheck - VIcki Lester; her 'big break' into show-business came when she advantageously took the lead singing role in a musical comedy when another singer canceled out of her contract
| | |
| --- | --- |
| Studio Make-Up Artists Examining Esther's Face | Norman Laughing at Her Hideous Studio Make-Up |
her debut lead film role, seen in the film's preview screening (a 'movie within a movie') was during a special showing in which Norman's new film Another Dawn was also being previewed; she performed in the film's most extravagant and 18-minute main production sequence - one of the finest and most distinctive musical film sequences ever made, opening and closing with "Born in a Trunk"; it was presented as Esther's career success story in the form of an exquisitely-staged musical "biography" of her character beginning with her family's vaudeville performance as one of 'The 3 McCoys', and her rise to stardom as Vicki Lester; she commented on being a "ten-year-overnight sensation," singing such classics as "I'll Get By (As Long as I Have You)," "You Took Advantage of Me," "Black Bottom," "My Melancholy Baby," and "Swanee" (in a minstrel-like performance, wearing a man's hat and suit)
Medley of Songs in the "Born in a Trunk" Production Number


"I'll Get By (As Long as I Have You)"


"You Took Advantage of Me"


"Black Bottom"


"Black Bottom"


"My Melancholy Baby"


"Swanee"
Vicki's film debut was a sensational success, compared to the lukewarm reception that Norman's film received; her singing career was launched and on the rise in Hollywood, while his popularity was in reverse and on the decline; he told her: "It's all yours, in more ways than one...You're going to be a great star, Esther. Don't let that change you too much. Don't let it take over your life"
Vicki sensed Norman's awareness that he destroyed everything to which he got close: ("I destroy everything I touch. I always have. Forget me. I'm a bad lot"), and he wanted to get out of their relationship, but she refused to give up on him, hugged him, and told him that he should believe that it wasn't too late: "It's not too late. Not for you, not for me"
during the playback of her singing "Here's What I'm Here For" after a studio recording session, Norman's marriage proposal was caught on the audio - she accepted his "public" proposal, and after they left, the studio's publicity director Matt Libby (Jack Carson) commented that Vicki was walking into a "booby trap"; however, studio head Niles felt marriage might benefit Norman: "This might make the difference to Norman"
they were wed in a very secretive and small justice-of-the-peace ceremony in San Verdo township in LA County, contrary to the wishes of publicist Libby who had wanted to orchestrate a major studio wedding; they experienced an idyllic honeymoon (in a cheap motel), where after hearing her singing the number one hit song on the radio, "It's a New World," Norman asked for a private listening session with Vicki - one of the film's most tender moments
their marriage was soon tested by the tragic consequences of Norman's personal self-destruction, disintegration and loss of fame; Norman was confronted by Niles, the head of the studio, who took him aside and informed him that the rest of his contract would be bought up and paid off; Norman was to be dropped at the studio, because he had become too big a risk, lapsing in his screen performances due to his alcoholism: "They can't afford you any more, Norman. You're too big a risk. Those big, fat lush days when a star could get drunk and disappear and hold up production for two weeks are over. Even if you hadn't slipped a little, they still wouldn't take the chance. Your record's too bad. No one can afford it any more. Things are too tough"
Norman soon realized how much attention Vicki was receiving and how much the public had already forgotten him; his career toppled while he remained at home waiting for screen roles, playing solitaire and putting golf balls, as Vicki spent her long days at the studio; when Vicki returned one night late from rehearsal, she performed her most recent production number for him, "Someone at Last"; a deliveryman at the door interrupted with a package and asked: "Who are you?...Sign right there, Mr. Lester"; soon after, Norman told Vicki: "I think I shall mix myself a drink" - his alcoholism would increase and his marriage began to unravel
| | |
| --- | --- |
| Deliveryman: "Sign right there, Mr. Lester" | Norman: "I think I shall mix myself a drink" |
in a classic sequence at the annual Academy Awards Banquet Ceremony (in the Cocoanut Grove at the Ambassador Hotel), Vicki won the Best Actress Academy Award Oscar (for A World For Two) and was giving her acceptance speech, when the drunken Norman made an intrusive entrance and interrupted Vicki's speech; while stumbling around, he delivered his own self-pitying speech to demand recognition from the audience: "Congratulations, my dear. I made it just in time, didn't I? May I borrow the end of your speech to make a speech of my own? My method for gaining your attention may seem a little uncon-unconventional, but, uh, hard times call for harsh measures. My - I had my speech all prepared, but I - it's gone right out of my head. Let me see - why, it's silly to be so formal, isn't it? I-I know most of you sitting out there by your first names, don't I? I made a lot o' money for you gentlemen in my time through the years, didn't I? Well, I need a job now. Yeah, that's it. That-that-that-that's the speech. That's the - I need a job. That's what I wanted to say. I - I need a job. It's as simple as that. I - I need a job, that's all. My talents, I may say, are not confined to dramatic parts. I can play comedy, too"
Norman was gesturing wildly on stage and accidentally slapped her when he flung his arm out and struck her; hiding her embarrassment, Vicki laughed, brushed her tears aside, and helped him off the stage to her table; soon after, Norman was admitted to a sanitarium for treatment of his alcoholism
during a break in filming after Vicki's singing and dancing of "Lose That Long Face," she experienced a confessional breakdown in a dressing room scene with studio head Oliver Niles about her despair and concern over her alcoholic husband Norman: "What is it that makes him want to destroy himself?...You don't know what it's like to watch somebody you love just crumble away bit by bit, day by day, in front of your eyes, and stand there helpless. Love isn't enough, I thought it was. I thought I was the answer for Norman. But love isn't enough for him....Sometimes, I hate him. I hate his promises to stop, and then the watching and waiting to see it begin again. I hate to go home to him at nights and listen to his lies...I hate me cause I've failed too...All he's got left is his pride"; Niles suggested that he would try to help Norman get work again; afterwards, she forced herself to go back on stage to film the scene again
after Norman's discharge months later, he spent some of his spare time at the Santa Anita Race Track; Norman's initial efforts to sober up were promising; however, at the bar while drinking ginger ale, his old adversary Libby insulted him and provoked a fight by accusing him of living off Vicki's earnings: ("You got yourself fixed nice and comfortable, you got no complaint. You can live off your wife now"); Norman was knocked to the floor, and humiliated when he heard onlookers comment: ("Drunk again. He's been drunk for years") - it provided him with an excuse to continue drinking, and he changed his drink from ginger ale to a double scotch
Norman disappeared and went on a monumental drunken binge, was scandalously arrested four days later, and in a night court was sentenced to jail for 90 days for drunkenness: ("Drunk and disorderly. Crashed car into tree at Sunset and Coronado. Evidently been drinking for days. Resisted arrest and injured one of the arresting officers"); with Vicki's intercession, the sentence was suspended, and Norman was placed in her custody; Vicki was willing to sacrifice her career to help her husband regain his stability and sobriety; she brought him back to their Malibu home
| | | |
| --- | --- | --- |
| Norman Sentenced in Night Court For Menacing Drunkenness | Vicki Given Custody of Norman by the Judge | Vicki's Decision with Niles to Quit the Business and Take Care of Norman |
still unreasonably but faithfully hopeful, Vicki (at the height of her own career) told Niles that she planned to quit Hollywood so that she could go away for good and take care of him, to restore his health; Norman overheard their conversation and couldn't believe his ears; in anguish and with a look of agonizing self-loathing, he buried his face in his pillow
in the film's shocking, tragic but inevitable sequence, he made one last request that Vicki sing a song for him from the kitchen window: "It's a New World" - and he also asked for one final look at her: "Hey - I just wanted to look at you again"; and then Norman walked into the ocean from his Malibu beach house at dawn - to commit suicide by drowning himself; Norman's stunning suicidal demise was inevitable, although it was reported as an "accidental drowning"
in the film's memorable conclusion, one of the greatest endings of any movie in the 1950s, Vicki was persuaded by her studio accompanist Danny McGuire to come out of mourning to perform and keep Norman's memory alive; he escorted her to show up and sing at a scheduled Shrine Auditorium benefit concert; she passed by the backstage wall with the heart and arrow drawn in lipstick by Norman so many months before (E.B. & N.M.); in front of the curtain, the emcee (Rex Evans) was announcing that she would not be appearing, but after receiving a whispered message from Danny, he then excitedly announced: "Vicki Lester will appear tonight!"
| | |
| --- | --- |
| Danny's Encouragement to Vicki to Keep Norman's Memory Alive | Backstage at the Shrine Auditorium - Vicki Remembered the Heart Drawn on Wall (With Her and Norman's Initials) |
| Vicki's Unexpected Appearance at the Shrine Auditorium | "Hello everybody - this is - Mrs. Norman Maine" |
before a large audience at the Shrine Auditorium in the film's unforgettable and poignant ending, Vicki appeared in a spotlight as she delivered a closing, posthumous tribute line to her deceased husband to honor him, as she proudly identified herself: "Hello everybody - this is - Mrs. Norman Maine" - there was a slight pause and silence, and then the audience stood and burst into ecstatic applause - the camera pulled back slowly, ending with a long shot of Esther smiling through her tears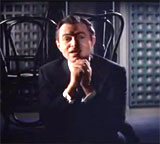 Norman in Sunset Strip Club Watching Esther


"The Man That Got Away"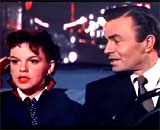 Norman Driving Esther Home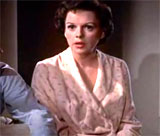 Esther (about Norman): "He saw something in me nobody else ever did"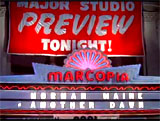 Studio Sneak Preview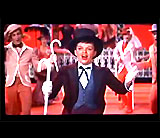 Vicki's Movie Preview Performance - A Prologue to an 18 Minute Production Number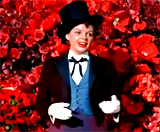 "Born In a Trunk" -
The Opening and Closing Number in the Production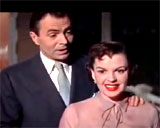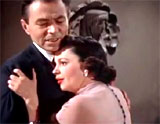 Norman to Esther/Vicki: "It's all yours!" Vicki Responded About How It Wasn't Too Late for the Two of Them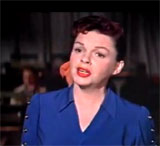 "Here's What I'm Here For"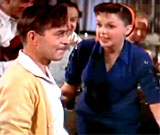 Norman's Marriage Proposal Caught on Audio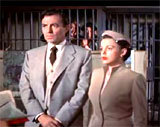 Private County Courthouse Marriage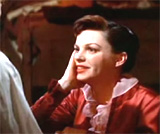 "It's a New World"- Sung in a Cheap Motel Room to Norman After Their Marriage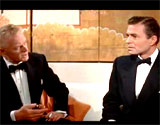 Norman Told That His Studio Contract Would Be Paid Off and End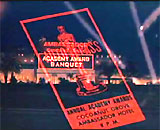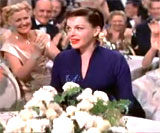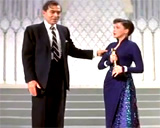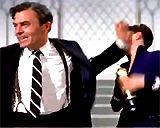 Norman's Drunken and Embarrassing Appearance at the Academy Awards Ceremony Honoring Vicki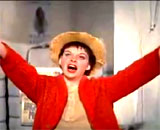 "Lose That Long Face"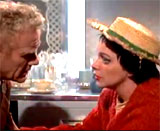 Vicki's Confessional Breakdown in Dressing Room to Studio Head Oliver Niles (Charles Bickford)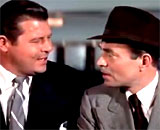 At the Racetrack Clubhouse with Libby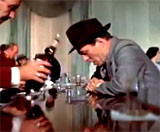 Norman Changing His Drink From Ginger Ale to a Double Scotch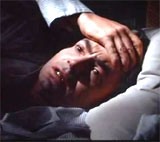 Self-Loathing Norman Overhearing Vicki's Conversation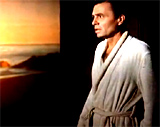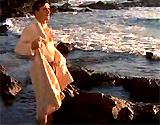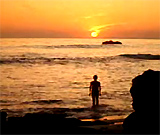 Norman's Suicidal End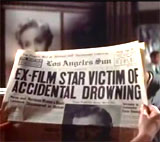 Headlines of Norman's Death