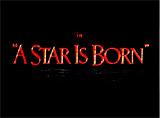 In director George Cukor's dramatic musical - the superior remake of the 1937 film of the same name:
the late-night scene of boozing, womanizing, brilliant, but fading alcoholic movie actor Norman Maine (James Mason), searching for one of the dancing performers from a gala benefit "Night of Stars" held at Hollywood's Shrine Theatre - aspiring actress Esther Blodgett (Judy Garland); haunted by her memory, he tracked her down at an empty, after-hours Sunset Strip musicians' hangout (with stacked chairs all around); he became transfixed as he watched her sing the torch song blues/ballad classic: "The Man That Got Away," accompanied by her pianist (Tommy Noonan) - a classic, three and a half-minute uninterrupted camera take
Esther's (now renamed Vicki Lester) debut film's lead role in the film's most extravagant production sequence: "Born in a Trunk" (including various renditions of "Swanee") - a classic, 18-minute sequence, opening and closing it with the song; it was presented as a career success story, a vaudeville performer's rise to stardom, and an exquisitely-staged musical "biography" of Vicki Lester's character; in-between the opening and closing song, she commented on being a "ten-year-overnight sensation," singing such classics as "I'll Get By," "You Took Advantage of Me," "My Melancholy Baby," and "Swanee" (in a minstrel-like performance, wearing a man's hat and suit)
the scene of Norman's proposal of marriage to Vicki during a recording session - she accepted his "public" proposal
the classic sequence at the annual Academy Awards Banquet Ceremony - and Vicki's win and acceptance speech for receiving the Best Actress Academy Award Oscar - and drunken Norman's intrusive entrance and interruption of Vicki's speech with his own self-pitying speech (while he stumbled around): "Congratulations, my dear. I made it just in time, didn't I? May I borrow the end of your speech to make a speech of my own? My method for gaining your attention may seem a little uncon-unconventional, but, uh, hard times call for harsh measures. My - I had my speech all prepared, but I - it's gone right out of my head. Let me see - why, it's silly to be so formal, isn't it? I-I know most of you sitting out there by your first names, don't I? I made a lot o' money for you gentlemen in my time through the years, didn't I? Well, I need a job now. Yeah, that's it. That-that-that-that's the speech. That's the - I need a job. That's what I wanted to say. I - I need a job. It's as simple as that. I - I need a job, that's all. My talents, I may say, are not confined to dramatic parts. I can play comedy, too" - and then the shocking moment when he flung his arm out and accidentally struck his wife while demanding recognition
Drunken Norman's Embarrassing Appearance at Academy Awards
the scene of Vicki singing the first chorus of "Lose That Long Face" followed by her confessional breakdown in the dressing room scene about her despair and concern over her alcoholic husband Norman, with studio head Oliver Niles (Charles Bickford): "What is it that makes him want to destroy himself?...You don't know what it's like to watch somebody you love just crumble away bit by bit, day by day, in front of your eyes, and stand there helpless. Love isn't enough, I thought it was. I thought I was the answer for Norman. But love isn't enough for him....Sometimes, I hate him. I hate his promises to stop, and then the watching and waiting to see it begin again. I hate to go home to him at nights and listen to his lies...I hate me cause I've failed too...All he's got left is his pride"; afterwards, she forced herself to go back on stage to sing the song again
the shocking, tragic but inevitable sequence of Norman's last suicidal moments, when he requested that Vicki sing a song for him: "It's a New World" - and asked for one final look: "Hey - I just wanted to look at you again"; and then Norman's sunset swim-walk into the ocean - to commit suicide by drowning himself
in the film's memorable conclusion, one of the greatest endings of any movie in the 1950s, Vicki was escorted by her studio accompanist Danny McGuire (Tommy Noonan), to show up to sing at a scheduled Shrine Theatre benefit; she passed by a wall with the heart and arrow drawn in lipstick by Norman so many months before (E.B. & N.M.); at the last minute, she was persuaded to come out of mourning to perform; in front of the curtain, the emcee (Rex Evans) was announcing that she would not be appearing, but after receiving a whispered message from Danny, he then excitedly announced: "Vicki Lester will appear tonight!"
the unforgettable poignant ending and closing tribute line to her husband in front of a large audience at the Shrine Theatre, in a spotlight (as she identified herself: "Hello everybody - this is - Mrs. Norman Maine") - there was a slight pause and silence, and then the audience stood and burst into ecstatic applause - the camera pulled back slowly, ending with a long shot of Esther smiling through her tears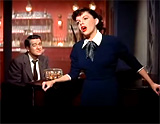 "The Man That Got Away"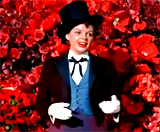 "Born In a Trunk"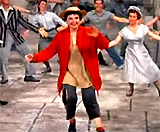 "Lose That Long Face"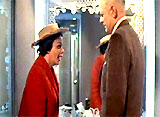 Vicki's Confessional Breakdown in Dressing Room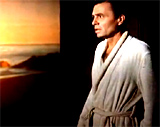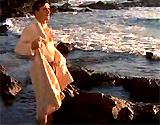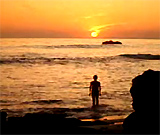 Norman's Suicidal End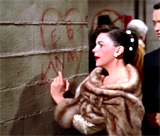 Heart Drawn on Wall


Vicki's Unexpected Appearance at the Shrine Theatre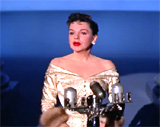 "Hello everybody - this is - Mrs. Norman Maine"