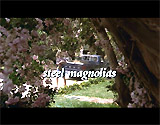 Steel Magnolias (1989)
In Herbert Ross' tearjerking romantic comedy:
the upsetting scene in which Shelby Eatenton Latcherie (Julia Roberts) collapsed into a diabetic coma - discovered by her husband Jackson Latcherie (Dylan McDermott) as her 1 year-old son Jack, Jr. (C. Houser) screamed in horror
Shelby's mother M'Lynn Eatenton's (Sally Field) round-the-clock vigil (humming "Mockingbird" to her, reading beauty tips from a fashion magazine, etc.)
the death scene of diabetic daughter Shelby Eatenton Latcherie when Shelby's mother M'Lynn Eatenton was left alone after everyone else had departed when the machine was turned off; M'Lynn reminisced later at the gravesite: ("I find it amusin'. Men are supposed to be made out of steel or somethin'. I just sat there. I just held Shelby's hand. There was no noise, no tremble, just peace. Oh God. I realize as a woman how lucky I am. I was there when that wonderful creature drifted into my life and I was there when she drifted out. It was the most precious moment of my life")
the graveyard scene around the casket in which grieving, strong-willed and feisty mother M'Lynn Eatenton reacted to her daughter's death; she wasn't willing to be rejoicing as Annelle (Darryl Hannah) had suggested - due to Shelby's transition to be "with her King" in a better place in Heaven: "You go on ahead. I'm sorry if I don't feel like it. I guess I'm a little selfish. I'd rather have her here" - and shortly later, she added: "Shelby, as you know, wouldn't want us to get mired down and wallow in this. We should handle it the best way we know how and get on with it. That's what my mind says. I wish somebody would explain it to my heart"
the subsequent sequence of M'Lynn's angry and raging despair: ("I'm fine! I can jog all the way to Texas and back, but my daughter can't! She never could! Oh God! I'm so mad, I don't know what to do! I wanna know why! I wanna know WHY Shelby's life is over! I wanna know how that baby will ever know how wonderful his mother was. Will he EVER know what she went through for him? Oh, God, I wanna know whyyyy! Whhhyyyyy?! Lord, I wish I could understand. No! No! No! It's not supposed to happen this way. I'm supposed to go first. I've always been ready to go first. I don't think I can take this. I don't think I can take this. I just wanna hit somebody til they feel as bad as I do! I JUST WANNA HIT SOMETHING! I WANNA HIT IT HARD!")
the sequence was humorously undercut by Clairee's (Olympia Dukakis) cathartic offer of her sour-puss best friend Ouiser Boudreaux (Shirley MacLaine) as a punching-bag target for M'Lynn's anger: ("Here, hit this! Go ahead, M'Lynn. Slap her!")
| | | |
| --- | --- | --- |
| M'Lynn: "I'm fine!" | M'Lynn's Extreme Grief | Clairee Offering Ouiser as a Punching Bag |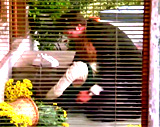 Shelby Discovered on Patio in Coma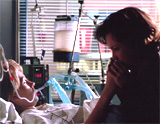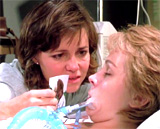 M'Lynn's Round the Clock Vigil at Shelby's Bedside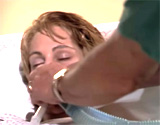 Shelby Taken Off Life Support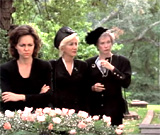 At Shelby's Gravesite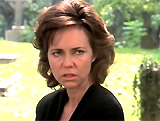 M'Lynn to Annelle: "I'd rather have her here"