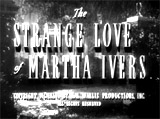 The Strange Love of Martha Ivers (1946)
In director Lewis Milestone's sordid, noirish, B/W melodrama, it told about three childhood friends who were brought together 18 years later for a climactic denouement regarding a murderous and guilty secret from the past, in the Pennsylvania town of Iverstown:
the film opened in 1928 with young heiress Martha Ivers (Janis Wilson as a girl) bludgeoning (with a cane) her domineering, mean-spirited, tyrannical, wealthy Aunt Ivers (Judith Anderson) to death (on a flight of stairs, where afterwards, she tumbled to her death) during a raging thunderstorm
Martha sought revenge for her hard-hearted Aunt's caning to death of her beloved cat named Bundles. At the time, Martha had repeatedly been planning to run away with her young, street-smart, independent-minded boyfriend Sam Masterson (Darryl Hickman as a boy)
the murder was thought to have been witnessed by both Sam, who fled town (and joined a circus) and by young, prim, and bespectacled Walter O'Neil (Mickey Kuhn as boy) who was at Martha's side looking on. The weak-willed Walter was urged by Martha to lie about the killing to conceal her guilt
in exchange for their help in denying Martha's involvement, Walter's scheming father Mr. O'Neil (Roman Bohnen), Martha's greedy tutor, blackmailed Martha into marrying Walter (so that he could acquire her inherited wealth and influence), while an innocent man was accused, condemned and executed for the murder of Martha's aunt
the love triangle clashed when they were brought together again years later in 1946. The three were:



Martha Ivers (Barbara Stanwyck as adult), a domineering, single-minded, predatory, self-interested, and determined femme fatale
Walter O'Neil (Kirk Douglas as adult, in his film debut), now lovelessly married to Martha, an alcoholic District Attorney in the steelworks town of Iverstown where he dominated everything
Sam Masterson (Van Heflin as adult), Martha's former beau (who she was still attracted to), a decorated wartime soldier and gambler


passing through Iverstown, Sam was forced to remain in the town after crashing his car into a tree. Martha (and Walter) feared Sam's knowledge of the awful crime and would try to blackmail them, although at a crucial point in the film, he admitted that he did not witness Aunt Ivers' death ("I wasn't there. I left when your Aunt came into the hallway. I didn't want to stick around. I was in enough trouble as it was. I never saw what happened. I never knew until tonight about your Aunt or that man. The one they hung. The man that you and Walter killed").
[Note: In the film's major sub-plot, Sam tried to help a new acquaintance in town, young, sexy and pretty Antonia "Toni" Marachek (Lizabeth Scott), who was on parole (after charges of theft), but was arrested for violating her probation (she was not supposed to be in town). Sam appealed to DA Walter to request his influence in her case. Although Toni betrayed Sam and set him up for a beating, she was under pressure by Walter to do so, and was ultimately forgiven by Sam.]
Martha, who had never given up her love for Sam, decided to seduce him and then urged him to heartlessly kill her drunken husband after he fell down the ubiquitous staircase and was unconscious: ("Now, Sam. Do it now. Set me free. Set both of us free...Oh, Sam, it can be so easy"). Sam refused to comply with her: ("Now I'm sorry for ya....Martha, you're sick...You're so sick you don't even know the difference between right and wrong....I've never murdered").
after Sam declined to murder Walter and prepared to walk out of the mansion, Martha threatened to shoot Sam as an intruder: ("We can't let him go, can we?...We'd be fools to let him go, knowing so much about us") - in "self defense" - but she couldn't pull the trigger on him and shoot him in the back. As he left, he told them: "I feel sorry for ya, both of ya."
the shock double-suicide ending included Martha's death when she pulled the trigger on herself as her jealous and drunk husband Walter held a gun to her stomach during a deadly embrace - and then with her draped limply in his arms, Walter shot himself to death
Sam witnessed the two deaths through a window, as he stood outside the mansion, before driving off with Toni to get married (Sam to Toni: "Don't look back, baby. Don't ever look back. You know what happened to Lot's wife, don't ya?")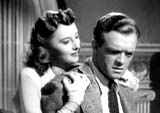 Martha Ivers (Barbara Stanwyck) with Sam Masterson (Van Heflin)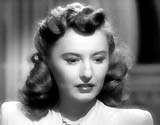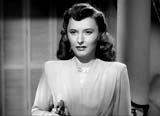 Martha Holding a Gun on Sam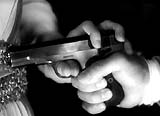 The Deadly Embrace Between Martha and Walter O'Neil (Kirk Douglas)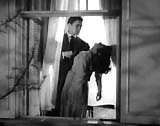 The Double Suicide