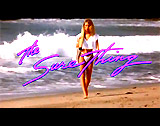 The Sure Thing (1985)
In Rob Reiner's traditional coming-of-age comedy romance (and road film) - his second feature film following after This Is Spinal Tap (1984), its theme was the temptations of an ideal "sure thing" that also involved a cross-country journey of two mismatched individuals (similar to It Happened One Night (1934)) who ultimately found love together:
the film's opening included an eye-catching title credits montage (to the tune of Rod Stewart's "Infatuation" showing a sexy, string bikini-clad sunbather) - the character of the 'Sure Thing'
Walter "Gib" Gibson (17 year-old John Cusack in his first lead role), a recent HS grad, was a quick-witted slacker who was heading to an Ivy League, New England school in the fall as a freshman; he spoke to his dim-witted, party-loving, bound-for-UCLA best friend Lance (Anthony Edwards) about his trouble connecting with HS girls ("Maybe I'm past my prime"); Lance bragged that he was on his way to the West Coast for schooling with college-aged females, and denounced Gib's college destination choice as full of nerdy intellectuals
during the fall semester in his English class with eccentric teacher Professor Taub (Viveca Lindfors), Gib sat next to Alison Bradbury (Daphne Zuniga), a fastidious, chaste, studious, prim-and-proper, predictable and conservative college classmate, with an equally-stuffy, tea-drinking law-student boyfriend Jason (Boyd Gaines) at UCLA
Gib delivered a sob-story tale (as Alison swam laps in an indoor pool) - a guilt-trip trick to convince the uptight and repressed Alison to become his writing tutor, because he feared that he would fail in school - and then bring destitution upon himself by his mid-30s
Lance called Gib from sunny warm California and recommended a dream date - "She was just released from parochial school. She's in her experimental phase...She loves sex." He reminded Gib of the snapshot he had sent earlier of the female - a blonde (Nicollette Sheridan) in a string bikini -- "She's a sure thing, Gib. A sure thing...I told her all about you, and she's dying to meet you." That was enough to lure Gib to California during Christmas break
Gib didn't realize that his ride-share, cross-country companion for the trip would be Alison - she had signed up on the "Ride Share" board and was planning to visit her boyfriend at UCLA; they had to share the back seat together
during the journey to California, Gib experienced his first of three dream fantasies of "traveling 3,000 miles to get laid," meeting the "Sure Thing" in a Malibu beachhouse and being seductively whispered to: "Before you go any further, let's be honest. You want it. I want it. You know I want it. You don't have to bulls--t me to get it. And even if you do bulls--t me, you still get it...."
Gib's First Dream Fantasy with "Sure Thing" During Car Ride: "You want it. I want it"
during the trip, Alison mostly regarded Gib as vulgar and crude, although she took a "spontaneous" risk to flash her breasts at a passing car when he dared her to take a risk ("Don't you know how great it makes you feel when you do something totally spontaneous? Something totally off the wall?")
the mismatched couple's continuing journey to California was filled with further misadventures and bad luck, although their antagonisms toward each other also revealed their true selves. Their time on the road included hitchhiking in a pickup truck with a redneck, the rescue of Alison from a sexual assault, Alison's forgetfulness (leaving behind her appt. book and cash), Alison's faking of pregnancy to get a ride, and a bad rainstorm. They were saved when she found her father's credit card for use in an emergency, and they could afford a fancy meal and hotel
in Gib's 2nd dream fantasy - the "Sure Thing" appeared in a skimpy white bikini at her luxury oceanside Malibu beach home, as Gib napped in the swimming pool, while she begged for more sex: "Come on, Giblet, one more time, one more time"
Gib's 2nd Daydream Fantasy of "Sure Thing"
in Gib's 3rd dream fantasy, he dreamt about Alison, and awoke in the morning with her in his arms (in their luxury hotel bed); however, he was still looking forward to his time with the 'Sure Thing' - a wish overheard by Alison that caused a rift between them when they parted ways at UCLA in Los Angeles. She sarcastically told him: "Have fun with your 'sure thing.'"
| | |
| --- | --- |
| Gib's 3rd Fantasy Daydream - of Alison! | Gib Waking Up with Alison in His Arms |
Gib was invited by Lance to a Tahitian X-Mas frat party, where he was complimented for his single-minded trip: "3,000 miles just to get laid, huh? Really respect that." Alison heard that a party was being held closeby and encouraged the stuffy Jason to reluctantly attend with her; but then, when Alison and Jason arrived, she saw Gib with the 'Sure Thing.' They eyed each other as they danced and then spoke for a few moments at the punch-bowl - causing Jason some jealousy about their past acquaintance: ("How do you know that guy?...How do you know he snores?...How do you know what he eats for breakfast?"); upset by Gib's behavior as he took the 'Sure Thing' to Lance's room, Alison stomped out of the party, revealing her hurt and her hidden love for him
it was ultimately realized by Gib that his smart, seemingly-incompatible, cross-country traveling companion Alison was more suited for him
in his writing class after they both returned to the East Coast school after vacation and an English essay he had written titled The Sure Thing was read outloud by his teacher, Alison realized that he didn't sleep with his "sure thing" as he explained to her: "She wasn't my type"
they shared a curtain-closing, feel-good ending kiss under the stars, on the rooftop of the library
Finale: Gibson and Alison Kissing on the Forbidden Library Roof-Top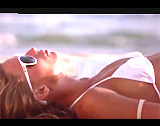 Opening Title Credits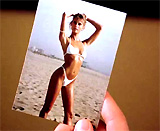 The Snapshot That Lured Gib to Travel to California During Christmas Break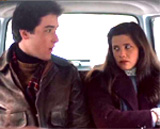 Back Seat Passengers on Road Trip to California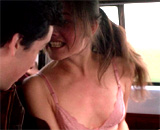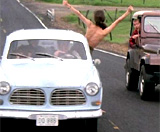 Alison - Acting Spontaneous By Flashing Herself From The Car Window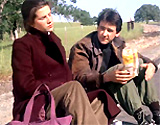 Abandoned By the Side of the Road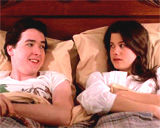 Bedding Down in a Fancy Hotel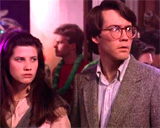 Jason and Alison at Frat Party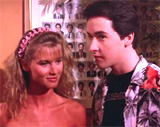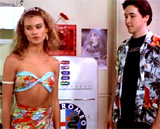 The True Reality of Being with the "Sure Thing"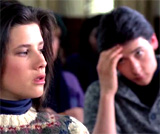 Listening to Gib's "The Sure Thing" Essay Read Outloud