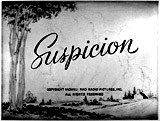 Suspicion (1941)
In Alfred Hitchcock's romantic and classic suspense/thriller, based upon the 1932 novel 'Before the Fact' by Francis Iles, Joan Fontaine won the Best Actress Academy Award - it was the sole Oscar win for an actor in a Hitchcock film. [Note: Some thought it was a consolation prize for Fontaine's loss the previous year for Rebecca (1940). In 1941, Fontaine was in Academy Award competition with her own sister Olivia de Havilland, nominated for Hold Back the Dawn (1941).]:
the film ended up being puzzling, after Hitchcock was forced to alter the film's ending following preview showings; he had to change the film's basic themes and plot points that the husband was guilty of plotting to murder his own wife - the heroine. The revised film made a significant switch - it only appeared that the husband's motives pointed to guilt and his wife was not being targeted
the film opened in total darkness in a train tunnel; the film's first line was delivered by the film's male protagonist: "Oh, I beg your pardon. Was that your leg? I had no idea we were going into a tunnel. I thought the compartment was empty"
the loving but shy, inexperienced, matronly and repressed English heroine Lina McLaidlaw (Joan Fontaine) was introduced as the prim, over-protected, sheltered, spinsterish daughter of stuffy, wealthy, retired General McLaidlaw (Cedric Hardwicke) and his respectable wife Mrs. McLaidlaw (Dame May Whitty); once the bespectacled wallflower Lina met handsome, suave, charming, playboyish Johnnie Aysgarth (Cary Grant), he romanced her, and lovingly called her "monkeyface"
she hopelessly fell in love with him, although her parents disapproved of Aysgarth as a scoundrel and opportunist with a womanizing, fortune-hunting reputation; blindly in love, and after an unusual courtship, she assented to a request to be married, even though Lina knew very little about him and his background
after eloping and a whirlwind honeymoon and romance, Johnny began to reveal his true self - he was shown to be an irresponsible cad, a dishonest liar, and a thief; in addition, he was financially-broke (with no employment or income); Johnnie was pressured to take a job after he learned that Lina's monthly-income couldn't support the two of them; he took a position with a distant, obscure cousin Captain Melbeck (Leo G. Carroll), as an agent to help manage estates
it was soon revealed that Johnnie had gambled on horse-racing with the money he earned, and then pawned off two McLaidlaw family heirlooms (antique chairs) to pay off his racing-gambling debts
Lina began to unearth clues and discovered that Johnnie had criminally-embezzled 2,000 pounds from his employer and was discharged from the job, but never told her; she began to seriously consider leaving Johnnie and breaking up their marriage
Lina's fears intensified when notified by telegram that her father had died, and Johnnie was very disappointed that Lina had not inherited his fortune
one evening, the increasingly-suspicious and untrusting Lina was playing anagrams with Johnnie and his jovial, naive, past school friend and drinking buddy "Beaky" Thwaite (Nigel Bruce); Beaky was also Johnnie's prospective business partner for a highly-speculative land development scheme; during the game, the word "MURDER" was formed and Lina fell faint to the floor; she fearfully concluded that Johnnie might be conspiring to murder his friend, as another means to restore his finances; she had a visionary premonition that Johnnie pushed his friend from a cliffside (a prophetic and haunting image that would resurface)
during conversation over dinner, juxtaposed with the slicing and cutting of Cornish game hens, the subject of talk was murder; Lina also remained tense due to learning about Johnnie's obsession with reading murder mystery novels, and talking about the use of untraceable poisons, including using brandy as a murder weapon
soon after, Beaky was found dead in Paris under mysterious circumstances (he was allergic to brandy) - and Johnnie was considered the prime suspect for murdering him, due to his lying to authorities about his whereabouts
Lina was driven to psychosomatic illness and became bed-ridden due to her distrust and fear of her husband; she fearfully learned, with mounting tension as the film progressed, that he could benefit from her death via collecting on a payoff from her life insurance policy
the shadows from the skylight in the front hall cast a giant spider-web appearing to trap Lina
in the film's most famous and suspenseful sequence, at bedtime, Johnnie carried a glowing glass of milk (that may or may not have been fatefully poisoned) upstairs to his sick wife Lina while taking care of her - she stared at the glass with dread (and left it untouched) - believing that she was about to be poisoned; was Johnnie truly devious and villainous, or was it solely a conspiratorial thought in her fragile mind?
in the film's climactic conclusion, Johnnie insisted on driving Lina to her mother's place; he drove recklessly on the treacherous, twisty cliffside drive, when Lina's passenger door unexpectedly opened up and there was a struggle as he lunged toward her with unclear intentions - was he about to push her from the vehicle, or to grab onto her and save her? Ultimately, Johnnie stopped the car and helped rescue Lina; she barely escaped death
in the film's denouement (a studio-modified ending, making it a disappointing and contrived finale with a happy ending), Johnny confessed to Lina that he had chosen to end his life - he had become interested in poisons because he was imminently planning to commit suicide (with an untraceable poison), to escape life's insurmountable responsibilities and the challenges he faced (charges of embezzlement and murder); he was also resolved to spend his life in prison; he told her that when Beaky died, he was in Liverpool, trying to borrow money from Lina's life insurance policy to repay his ex-employer Melbeck
Lina apologized for her constant suspicions and doubts, and the couple resolved to stay together, help each other, and reconcile; however, could all of Johnnie's assertions be trusted and believed, given his record of falsifying the truth?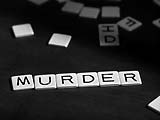 Anagram Game: The Word 'Murder'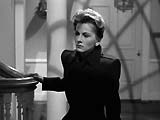 Spider Web Shadows Behind Lina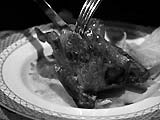 The Slicing Up of a Cornish Game Hen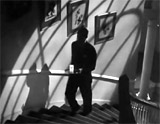 Johnnie's Delivery of a Glowing Glass of Milk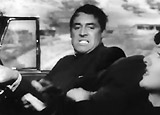 The Film's Exciting Conclusion - An Act of Murder or Rescue