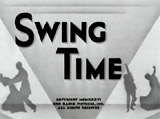 In director George Stevens' superb romantic musical (a song-and-dance film) made during the height of the Depression Era - noted for the magical dancing rapport between Fred Astaire and Ginger Rogers (their 6th film overall, and their 6th of 9 films for RKO in the 1930s):
young professional hoofer-dancer, bandleader, aspiring gambler, and groom-to-be John "Lucky" Garnett (Fred Astaire) was engaged to his long-time wealthy girlfriend Margaret Watson (Betty Furness); he was delayed (actually sabotaged by his dance team who wanted him to remain single and in show-biz) in getting to his hometown wedding on time, due to being convinced that his outdated groom's outfit needed tailoring; due to his very late tardiness, Judge Watson (Landers Stevens), his fiancee's angry father, had already called off the marriage ceremony to be held at his home
Judge Watson (and Margaret) gave "Lucky" a second chance by challenging him to earn at least $25,000 in the big city of NY to prove his worthiness, and that he could support Margaret as his wife
the penniless "Lucky" (who was broke except for a lucky quarter after losing a bet about getting married) was joined by his aging faithful sidekick-friend Dr. Everett "Pop" Cardetti (Victor Moore) on a freight train to NYC, to somehow earn the money
on the street, "Lucky" met pretty platinum-blonde dancer Penelope "Penny" Carroll (Ginger Rogers) when he asked her for change for his quarter to buy cigarettes from a vending machine; afterwards, "Lucky" followed her to her place of employment - she was a dance instructor at the Gordon Dancing Academy
inside her studio in a light courtship "Pick Yourself Up" sequence, "Lucky" was offered a free trial dance lesson; he posed as an uncoordinated pupil, faking ignorance and predending to be a klutz; "Penny" was quickly frustrated by his awkwardness, especially when he caused both of them to collapse to the floor after trying a simple dance step; frustrated by his hopeless dancing, she huffed at him: "I can't teach you anything...No one could teach you to dance in a million years!"; she also told him to "save his money" on dance lessons, thereby insulting "Lucky" in the presence of the Academy's over-solicitous owner Mr. Gordon (Eric Blore), who overheard Penny's harsh words and promptly fired her
to save Penny's job, "Lucky" defended her ("She's the most wonderful little teacher I've ever heard of") and saved her job by demonstrating what he had really just been "taught"; again to the tune of "Pick Yourself Up," he performed an intricate and playful duet on the circular, bare practice dance floor
Penny's employment was restored, and Mr. Gordon was so impressed that he made an appointment for them with owner Mr. Al Simpson (Pierre Watkin) to tryout as performers at his swanky Silver Sandal night club; Lucky attempted to use his gambling skills (in a game of strip piquet) to win a suit of evening clothes for the audition; however, they missed the audition, causing another rift between them
a week later, after "Pop" and "Lucky" had picketed in the hall outside of "Penny's" hotel apartment (where she lived with her older single friend Mabel Anderson (Helen Broderick), the Academy's fired receptionist), "Penny" was still stubborn; Mabel let "Lucky" in while Penny was shampooing her hair in the next room; he sat down at a piano and serenaded Penny with the lyrical, romantic, melancholy, Oscar-winning ballad: "The Way You Look Tonight" - (also reprised later) an exaltation of her charming beauty; Penny finally gave in and agreed to forgive "Lucky"; in the meantime, "Lucky" had successfully won hundreds of dollars gambling, and had arranged for a second audition at the nightclub
during their attempt at a second club audition, detestable tenor bandleader Ricardo "Ricky" Romero (Georges Metaxa), who was in love with Penny and wished to marry her, jealousy refused to play for them; Mr. Simpson wouldn't back their request to have Romero play, because he had gambled away his musician to a rival nightclub/gambling casino owner, Dice Raymond (John Harrington)
at Raymond's club where Romero was the new bandleader, "Lucky" was able to win "Ricky's" contract (with Pop's help during a game of cards), and was then reluctantly convinced to accompany them with music [for their audition?] by publicly announcing the start of the lovely "Waltz in Swing Time"; in a spotlight, Penny and "Lucky" performed in a spotlight on the dance floor of the mirror-shiny Art Deco nightclub; she was wearing a light colored evening dress while he was formally attired in a tuxedo - the audition appeared to be a success and Penny and Lucky were falling in love
a dilemma then arose for "Lucky" - how could he face his engaged fiancee back in his hometown and his pledge to her, especially after his gambling winnings?; he deliberately did everything he could to avoid earning money, became nervous around "Penny," acted aloof to her, and avoided being alone with her
Mabel arranged for the two of them to be together during a trip to the countryside - a snowy winter wonderland sequence; in a snow-covered gazebo, "Lucky" and Penny" were again tempted to flirt with each other - but Penny realized he was holding back and complained by singing the bitter, accusatory, sarcastic song "A Fine Romance" (also reprised at film's end)
while Lucky was distracted, Pop inexplicably told Penny about Lucky's engagement: "...if Lucky gets $25,000 ahead, he has to go back and marry that girl...the girl he's engaged to." The news was a heavy, hurtful blow to Penny
back at the remodeled Silver Sandal nightclub, Penny expressed her unhappiness and disinterest in Lucky, although Mabel encouraged her to find the "nerve" to surprise Lucky with a kiss; she coyly kissed "Lucky" behind his dressing room door
Lucky was called to dance a black-faced tribute to dancer Bill 'Bojangles' Robinson with "Bojangles of Harlem" (Astaire's first and last blackface performance) in which he danced with a chorus line and then tap-danced along with three huge silhouette-shadows; at the end of his dance when Lucky took his curtain call in front of the audience, he was startled to notice Margaret Watson, his fiancee, seated there
due to further misunderstandings regarding Lucky's return to gambling, and Penny's disturbed reaction to Margaret's presence, Penny accepted Romero's offer of marriage and was wearing his engagement ring; Lucky's and Penny's romantic fortunes and future seemed dashed; as the estranged couple spoke to each other on the deserted and quiet dance floor of the Silver Sandal nightclub, Lucky told Penny: "I've danced with you. I'm never gonna dance again" - and then sang "Never Gonna Dance" to appeal to her as she stood on a staircase slightly above him - he told her of his broken heart and frustration, and how forlorn, pained and sad he would be without her; the song transitioned to their stunning dance number "Never Gonna Dance" - the film's song and dance highlight
in the final sequence in the film, all loose ends were tied and the two protagonists were re-united, as expected; both of them were able to escape their prior marital engagements or entanglements; Margaret admitted to Lucky, first in a written note and then in words, that she wasn't in love with him after all ("I can't marry you") and wanted to marry another hometown suitor; Lucky also confessed his love for someone else; however, Penny was still planning on marrying Romero in the afternoon, but then she also called off her wedding to "Ricky"
as the film ended, Lucky serenaded Penny with a bit of her song "A Fine Romance," and she counterpointed him with his song "The Way You Look Tonight," as they both overlooked a snowy scene above Central Park through a picture window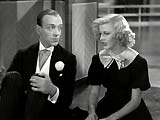 "Pick Yourself Up"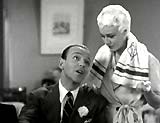 "The Way You Look Tonight"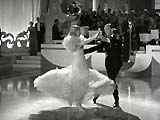 "Waltz in Swing Time"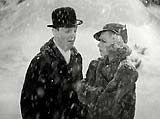 "A Fine Romance"



"Bojangles of Harlem"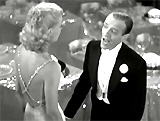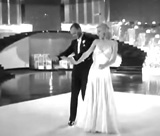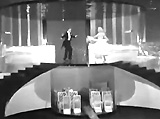 "Never Gonna Dance"