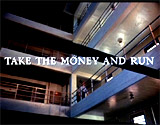 In co-writer/director Woody Allen's early crime-related comedy (Allen's first feature that he acted in, directed, and wrote):
the sight of neurotic cello player Virgil Starkwell (Woody Allen) playing in a marching band
the mockumentary interview with Virgil's embarrassed parents (who both wore Groucho Marx disguises)
the scene of one of many of Virgil's failed, compulsive escape attempts from prison, when his self-made soap gun melted in a sudden rainstorm
the scene of Virgil agreeing to an experimental vaccine in prison in order to be paroled - temporarily turning him into a rabbi ("one temporary side effect")
the scene of Virgil needing money to get married, leading to a bank robbery by the nebbish crook - including his handwritten, mis-spelled and illegible stickup note for $50,000 (and the subsequent discussion with two bank tellers as the note was passed along): ("Does this look like "gub" or "gun"? - Teller: "But what does "abt" mean?" - Virgil: "It's "act". A-C-T. Act natural")
the narrator's description of his undernourishment when served only one meal a day on the chain gang: "Food on a chain gang is scarce and not very nourishing. The men get one hot meal a day: a bowl of steam"
Virgil's interview in his prison cell after being sentenced to 800 years in federal prison, and was confident he could cut the sentence in half; he asserted: "I think crime definitely pays. And you know, it's a great job, the hours are good, and you're your own boss. And you travel a lot, and you get to meet interesting people, and uh, I just think it's a good job in general"; and then he described his time carving work in shop (making another soap-gun) and inquired (with the film's last line): "Do you know if it's raining out?"