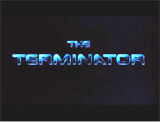 In James Cameron's original science-fiction film, the first in a series:
the opening future-world sequence of machines warring against each other in post-apocalyptic Los Angeles AD 2029
the materialization in Los Angeles of 1984 of two time travelers: the "Terminator" (Arnold Schwarzenegger) Model 101 cyborg and resistance fighter Kyle Reese (Michael Biehn)
Resistance Fighter Kyle Reese (Michael Biehn)

Terminator T-800 Cyborg
the characterization of the relentless, villainous, and almost wordless killing machine
the scene of the shootout in the Tech-Noir bar/nightclub and Reese's statement to Sarah Connor (Linda Hamilton): "Come with me if you want to live" and human resistance leader Reese's warning to a resistant Sarah Connor as he struggled with her in their car while being pursued: "It can't be bargained with. It can't be reasoned with. It doesn't feel pity, or remorse, or fear. And it absolutely will not stop, ever, until you are dead..."
the Terminator's two surgeries upon himself (his left eye and his damaged forearm) after the Tech-Noir shoot-out and after crashing a stolen police vehicle
the Terminator's damaging assault of a police station and his much-quoted "I'll be back" scene (before ramming into the station with his vehicle to initiate the vicious shoot-out sequence)
the romance between Sarah and Reese and their affecting love scene (to the accompaniment of piano music) with clenched hands held together - that ultimately produced a future liberator named John Connor
Romance Between Sarah and Reese - Resulting in Future Birth of Resistance Leader John Connor
the scene of the Terminator's pursuit in a tanker truck - and his fiery burning down to his red-eyed exo-skeleton



The Terminator T-800 Series (Model 101)
the final crushing end of the Terminator in a factory's hydraulic press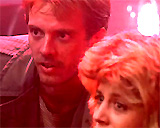 Kyle Reese to Sarah Connor: "Come with me if you want to live"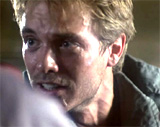 Kyle: "It can't be bargained with..."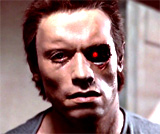 Terminator's Damaged Eye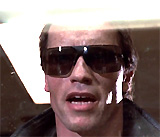 Terminator: "I'll be back"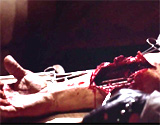 Self-Surgery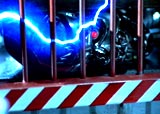 Crushed by Hydraulic Press