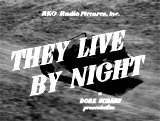 They Live By Night (1948)
In director Nicholas Ray's debut film - this film noir classic - it was an adaptation of Edward Anderson's 1937 Bonnie and Clyde-inspiring novel Thieves Like Us (later remade by Robert Altman as a film with the original title in 1974); although a crime thriller, it was more an emotionally-told, melodramatic love story of a naive couple on the road and on the run; the story was about the newly-married couple's ill-fated and doomed relationship from the start:
in the film's opening before the title screen, two lovers kissed, as the screen's words stated: ("This boy and this girl were never properly introduced to the world we live in.... To tell their story...")
desperate 23 year-old fugitive criminal - an escaped convict named Arthur "Bowie" Bowers (Farley Granger), impulsively married young and naive Catherine "Keechie" Mobley (Cathy O'Donnell), the niece of one of his hardened criminal associates named Chickamaw 'One-Eye' Mobley (Howard Da Silva)
he was forced to engage in more robberies, while struggling to attain their quixotic dream of living a normal life. They drove at night and stayed at various remote cabins to evade the convicts, when Keechie became pregnant
in the film's downbeat and tragic finale, Bowie was about to leave Keechie to pursue a new life for them (possibly in Mexico or elsewhere) before returning for her. He wrote a goodbye note, and then was persuaded by the one who had betrayed him to police, Chickamaw's sister-in-law Mattie (Helen Craig), to walk to the cabin where Keechie was sleeping and give it to her personally; in a trap, Bowie was gunned down outside the room
Keechie took the crumpled note from Bowie's dead hand and read it outloud as the film came to a melancholic close: ("Little old girl. I'm gonna miss you but I gotta do it this way. I'll send for both of you when I can. No matter how long it takes. I've gotta see that kid. He's lucky. He'll have you to keep him squared around")
she then turned and tenderly mouthed the words as the screen slowly darkened: ("I Love You. Bowie. Bowie")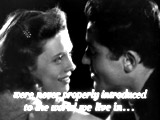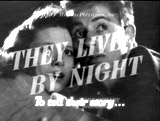 Film's Opening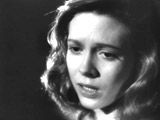 Keechie: "I love you. Bowie, Bowie"